MARGATE SCHOOLS' GARDENS HONORED DURING STATE KICK-OFF TO JERSEY FRESH FARM TO SCHOOL WEEK
For Immediate Release: September 24, 2012
Contact: Lynne Richmond
(609) 633-2954

(TRENTON) – New Jersey Secretary of Agriculture Douglas H. Fisher today presented Eugene A. Tighe Middle School and William H. Ross Elementary School in Margate City with the inaugural School Garden of the Year Award during a ceremony at the Tighe School.  The award was sponsored by the New Jersey Farm to School Network and Edible Jersey magazine.

"Ross and Tighe Schools are doing everything right and should be the model for other schools in New Jersey unsure if they can grow a garden and connect it to the curriculum and what's eaten in the cafeteria," said Secretary Fisher.  "I have seen the excitement children have when they are eating something they grew themselves.  We hope working in the school garden will lead them to living healthier lives."

The School Garden of the Year Award was initiated by Beth Feehan, Director of the New Jersey Farm to School Network, as a way to determine just how many schools in the state have gardens and highlight schools that not only use a garden to teach students about how their food is grown but also incorporate their garden into other aspects of curriculum instruction and school meals.

"School gardens are profoundly important to teach children where food comes from before it is sold in stores and before it is packaged," said Feehan.  "Margate City's school garden won because of the incredible community support both within and outside of the school and for the innovative ways the garden teaches children about the importance of fruits and vegetables."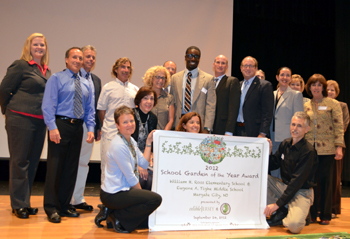 Margate City School officials accept their School Garden of the Year Award

The Margate City schools' garden is located in the center courtyard of the middle school but is used by students at both buildings.  It was started six years ago after third-grade teacher Jessica Cuevas attended an Agriculture in the Classroom convention in California, where she saw a shirt with a saying, "No Farms-No Food."

"I carried that message home to New Jersey and set out to create a mini farm in our school culture to share that message with every student I reach," said Cuevas.  "I have seen students ask for second and third servings of Swiss chard salad because they knew those plants inside and out, from their colorful tips to their muddy roots."

Cuevas said the school garden began when a local restaurateur approached the school district with the idea of beginning a school garden and the superintendent assigned her to the project.

Over the years, they have grown a fall and spring garden that has included:
Romaine lettuces, green and red leaf lettuce, arugula, radishes, carrots, beets, sugar snap peas, snow peas, potatoes, garlic, cabbages, bok choi, celery, rainbow Swiss chard, potatoes, bell peppers, Italian long hot peppers, Hungarian frying peppers, bridal eggplant, Sicilian eggplant, Japanese eggplant, Mammoth sunflowers, grape tomatoes, Sun gold tomatoes, heirloom tomatoes and Jersey boy and girl tomatoes.

The garden has been incorporated into the curriculum for math, Language Arts, literacy, computers and technology and they have partnered with the schools' cafeterias.

"They assist us in serving the students a taste of produce grown in our garden as part of a tasting program we created called 'Garden Gourmet,'" said Cuevas.  "We serve the samples during regular lunch times and the cafeteria staff has been involved in the preparation and distribution of the food."

Cuevas said produce from the garden also is offered at the Margate Community Farmers Market during the summer, using the money donated to buy the top 10 most needed foods for the Food Bank of South Jersey.  The produce is donated to the Boys and Girls Club cooking class held once a week throughout the year and taken to local restaurants.

Jersey Fresh Farm to School Week is an initiative of the New Jersey Department of Agriculture in cooperation with the New Jersey Farm to School Network.  In addition to connecting schools with New Jersey farmers to purchase local produce for school meals, the farm to school program also seeks to teach children where food comes from by growing it themselves in school gardens. 

For more information on the Department's Farm to School program, visit www.nj.gov/agriculture/divisions/fn/childadult/farm_to_school.html.

To learn more about the New Jersey Farm to School Network, go to www.njfarmtoschool.org/.