NATIONAL PARK ELEMENTARY SCHOOL HONORED FOR NUTRITION, PHYSICAL ACTIVITY INITIATIVES
Federal, State Officials Present School with Award

For Immediate Release: October 4, 2012
Contact: Lynne Richmond
(609) 633-2954

(NATIONAL PARK) – United States Department of Agriculture and New Jersey Department of Agriculture Food and Nutrition officials today presented National Park Elementary School in the Borough of National Park with the HealthierUS School Challenge Award, which recognizes schools that promote good nutrition and physical activity.

The school attained the Bronze Level of the award, which earned the district $500. 

"National Park School's achievement shows just how much can be accomplished toward improving the nutrition environment when the whole school community works together," said Rose Tricario, New Jersey Department of Agriculture Division of Food and Nutrition Director.  "National Park has made eating well and exercise priorities to better equip its students to do their best.  We encourage the school to continue to build upon its success and reach higher levels of the award."

The HealthierUS School Challenge (HUSSC) is a voluntary national certification initiative for schools participating in the National School Lunch Program.  Sponsored by the USDA Food and Nutrition Service (FNS), the initiative encourages all schools to take a leadership role in helping students to make healthier eating and physical activity choices that will last a lifetime.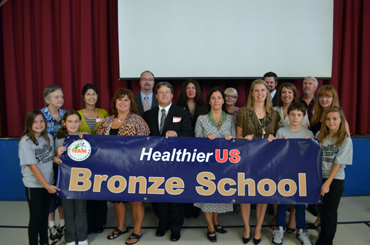 School, School District, Federal, State and Local officials were on hand to honor National Park Elementary School.

"Achieving the HealthierUS School Challenge recognition demonstrates the Gateway Regional School District's deep commitment to create and maintain a healthy school environment," said James Harmon, Director of Special Nutrition Programs, USDA Food and Nutrition Service.  "National Park Elementary School can serve as a model for others seeking to make improvements."

To achieve the bronze level of the award, the school revised the lunch menu to include whole grains, dark red, orange and green vegetables, half cup portions of fruits, vegetables and legumes, and a wider variety of healthy choices.  In addition, the kindergarten students started a small school garden this past year where they grew peppers, eggplants, tomatoes and pumpkins.  They plan to expand the garden to other grade levels this school year.

"At National Park School we believe in the importance of educating the whole child," said Carla Bittner, school principal.  "This includes teaching students how to maintain a healthy, active lifestyle based on sound nutritional habits and daily exercise. A healthy student is better able to stay focused and fully engage in the learning, so we appreciate the impact of health education on the overall success of a meaningful educational experience."

Bittner said the prize money will be used to expand their learning opportunities focused on leading a healthy lifestyle.  They will implement a Health and Wellness Day in the spring and the funds will enable them to utilize more resources, such as purchasing healthy foods for students to taste.  The money also will help support their National Steppers program, a voluntary walking program held during recess.

National Park Elementary School is among 50 in the state that have earned the HealthierUS School Challenge Award. Ultimately, FNS would like to see all schools receive a HUSSC award at any one of the four levels of superior performance:  Bronze, Silver, Gold, or Gold Award of Distinction.  Schools awarded receive a monetary incentive (Bronze $500, Silver $1,000, Gold $1,500, and Gold Award of Distinction $2,000), an award plaque signed by a USDA official, a banner to display in their school, and their name listed on the Team Nutrition Web site.

To qualify for an award, a school must submit a formal application and meet basic criteria set forth by the FNS for food that should be served in schools.  HealthierUS Schools must also have a local school wellness policy, as mandated by Congress.  Schools receiving a HUSSC award commit to meeting the criteria throughout their four year certification period.

Schools, such as National Park Elementary School, that champion the HUSSC work hard to make changes to their school nutrition environment in order to (1) improve the quality of the foods served, (2) provide students with nutrition education, and (3) provide students with physical education and opportunities for physical activity. 

For more information on the HealthierUS School Challenge, visit www.fns.usda.gov/tn/healthierus/index.html.