Home
>
News
>
Press Releases
>
2012
>
SPIRIT OF GIVING THE THEME OF CHRISTIE ADMINISTRATION'S ANNUAL CHRISTMAS TREE CUTING CEREMONY
SPIRIT OF GIVING THE THEME OF CHRISTIE ADMINISTRATION'S ANNUAL CHRISTMAS TREE CUTING CEREMONY
Ceremony Heralds Start of Choose and Cut Christmas Tree Season, Encourages Donations

For Immediate Release: November 26, 2012
Contact: Lynne Richmond
(609) 633-2954

(WHITE TOWNSHIP) – As part of Governor Christie's 'Season of Service' Initiative, New Jersey Secretary of Agriculture Douglas H. Fisher today cut down a Christmas tree at Wyckoff's Christmas Tree Farm in White Township, Warren County, ceremonially kicking off the choose and cut Christmas tree season while encouraging residents to support New Jersey families in need and the military during the holiday season. 

"We encourage everyone to visit a Christmas tree farm this holiday season, support a local farmer and bring home a fresh, healthy New Jersey Grown tree," said Secretary Fisher.  "With so many people hurting this year, we also ask people to remember those in need as well as our military families, either through the donation of a tree or a monetary donation to a local charity."


Secretary Fisher with the Wyckoff family and Belvidere and Phillipsburg FFA Members

The tree cut by Secretary Fisher was donated to the Trees for Troops initiative, a charity program that donates real Christmas trees to service members and their families, sponsored by FedEx and the Christmas SPIRIT Foundation.  On the weekend of November 30, December 1-2, Wyckoff's Christmas Tree Farm, Evergreen Valley Christmas Tree Farm, Jackson Valley Road in Washington and Keris Tree Farm, Route 524 in Allentown will serve as drop-off points for donated trees and patrons at those farms will be able to purchase a tree for donation or make a cash donation to Trees for Troops. 

John Wyckoff said his family is donating 100 trees for Trees for Troops.  Members of the New Jersey National Guard will be on hand for the drop-off weekend to help load the trees onto a trailer bound for Ft. Eustis Army Base in Virginia.  The Coast Guard Center in Cape May will get a shipment of trees for families stationed there on Wednesday, November 28.

"Military members and their families representing all branches of service make tremendous sacrifices to safeguard our traditions and way of life," said Brig. Gen. Michael Cunniff, The Adjutant General, New Jersey Department of Military and Veterans Affairs. "These trees are certain to lift the spirits of our troops and confirm to their families that their sacrifice does not go unrecognized."

In addition, the Wyckoffs are donating 20 trees to NORWESCAP Family Success Center in Phillipsburg for families in need in the area.  Members of the Phillipsburg FFA Chapter will be assisting in the delivery of the trees.  Family Success Centers are funded through the New Jersey Department of Children and Families.

"We would like to thank the Wyckoff family for making such a generous donation to our Family Success Center," said Department of Children and Families Commissioner Allison Blake.  "Because of their kindness, 20 area families will enjoy a real live tree this holiday season, complete with its wonderful fragrance and symbolizing the spirit of Christmas.  We look forward to working with the Christmas Tree Growers throughout the state to hopefully expand their donation program year after year."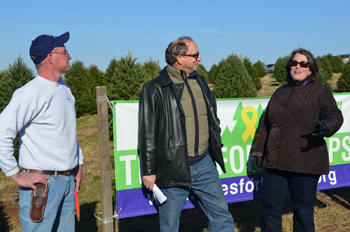 John Wyckoff, Secretary Fisher and Commissioner Blake at the ceremony

Christmas tree farms around the state also will have receptacles where patrons may donate to Farmers Against Hunger, which gleans or collects New Jersey farmers' surplus produce and distributes to 7,000 people weekly during the growing season through 60 organizations, including soup kitchens, food pantries and the state's food banks.  The Christmas tree farm fundraiser was held for the first time last year and collected $4,300.

"We are hoping to use the funds to help fund our third truck and an additional driver, so that we add more gleanings for next season," said Kristina Guttadora, Farmers Against Hunger Produce Collection and Distribution Coordinator.

"Through these charities, we are able to show appreciation for those in our community who might need a little boost, since we depend on people to patronize our farm to keep us in business keep New Jersey farms viable and growing," said Wyckoff.  "Plus, what's a better event than going out and cutting the family tree, having quality family time and spending the day together?"

Part of the Garden State's four seasons of agritourism, now is the time many families visit tree farms to cut their own Christmas trees.  Almost 79,000 trees are cut in New Jersey each year.  The 2007 U.S. Census of Agriculture ranked New Jersey sixth in the nation in the number of Christmas tree growers, with 1,150 farms that grow more than 6,000 acres of Christmas trees in the state.

The New Jersey Christmas Tree Growers Association selected Wyckoff's Christmas Tree Farm's Canaan Fir as the 2012 Grand Champion in their annual Christmas tree contest, held over the past summer.  The Wyckoff family has earned that title eight times. 

The 172-acre farm in White Township, outside of Belvidere, has been owned by the Wyckoff family since 1839 and is now being farmed by the sixth and seventh generations of Wyckoffs.  They have 55 acres of Christmas trees with 5,000 trees available this season.  They offer Fraser, Douglas, Concolor, and Canaan Firs, Norway, Blue, and Serbian Spruces and White Pine.

Christmas tree growers in New Jersey may participate in the Jersey Grown program, which allows farmers to tag their trees with the Jersey Grown brand to easily identify that their Christmas trees are grown in New Jersey. Jersey Grown includes quality standards and is similar to the well-known Jersey Fresh branding program for produce and other agricultural products.

The New Jersey Christmas Tree Growers' Association, organized in 1950, is a statewide organization of growers, professionals and industry leaders dedicated to the promotion and marketing of Christmas trees and related products.  A listing of farms consumers can visit is available at: www.njchristmastrees.org/where_find_christmas_tree.html.