WINNING EAT RIGHT, MOVE MORE SCHOOL HONORED DURING NY JETS GAME
West New York PS #4 Grand Prize Winner in School Nutrition Contest

For Immediate Release: December 4, 2012 
Contact: Lynne Richmond 
(609) 633-2954

(EAST RUTHERFORD) – Six West New York Public School #4 School students, their Assistant Principal Anthony DeMarco and Physical Education teacher Frank Arena represented their school Sunday, December 2 as the New York Jets and the Christie Administration recognized the school's nutrition achievements during the Jets/Arizona Cardinals football game at MetLife Stadium in East Rutherford.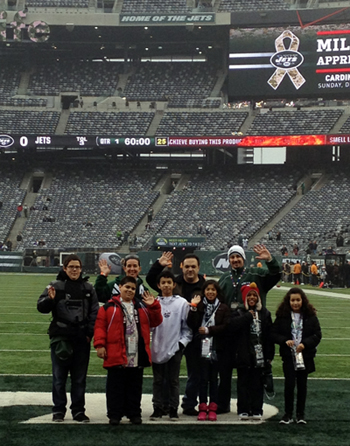 Rose Tricario, Anthony DeMarco and Frank Arena, along with the students on the field at the December 2 Jets game.

PS #4 is this year's grand prize winner of the Eat Right, Move More program, which challenged schools to demonstrate a commitment to providing students with breakfast in the classroom, as well as to serving more fresh fruits and vegetables; a greater variety of vegetables, such as dark green and orange vegetables and legumes; and more whole grains.  They also had to show strong support and demonstrate efforts to improve nutrition and physical activity among their students.  The program is administered by the New Jersey Department of Agriculture (NJDA).

The school received a $5,000 prize, which it plans to use to update and repair the school's salad bar serving system, increase access to daily fruits and vegetables with interesting containers and educate students with sign boards with nutrition facts and impacts of their choices.  On November 27, Jets Offensive Tackle D'Brickashaw Ferguson visited the school to meet with students.

"Administrators, teachers and parents at PS #4 work together to create a healthier school environment and ensure students get the proper nutrition and exercise so they can succeed," said Rose Tricario, Director of NJDA's Division of Food and Nutrition.  "The students who attended the game with us were big Jets' fans and enjoyed seeing what people can accomplish when they take care of their bodies through eating right and moving more."

The students who attended the game were: Michael Alvarez, Max Collazo, Malik Harper, Rachel Huacon, Christopher Montalvo and Adrienne Sabatier.  The students were chosen through a raffle at their school.  The group was treated to lunch by the Jets, brought down onto the field before the game and honored on the stadium Jumbotron during the first quarter. 

Adrienne Sabatier said she felt very special and happy to be chosen to attend the game.

"I was freaking out, pinching myself and asking if this is a dream," said Sabatier, who was part of an on-field performance as a Junior Flight Crew Cheerleader at a preseason Jets' game.  "It's good to eat well.  If you eat badly it will hurt you the rest of your life."

PS #4 has  300 3rd through 6th grade students who are all provided with a complete and balanced breakfast each day in the classroom during the morning announcements.  It also hosts a Farm to School program, using local produce as much as possible in school meals, and a school garden funded by private grants.

"This has been an incredible experience for the students," said Anthony DeMarco, Assistant Principal.  "A healthy mind and healthy body lead to healthy educational choices.  That's the focus for our school."

The Eat Right, Move More program, a partnership between the Jets, the Department of Agriculture and the American Dairy Association & Dairy Council's Fuel Up to Play 60 campaign, encourages New Jersey school children to take advantage of healthy foods in their school cafeterias and become more active. 

This is the seventh year of the Eat Right, Move More Program, with D'Brickashaw Ferguson as spokesman.  The campaign features posters of Ferguson in every school telling students, "Your school cafeteria offers a variety of healthy foods and low-fat milk to keep you going all day long.  Fuel your mind and body with nutritious foods like Jersey Fresh fruits and vegetables.  So, let's get up and Eat Right, Move More!"

This year's other winning schools will receive visits from Jets players in the spring.  The schools are:  Midstreams Elementary School in Brick Township; George L. Hess Educational Complex in Hamilton; William B. Cruse #11 School in Passaic; and Paterson Public School #2 in Paterson.

The New York Jets take great pride in a long-standing, year-round commitment to our community. Programs funded by the New York Jets Foundation touch the lives of countless young men and women in the tri-state area by promoting fitness, health, and education, particularly in disadvantaged communities. Over the past twelve years, the Jets and their charitable foundation have contributed more than $12 million to a wide range of community-based causes.

From fighting childhood obesity through the Eat Right, Move More initiative, to launching a football team at an urban high school, to urging students to be active for at least 60 minutes every day the New York Jets invest in programs that make a difference in the lives of others. In addition to our focus on youth development, the Jets support the efforts of the Alliance for Lupus Research, numerous established charitable organizations and causes sponsored by the NFL.

The Department of Agriculture's comprehensive school nutrition policy covers pre-kindergarten through 12th grade students.  The policy limits fat and sugar content in foods offered in a la carte lines, snack bars and vending machines, school stores and as part of on-campus fund-raisers.  More than 687,000 students in both public and private schools participate in the National School Lunch Program, administered by the Department of Agriculture.

For more information about the Department's school nutrition programs, visit www.nj.gov/agriculture/divisions/fn/childadult/school.html.