Home
>
News
>
Press Releases
>
2012
>
CHRISTIE ADMINISTRATION AWARDS GRANT TO FAMILY PROMISE OF HUNTERDON COUNTY DURING SEASON OF SERVICE
CHRISTIE ADMINISTRATION AWARDS GRANT TO FAMILY PROMISE OF HUNTERDON COUNTY DURING SEASON OF SERVICE
Agriculture Secretary Fisher Serves Lunch to Clients
For Immediate Release: December 11, 2012          
Contact: Lynne Richmond
(609) 633-2954

(FLEMINGTON) – As part of the Christie Administration's Season of Service initiative, New Jersey Secretary of Agriculture Douglas H. Fisher today visited Family Promise of Hunterdon in Flemington to announce a $200,000 grant for the organization to continue its mission to assist individuals or families who are homeless or at imminent risk of homelessness.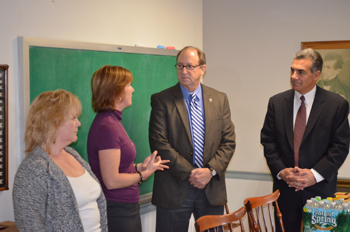 Donna Michelsen and Colleen Duerr of Family Promise with Secretary Fisher and Assemblyman Jack Ciattarelli
"Like the Department of Agriculture's mission to ensure the people of New Jersey have access to one of the most basic needs – nutritious food – housing is another basic need, so the grant will mean so much to Family Promise's clients," said Secretary Fisher.  "I also believe strongly in the importance of volunteering and am pleased to do my part during the Governor's Season of Service."
The funding, through the Department of Community Affairs (DCA) Homelessness Prevention and Rapid Re-Housing Grant, will assist Family Promise's clients with paying security deposits or the first month's rent on an apartment or car repairs and gas for a car so they can get to their jobs.
Family Promise, incorporating the Interfaith Hospitality Network, is the only homeless shelter for families in the county.  It is a community partnership of paid staff and volunteers from a network of congregations throughout Hunterdon County offering various services, including shelter, food, homeless prevention/rapid re-housing, mental health services and after-shelter support. 
Colleen Duerr, Family Promise Development Director, said they were given a similar grant they administered from 2009 to 2011.
"If not for this funding and assistance, over 200 households and over 250 children would have become homeless during that time," said Duerr  We are absolutely thrilled to have funding available, once again, so that we can help our low-income households in Hunterdon County meet some of their most basic needs and strive to prevent them from ever becoming homeless."
Last year, the organization served 266 families with a total of 630 clients.  Eleven host congregations sheltered 14 families in 2011 that stayed an average of 92 days.  All exited to permanent housing.  Besides the host congregations, 31 others offer support, such as feeding three meals a day to the clients, with a total of 1,000 volunteers.
Today's event in Flemington was part of the Christie Administration's second annual Season of Service. Last year, cabinet members participated in approximately 60 events across the state including serving meals on wheels to shut-ins and helping to serve and stock food pantries; stuffing care packages for military service members overseas and holiday letter writing to troops abroad; and collecting and delivering coats to homeless shelters.
Governor Christie has emphasized the importance of community service since his inauguration in 2010.