CHRISTIE ADMINISTRATION CELEBRATES JERSEY FRESH FARM TO SCHOOL WEEK IN LONG BRANCH
Audrey W. Clark School Participates in Fresh Fruit and Vegetable Program

For Immediate Release: September 27, 2013
Contact: Lynne Richmond
(609) 633-2954
E-mail: lynne.richmond@ag.state.nj.us 

(LONG BRANCH) – New Jersey Department of Agriculture Food and Nutrition Division Director Rose Tricario and Patricia Dombroski, Mid Atlantic Regional Administrator for the U.S. Department of Agriculture Food and Nutrition Service, marked 2013 Jersey Fresh Farm to School Week with a visit to Audrey W. Clark School in Long Branch on September 26.

To celebrate farm to school week, students were treated to a program about New Jersey agriculture by "Farmer" John Hayden of J. Ambrogi Foods, the district's produce supplier.  The Department of Agriculture's third annual Jersey Fresh Farm to School Week, taking place September 23 to 27, highlights efforts to connect schools with New Jersey farmers to purchase local produce for school meals.  The goal is to teach children where their food comes from by growing it themselves in school gardens. 

"Farm to School Week seeks to encourage schools to serve more local fruits and vegetables in the meal programs," said Tricario.  "The Fresh Fruit and Vegetable Program fits perfectly with this week since it provides nutritious produce to students with the goal of improving their diets."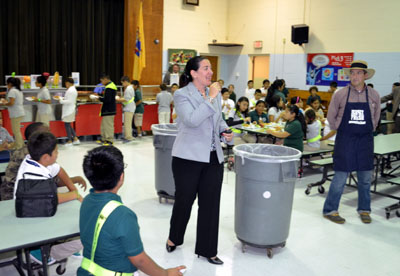 Rose Tricario speaks to Clark School students in the cafeteria about Jersey Fresh Farm to School Week with "Farmer John" from J. Ambrogi Produce.

Tricario and Dombroski looked in on Lauren Sharkey's fourth-grade class where the students were served Jersey Fresh honey crisp apples as part of the Fresh Fruit and Vegetable Program (FFVP).  In addition, Ms. Sharkey taught a lesson about fruits and vegetables.  Clark school has participated in the FFVP for three years.

"All students should have the opportunity to explore tasting healthy fruits and vegetables to nurture their bodies and maintain a healthy lifestyle," said school principal Nelyda Perez.

Clark school is one of the 144 New Jersey schools will participate in the FFVP for the 2013-2014 school year.  The United States Department of Agriculture allocated $3,934,586 for New Jersey for the program, which provides fresh produce to students during the school day, along with nutrition education.  The goal of the program is to expose children to healthy foods, increase their fruit and vegetable consumption and set them on the road to improved lifelong dietary habits.

For more information about the Farm to School Program, visit www.nj.gov/agriculture/divisions/fn/childadult/farm_to_school.html.

To learn more about the Fresh Fruit and Vegetable Program, go to www.nj.gov/agriculture/divisions/fn/childadult/fruitandvegetable.html.