DEPARTMENT OF AGRICULTURE FOOD SHOW HIGHLIGHTS NEW FOODS AVAILABLE FOR SCHOOL MEALS
Schools Preview New Menu Items for 2015-2016 School Year

For Immediate Release: January 20, 2015
Contact: Lynne Richmond 
(609) 633-2954
lynne.richmond@ag.state.nj.us 

(NEW BRUNSWICK) – The New Jersey Department of Agriculture presented the Third Annual USDA Foods Conference on January 15 at the Hyatt Regency Hotel in New Brunswick, showcasing the newest healthy school lunch and breakfast offerings that could appear in school cafeterias around the state next school year. 

More than 300 school food service professionals and business administrators attended presentations and a vendor show of the latest trends in prepared school menu items made from U.S. Department of Agriculture donated bulk foods.  The manufacturers and distributors presented foods geared to meet the nutritional requirements of the Healthy Hunger-Free Kids Act school food regulations implemented in 2013.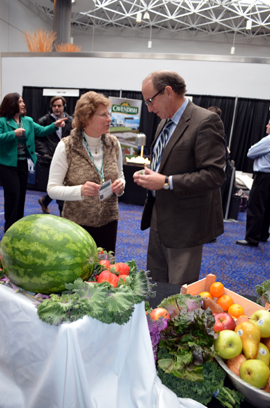 The USDA Foods Distribution program allows schools participating in the National School Lunch Program to utilize USDA foods and distribute them to processors who make nutritious, reduced-fat, lower sodium, whole grain products at a cost savings to school districts. 

"The food manufacturers who attended the show displayed foods that appeal to children's tastes but at the same time meet the federal government's school food nutrition requirements," said New Jersey Secretary of Agriculture Douglas H. Fisher. "The Christie Administration supports programs such as this that assist school districts in providing healthy options in school cafeterias."

Janet Hawk of the NJ School Nutrition Association and Secretary Fisher at the USDA Foods Show

The conference gave school food service professionals the opportunity to sample the foods and speak directly with manufacturers to meet their district's specific needs, helping them to determine which foods to order for the 2015-2016 school year.

This year, there were many creative options including, sweet potato items; quesadilla pizza and other foods made with quesadillas; mini whole grain and red pepper tacos; pulled turkey barbecue; and many Asian-style foods, including those without breading.

"We displayed products for multiple appeal – prepackaged meals and frozen products," said Lisa Carroll of Advantage Marketing who represents Jenny O, J & J Snack Foods, Schwans and ES Foods.  "We attended the show to service the school districts with quality products."

Armida Caldwell of Sodexo, Lakewood Township's School Food Service Director and the district's Assistant Purchasing Agent Diane Piasentini strolled the show to see what new and interesting items are available for next school year.

"I am curious about the variety of items that are being offered, still within the nutritional guidelines," said Piasentini.  "We're also looking at items for our breakfast in the classroom program."

Caldwell added: "It's helpful to have the show.  We're always looking for variety and don't know what's out there."

To start out the day, sessions were held to give program updates, review online features to assist school districts in the process and educate them about the Department of Defense Direct Delivery of Produce program.  The program enables school districts to receive a larger variety of produce delivered directly to them on a weekly basis.  They also will be able to purchase more Jersey Fresh products during the growing season.

For more information on the USDA Foods Distribution program, visit www.nj.gov/agricutlure/divisions/fn/fooddistrib/slcd.html.