CHRISTIE ADMINISTRATION CELEBRATES MAPLE SUGARING IN NJ
For Immediate Release: March 13, 2015
Contact: Lynne Richmond 
(609) 633-2954
lynne.richmond@ag.state.nj.us 

(WANTAGE) – New Jersey Secretary of Agriculture Douglas H. Fisher today kicked off maple sugaring season in New Jersey with a visit to Lusscroft Farm in Wantage where he and a handful of officials got a hands-on lesson on extracting sap from maple trees and turning it into syrup.

"Maple sugaring is a fascinating aspect of New Jersey's diverse agriculture industry," said Secretary Fisher.  "Watching how the trees are tapped on how the sap is boiled down into syrup is a fun activity for the whole family at this time of year."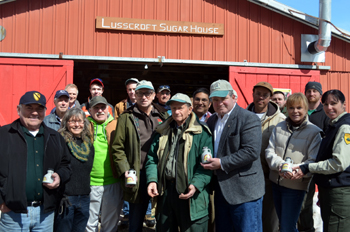 Secretary Fisher with Frank Hennion, Senator Steve Oroho, Assemblyman Parker Space, Sussex County Freeholder Rich Vohden and DEP Parks Director Mark Texel

Lusscroft Farm, on 500 acres of state-owned land in Sussex County, is maintained and operated by the Heritage and Agriculture Association.  In a typical year, 3,500 gallons of sap is extracted from the property's sugar maple trees to make 80 gallons of syrup.  Sale of the syrup raises $8,000 that goes toward operation of the farm.

"We're happy to host the official kickoff of the maple sugaring season at Lusscroft Farm, which is an important part of New Jersey's agricultural history," said Mark Texel, Director of State Park Services. "We hope during this fun and educational experience, visitors will also enjoy the farm's scenic vistas and learn of its rural heritage."

Frank Hennion who runs the farm's maple sugaring activities said they usually begin their season around President's Day but got off to a late start this year due to the extreme cold temperatures.  The trees need 40 to 50-degree days and subfreezing nights for the sap to rise. 

"Maple sugaring is an old historical tradition that dates back to the Revolutionary War," said Hennion, a member of the Sons of the Revolution.  "As a kid, I did maple sugaring."

Hennion gave Fisher and the other officials a brief history of maple sugaring, showed them the different types of taps and then took them to the "Sugar Shack" to see the process of how the maple syrup is made.

According to the U.S. Department of Agriculture's 2012 Census of Agriculture, New Jersey has 33 farms in eight counties with 2,685 maple taps that produced 406 gallons of syrup.  Sussex County had the most farms producing syrup.

There are a couple of maple-sugar related activities coming up in New Jersey:

Lusscroft Farm, 50 Neilson Rd., Wantage, will have a maple sugaring open house 10 a.m. to 3 p.m. Saturday and Sunday, March 21 and 22 at the Sugar Shack.

The Tenafly Nature Center, 313 Hudson Ave., Tenafly, will have a Pancake brunch on Sunday, March 22 featuring fresh syrup from the center's trees.