AGRICULTURE DEPARTMENT HIGHLIGHTS CHILD AND ADULT FEEDING PROGRAM
Child and Adult Care Food Program Week Celebrated

For Immediate Release: March 19, 2015
Contact: Lynne Richmond 
(609) 633-2954
lynne.richmond@ag.state.nj.us 

(TRENTON) – New Jersey Department of Agriculture Division of Food and Nutrition Director Rose Tricario today commemorated Child and Adult Care Food Program Week with a visit to HomeFront, a homeless shelter in Ewing Township.

Tricario joined other officials and volunteers to serve about 50 children who reside at the shelter a dinner of roasted chicken, mashed potatoes, steamed broccoli, whole wheat bread, tropical fruit salad and milk.  The meal was part of the Child and Adult Care Food Program (CACFP).

"The Child and Adult Care Food Program assures parents seeking emergency shelter that their children are receiving nutritious meals," said Director Tricario.  "We encourage emergency shelters as well as adult or child day care centers to participate in this essential program."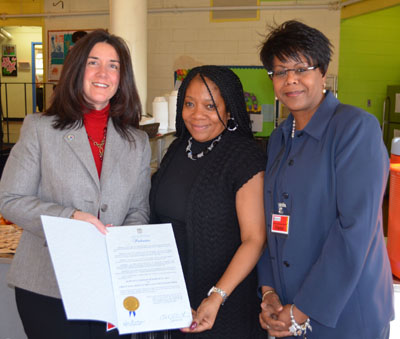 Rose Tricario and Tanya Johnson, NJDA CACFP Coordinator, presernt Sheila Addison with Governor Christie's proclamation declaring CACFP Week

The CACFP provides children living in public or private homeless shelters with up to three meals a day through age 18.  The CACFP also may be utilized in day care centers, family day care centers, after-school care programs and adult day care centers.  There are currently 85,000 eligible participants at 782 different facilities. The program is federally funded and administered by the New Jersey Department of Agriculture.

HomeFront began participating in CACFP in July of 2003.  About 100 children are served breakfast, dinner and evening snack each day.

"The CACFP helps us empower parents to start making better choices for their families at meal times while under our care," said Sheila Addison, Family Preservation Center Director.  "This helps prepare them to continue healthy family meal-time traditions after they move into affordable housing."

Governor Christie proclaimed March 15-21 as Child and Adult Care Food Program Week in New Jersey, based on National CACFP Week, a national education and information campaign sponsored annually by the National CACFP Sponsors Association. The campaign is designed to raise awareness of how the  Child and Adult Care Food Program works to combat hunger and bring healthy foods to the table for adults in day care and children in child care homes, centers, and in afterschool feeding programs across the country.

To learn more about New Jersey's Child and Adult Care Food Program, visit http://bit.ly/1FwqWwB or call 609-984-1250.