2015 PLAY 60 EAT RIGHT, MOVE MORE WINNER HONORED BY CHRISTIE ADMINISTRATION, NY JETS
Glen Meadow School Recognized for Excellence in Nutrition, Promoting Overall Good Health

For Immediate Release: April 24, 2015
Contact: Lynne Richmond
(609) 633-2954
lynne.richmond@ag.state.nj.us 

(VERNON TOWNSHIP) – The New Jersey Department of Agriculture along with New York Jets punter Ryan Quigley and tight end Chris Pantale today honored Glen Meadow Middle School in Vernon Township as one of this year's first-prize winners in the New Jersey Department of Agriculture's Jets PLAY 60 "Eat Right, Move More" program.

The Department of Agriculture (NJDA) and New York Jets players Quigley and Pantale held a special program for the students and presented the school with a $5,000 prize to be used for kitchen updates and physical education equipment, made possible by the Jets, the Robert Wood Johnson Foundation (RWJF) and the American Dairy Association & Dairy Council, Inc. 

"Glen Meadow Middle School students are benefitting from the administration's commitment to providing highly nutritional options in the school cafeteria as well as encouraging physical fitness both during and after school," said Rose Tricario, Director of the NJDA's Division of Food and Nutrition. "We are proud to honor their achievement through this program."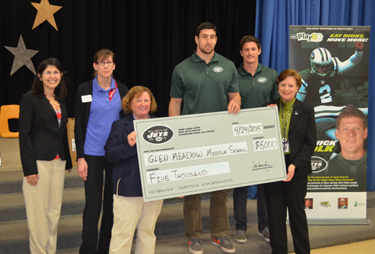 NJDA's Arleen Ramos-Szatmary; Christine DeGennaro of Sodexo; School Food Service Director Maureen Remner; Chris Pantale, Ryan Quigly; School Principal Dr. Janet Anderson

The Jets PLAY 60 "Eat Right, Move More" program, a collaboration between the Jets, NJDA, RWJF and the American Dairy Association & Dairy Council, Inc., encourages New Jersey school children to take advantage of healthy foods in their school cafeterias and become more active. 

To win, schools had to show they offer healthier snacks and have 100 students or more participate in the Jets PLAY 60 Challenge, where students logged at least 60 minutes of physical activity each day for four weeks.  Additionally, school lunch and breakfast menus were reviewed and the schools had to show strong support and demonstrate efforts to improve nutrition and physical activity among their students. 

"I am honored to be here to present Glen Meadow Middle School with its $5,000 prize and celebrate the school's commitment to healthy eating and physical fitness," said Jets player Ryan Quigley.

"Glen Meadow Middle School is setting an example for the entire state and helping its students develop healthy eating and exercise habits that will last a lifetime," said Jets player Chris Pantale.

Glen Meadow Middle School has 527 seventh and eighth-grade students.  Their food service management company, Sodexo, works with approved vendors to bring fresh, locally-grown and in-season produce to their cafeterias.  They serve a broad range of produce and other foods grown or produced in New Jersey.  A "veggie bar" is offered daily for students to select additional servings of vegetables.  Menus are developed through Sodexo's menu council, consisting of chefs, dietitians and district general managers, with input from students.  The five-week menu cycle tastes great while meeting or exceeding federal nutrition requirements.

For snacks, the school offers low and non-fat flavored and unflavored milk, 100 percent fruit juice, whole grain rich foods, fresh fruit, yogurt and vegetable sticks.

The school offers a wide variety of physical education activities, including interscholastic field hockey, basketball and track and field; intramural cross-country and volleyball; after-school fitness class; and fitness homework called "Get off the Couch and Get Moving."  About 102 students participated in the Jets Play 60 Challenge.

School principal Dr. Pauline Anderson said they plan to use half of their prize money to improve the school meal programs through the purchase of a portable greenhouse for students to grow herbs and fresh vegetables.

"This collaborative effort between the food service company and the faculty would provide an afterschool activity for our students which would yield produce to be used to supplement the fresh vegetables offered during school lunches," said Anderson.  "Our students would be made aware of the importance of eating herbs and vegetables, which would hopefully lead to a lifelong love of eating right and feeling good about it."

The other half of the prize money will be used to purchase 15 DeskCycles, which turn any desk into an active desk, allowing children to pedal flywheels while learning.

Glen Meadow Middle School was one of four first-place winners in this school year's Play 60 "Eat Right, Move More" program.  The other winners, Aaron Decker School in Butler and Hoboken Dual Language Charter School in Hoboken also were awarded a $5,000 prize and received a Jets player visit.  Adamsville Primary School in Bridgewater will have a program on May 29.  Additionally, there were four second-place schools who received a $1,000 prize:  Joseph J. Catena Elementary School in Freehold, Lafayette School in Bound Brook, Sumner Elementary School in Camden and Long Branch Middle School in Long Branch.  The Grand Prize school was Lakewood High School, which was presented with a $15,000 prize, a Jets player visit and a group from the school was honored on the field at a Jets' home game last December.

As a professional football team that plays in New Jersey, the Jets take great pride in a long-standing, year-round commitment to our community. Programs funded by the New York Jets Foundation look to positively influence the future for countless young men and women in the tri-state area by promoting fitness and supporting youth football, particularly in disadvantaged communities.