Home
>
News
>
Press Releases
>
2015
>
CHRISTIE ADMINISTRATION ANNOUNCES OCEAN COUNTY SCHOOL TEAM WINNER IN STATEWIDE NATURAL RESOURCES, SCIENCE COMPETITION
CHRISTIE ADMINISTRATION ANNOUNCES OCEAN COUNTY SCHOOL TEAM WINNER IN STATEWIDE NATURAL RESOURCES, SCIENCE COMPETITION
For Immediate Release: May 6, 2015
Contact: Lynne Richmond
(609) 633-2954
lynne.richmond@ag.state.nj.us 

(TRENTON) – New Jersey Secretary of Agriculture Douglas H. Fisher today announced a team of high school students from the Marine Academy of Technology and Environmental Sciences (MATES) in Manahawkin was the winner of the New Jersey Envirothon, held Saturday, May 2 at the Cape May County 4-H Fairgrounds in Cape May Court House.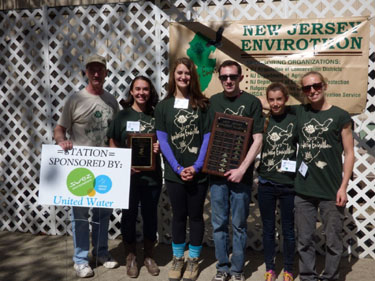 Ray Cywinski, Pres. Of NJ Association of Conservation Districts congratulates the winning team, MATES Team One: Megan Tumpey; Katie DeMario; Michael Signorelli; Lauren Zodl; and Gillian Schriever.

MATES Team One consisted of Gillian Schriever of Little Egg Harbor, Megan Tumpey of Brick, Lauren Zodl of Little Egg Harbor, Michael Signorelli of Toms River and Katie DeMario of Toms River. The team will represent New Jersey in the North American Envirothon July 27 – August 2 at Missouri State University in Springfield, MO.

"I commend MATES for excelling in the New Jersey Envirothon, one of the most challenging and competitive science, environment and natural resources contests in the nation," said Secretary Fisher. "All participants gained valuable knowledge and experience that will help them in their future careers. We urge them all to consider careers in agriculture and natural resources-related fields."

The Ocean County students competed against 33 other teams on knowledge of natural resources-related topics, including soils, forestry, aquatics, wildlife ecology and a current environmental issue. This year's theme was "Urban – Community Forestry."

Each of the MATES team members received $1,000 scholarships from the New Jersey Association of Conservation Districts, $2,000 scholarships from Richard Stockton State College and $1,000 scholarships from Applied and Health Sciences at Kean University.

The second-place team in this year's Envirothon was MATES Team Two and third place was taken by West Windsor-Plainsboro High School North.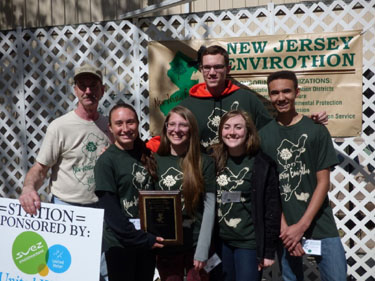 Ray Cywinski with second-place team MATES Team Two: DanaRose Brown, Althea Loucanides, Alexa Ornstein, Joshua Thomas, Andrew Pidduck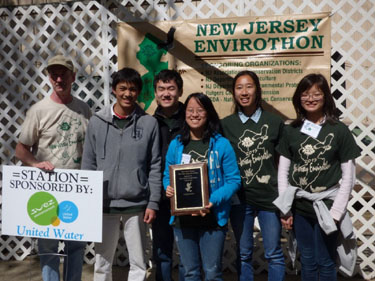 Ray Cywinski with third-place team West Windsor Plainsboro HS North: Edison Lee, Raymond, Shannon Sheu, Allison Wong, Anna Qian

The Envirothon is sponsored by the New Jersey Department of Agriculture, State Soil Conservation Committee; New Jersey Association of Conservation Districts; the 15 Soil Conservation Districts; United States Department of Agriculture, Natural Resources Conservation Service; New Jersey Department of Environmental Protection; and Rutgers Cooperative Extension.

The 15 Soil Conservation Districts in New Jersey follow county boundaries and implement the New Jersey Soil and Sediment Control Act, which governs certain aspects of new development. These semi-autonomous bodies are locally governed and play a strong role in the protection of New Jersey's natural resources.