SHOW YOUR "JERSEY FRESH LOVE" THIS GROWING SEASON
Agriculture Department Invites Consumers to Participate in Season-Long Social Media Campaign

For Immediate Release: May 14, 2015
Contact: Lynne Richmond 
(609) 633-2954
lynne.richmond@ag.state.nj.us

(CHERRY HILL) –New Jersey Secretary of Agriculture Douglas H. Fisher wants to hear from Jersey Fresh produce fans about where they get their New Jersey grown fruits and vegetables, how the produce is being used and their favorite farms to visit. Secretary Fisher kicked -off the new social media campaign, "#Jersey Fresh Love," during a stop at the Farm and Fisherman Tavern in Cherry Hill.

"Jersey Fresh is 31 years old this year and more popular than ever," said Douglas H. Fisher, New Jersey Secretary of Agriculture.  "By this time, people are anxiously awaiting their favorite Jersey Fresh fruits and vegetables and looking forward to visiting their favorite markets and restaurants to find Jersey Fresh items.  We want everyone to share their photos from these experiences on their social media channels."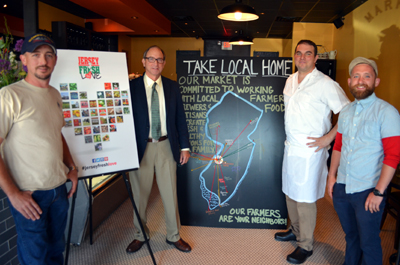 Barry Savoie of Savoie Farms in Williamstown, Secretary Fisher, Farm and Fisherman Tavern owner Josh Lawler and Daniel Childs of Indian Acres Farm kicking off the #JerseyFreshLove social media campaign

The Department is looking for people to share their love of Jersey Fresh through photos – post images of favorite Jersey Fresh fruits, vegetables or dishes; a local farmer, farmers market or roadside stand; a favorite restaurant that serves Jersey Fresh and Jersey Seafood dishes; a visit to a winery; or agritourism adventure.  Also, post spottings of the Jersey Fresh logo or share a recipe.  Tell us a little about your photo, where you are and why you love it so much.  Be sure to include the hashtag #JerseyFreshLove in all your posts about Jersey Fresh.

Each week the Department will gather some favorites into an album and share them.  Remember to show your Jersey Fresh Love.

The Farm and Fisherman Tavern opened in Cherry Hill in 2013 by Josh and Collen Lawler.  In partnership with Chef Todd Fuller, they strive to incorporate Jersey Fresh produce and local meats and cheeses in their menu items.  They source from New Jersey farms, including Savoie Organic Farm in Williamstown, Pinelands Produce in Browns Mill, Springdale Farms in Cherry Hill and Muth Family Farm in Pitman.  They also preserve Jersey Fresh produce to use during the winter months.

Josh Lawler said their goal for the restaurant is to continue building relationships with area farmers and to serve the best ingredients possible.

"Jersey is the Garden State for a reason," said Lawler.  "There should be an aura about our vegetables and we are proud to have the ability to showcase them on our menu."

"As a chef, it's important to use products that are fresh and at their peak," said Chef Fuller.  "Local food travels less and just tastes better.  It also is important to support local suppliers; this helps maintain regional diversity in cuisine."

Continue to monitor the Department's social media channels at Facebook  www.facebook.com/JerseyFreshOfficial, Twitter @JerseyFreshNJDA, Pinterest at www.pinterest.com/JerseyFreshNJDA/, Instagram @jerseyfreshNJDA and Tumblr  http://jerseyfreshofficial.tumblr.com/.