CHRISTIE ADMINISTRATION KICKS OFF 2015 AGRICULTURAL PLASTICS RECYCLING PROGRAM
Program Free and Open to All Licensed Pesticide Applicators

For Immediate Release: May 15, 2015 
Contact: Lynne Richmond
(609) 633-2954
lynne.richmond@ag.state.nj.us 

(DEERFIELD TOWNSHIP) – New Jersey Secretary of Agriculture Douglas H. Fisher today kicked off the 2015 plastic pesticide container recycling program at the Cumberland Solid Waste Complex in Deerfield.  The facility is one of six sites around the state that accept the triple-washed containers from now through November.  There is no cost for the program.

The state has had a plastic pesticide container recycling program for the last 20 years, with the Department of Agriculture leading the initiative since 2002.  The program is open to all New Jersey Department of Environmental Protection-(DEP)-licensed pesticide applicators.  The DEP issues participants one-core credit toward their NJDEP pesticide license. 

"We encourage all farmers and other pesticide applicators to participate in this important and helpful program," said Secretary Fisher.  "Participation keeps these plastics out of landfills and saves them money.  It is a true win-win."

Secretary Fisher viewed a drop off of a load of containers and the process that occurs during and after a drop off.  The Department of Agriculture operates the program, in partnership with the Cumberland County Improvement Authority. Last year, 252,660 pounds of plastic pesticide containers were collected at the Deerfield site and a total of 479,229 pounds for all sites.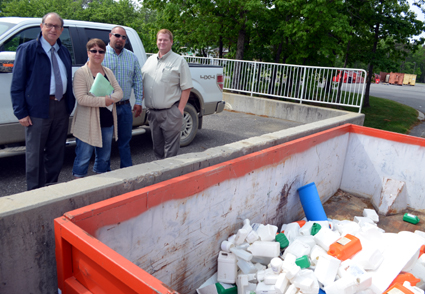 Secretary Fisher, NJDA Ag Recycling Coordinator Roberta Lang, Cumberland County Improvement Authority Recycling Coordinator Tony Riviera and Keith McIndoe from Johnson Farms in Deerfield.  McIndoe dropped off a load of plastic pesticide containers for recycling.

Other facilities in the program are Helena Chemical in Hammonton and Woodstown, Allied Recycling in Mount Holly, Rutgers Fruit and Ornamental Extension Center in Cream Ridge, and new this year, Morris County Municipal Utilities Authority in Flanders.  Click here for the full schedule of collection dates and times.

Non-refillable, high-density polyethylene # 2 (HDPE #2) containers used by agricultural, professional and commercial pesticide applicators will be accepted at the collection sites. Containers must be no larger than 55 gallons and properly rinsed.  Click here for the detailed program guide.

The Department of Agriculture coordinates the recycling of many different plastic agricultural materials.  The Cumberland County facility is one of four sites statewide that accepts nursery and greenhouse film year-round.  The Department also lists vendors who will accept for recycling mulch film, irrigation drip tape, plastic nursery pots, drip trays and flats.

Click here for more information about the Department of Agriculture's recycling programs.