2015 PLAY 60 EAT RIGHT, MOVE MORE WINNER HONORED BY CHRISTIE ADMINISTRATION, NY JETS
Adamsville Primary School Recognized for Excellence in Nutrition, Promoting Overall Good Health

For Immediate Release: May 29, 2015
 Contact: Lynne Richmond
(609) 633-2954
lynne.richmond@ag.state.nj.us 

(BRIDGEWATER) – New Jersey Secretary of Agriculture Douglas H. Fisher and New York Jets kicker Nick Folk today honored Adamsville Primary School in Bridgewater as one of this year's first-prize winners in the New Jersey Department of Agriculture's Jets PLAY 60 "Eat Right, Move More" program.

Secretary Fisher and Nick Folk held a special program for the students and presented the school with a $5,000 prize to be used for kitchen updates and physical education equipment, made possible by the Jets, the Robert Wood Johnson Foundation (RWJF) and the American Dairy Association & Dairy Council, Inc. 

"Adamsville Primary School students are benefitting from the administration's commitment to providing highly nutritional options in the school cafeteria as well as encouraging physical fitness both during and after school," said Secretary Fisher. "We are proud to honor their achievement through this program."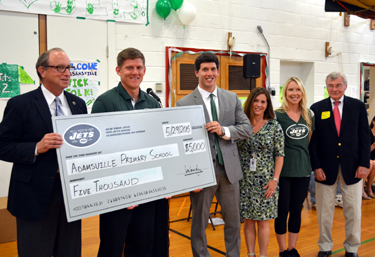 Secretary of Agriculture Douglas Fisher; NY Jets kicker Nick Folk; Bridgewater School district Physical Education Supervisor Brian Henry; Adamsville Primary School Asst. Principal Laura Zamrok; Adamsville phys. ed. Teacher, Jenna Ostrowski; Somerset County Freeholder Peter Palmer.

The Jets PLAY 60 "Eat Right, Move More" program, a collaboration between the Jets, NJDA, RWJF and the American Dairy Association & Dairy Council, Inc., encourages New Jersey school children to take advantage of healthy foods in their school cafeterias and become more active. 

To win, schools had to show they offer healthier snacks and have 100 students or more participate in the Jets PLAY 60 Challenge, where students logged at least 60 minutes of physical activity each day for four weeks.  Additionally, school lunch and breakfast menus were reviewed and the schools had to show strong support and demonstrate efforts to improve nutrition and physical activity among their students. 

"I'm honored to present Adamsville Primary School with its $5,000 prize and celebrate the school's commitment to healthy eating and physical fitness," said Nick Folk, program spokesman.  "The school is setting an example for the entire state and helping its students develop healthy eating and exercise habits that will last a lifetime. It's inspiring to be at the school today and see firsthand the impact of this program as well as to hear the favorable responses of the students. I'm hopeful more schools will get on board with this program and promote overall good health to our youth."

Adamsville Primary School has 569 pre-kindergarten through fourth grade students.  Maschio's School Food Service, the district food service provider, makes fresh produce available every day to students in the form of "Mac's Veggie Patch," which offers the five vegetable sub-groups weekly and the required amount of fruit.

"Careful consideration is given to the daily menu choices to incorporate well-accepted menu items which meet the requirements of the Healthy Hunger Free Kids Act," said school principal Dr. Jeff White.  "New items are offered once or twice per month.  Monthly promotions are included to add excitement to the menu.  Arrays of color are provided each day to keep the meals visually stimulating."

All snacks and supplemental food sales are Smart Snack compliant.  Low-fat ice cream, spring water, flavored and unflavored fat free milk, baked chips and whole grain cookies are offered. 

Dr. White said 101 students participated in the Jets Play 60 Challenge.  The school throughout the year offers special events to encourage students and families to exercise:  a Healthy Heart Dance, Gym Class Super Hero Summer Camp, staff volleyball game with student cheerleaders, and annual field day.  The school's Character Education Committee also has promoted a monthly theme to create awareness about the importance of physical fitness.

The school plans to use the prize money to possibly purchase gym mats, a climbing wall or a video dance game. Maschio's is looking into using the food service portion to buy warming devices and a freezer for the kitchen.

Adamsville Primary School was one of four first-place winners in this school year's Play 60 "Eat Right, Move More" program.  The other winners, Glen Meadow Middle School in Bridgewater, Aaron Decker School in Butler and Hoboken Dual Language Charter School in Hoboken also were awarded a $5,000 prize and received a Jets player visit.  Adamsville Primary School in Bridgewater will have a program on May 29.  Additionally, there were four second-place schools who received a $1,000 prize:  Joseph J. Catena Elementary School in Freehold, Lafayette School in Bound Brook, Sumner Elementary School in Camden and Long Branch Middle School in Long Branch.  The Grand Prize school was Lakewood High School, which was presented with a $15,000 prize, a Jets player visit and a group from the school was honored on the field at a Jets' home game last December.

As a professional football team that plays in New Jersey, the Jets take great pride in a long-standing, year-round commitment to our community. Programs funded by the New York Jets Foundation look to positively influence the future for countless young men and women in the tri-state area by promoting fitness and supporting youth football, particularly in disadvantaged communities.