CHRISTIE ADMINISTRATION CELEBRATES JUNE AS MONTH OF THE HORSE
Ag Secretary Visits Thoroughbred Breeding Farm

For Immediate Release: June 3, 2015
Contact: Lynne Richmond 
(609) 633-2954              
lynne.richmond@ag.state.nj.us 

(TRENTON) – New Jersey Secretary of Agriculture Douglas H. Fisher and New Jersey Equestrian of the Year Kirsten Jeansson today kicked off June as the Month of the Horse in New Jersey with a visit to Hidden Acres 4-D Farm in Burlington County, a thoroughbred breeding facility. 

New Jersey is home to thousands of pleasure horses, show horses and race horses.  In 1977, to honor the important place horses play in New Jersey's economy and quality of life, the horse was named the official State Animal.  To honor the state's equine industry, Governor Chris Christie has proclaimed June the Month of the Horse in New Jersey.

"New Jersey's beloved equine industry is quite diverse, from Thoroughbred and Standardbred racing to horse shows and pleasure riding – there is something everyone can enjoy all year long," said Secretary Fisher.  "Horse farms help retain open space and provide for scenic vistas we all appreciate in the Garden State."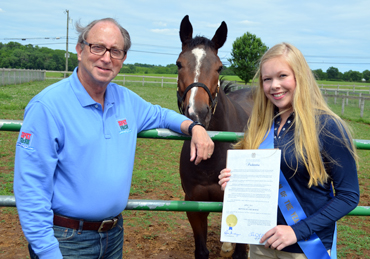 Secretary Fisher presents Equestrian of the Year Kirsten Jeansson with the Month of the Horse Proclamation

Kirsten Jeansson, a Seneca High School student from Tabernacle, was named New Jersey Equestrian of the Year by the New Jersey Equine Advisory Board in January.  Her duties include attending functions hosted by the New Jersey Equine Advisory Board and represent the Board at functions.

"New Jersey has a large and diverse equestrian community, so celebrating the month of the horse is a great opportunity to teach and learn about the many facets of the equine industry in New Jersey," said Jeansson.  "As the Equestrian of the Year, I hope to bring more awareness to the equestrian community as a whole.  I hope that I can teach the public about the equine industry and its impact on not only the agricultural industry in New Jersey, but on New Jersey as a whole."

At Hidden Acres 4-D Farm in Chesterfield and North Hanover, Secretary Fisher and Jeansson were given a tour and met the current mare, foal and yearlings in residence.

The Wilkinson family has been involved in Thoroughbred horse breeding since 1979.  The 222-acre preserved farm is now operated by Todd and Jennifer Wilkinson.  They also have pleasure horses and a hay operation for feed.

"We love breeding horses and racing," said Todd Wilkinson.  "We are proud of our state's Thoroughbred farms and the equine industry, which help the entire agricultural community and help keep open space."

New Jersey has many top equine centers, facilities, and events.  The Equine Science Center at Rutgers University, a valuable resource for everything equine in the Garden State, is dedicated to better horse care through research and education.  The United States Equestrian Foundation headquartered in Gladstone funds programs that train and support top athletes and horses to compete at the Olympics, World Championships, Pan American Games and other top international competitions.  The Horse Park of New Jersey at Stone Tavern in Allentown hosts the Jersey Fresh Three-Day Event, which has become one of the world's top eventing competitions.  And, the Gloucester County Dream Park is a state-of-the-art equestrian complex created to provide opportunities for horse owners to participate in shows and competitions and for the public to experience horse events firsthand.

To learn more about New Jersey's equine industry, visit www.jerseyequine.nj.gov.