Home
>
News
>
Press Releases
>
2015
>
DEPARTMENT OF AGRICULTURE UNVEILS PROJECT IN CAPE MAY COUNTY TO EDUCATE CITIZENS ABOUT TREE-KILLING PESTS
DEPARTMENT OF AGRICULTURE UNVEILS PROJECT IN CAPE MAY COUNTY TO EDUCATE CITIZENS ABOUT TREE-KILLING PESTS
Focus on Emerald Ash Borer and Asian Longhorned Beetle

For Immediate Release: June 10, 2015
Contact: Lynne Richmond 
(609) 633-2954
lynne.richmond@ag.state.nj.us 

(TRENTON) – The New Jersey Department of Agriculture today unveiled a new exhibit at Cape May County Zoo in Cape May Court House designed to educate the public about invasive pests threatening trees in New Jersey. 

The Department is currently monitoring an infestation of emerald ash borer which made its appearance in the state last year.  The invasive beetles have attacked and killed tens of millions of ash trees in the U.S. and Canada since 2002.

"With emerald ash borer now here in New Jersey, exhibits like this one at Cape May County Zoo are vital in educating the public so they can assist us in finding signs of the invasive insects," said Joseph Zoltowski, Division of Plant Industry Director.  "The display is part of the Department's outreach efforts to stop the spread of tree killing pests."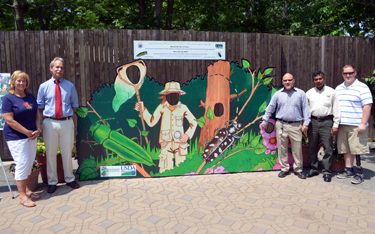 Cape May County Freeholder Marie Hayes, Joseph Zoltowski, Paul Kurtz, USDA APHIS Acting State Plant Health Director Tapos Mondal and Assemblyman Bob Andrezcjak
The display has giant pictures of an emerald ash borer and Asian longhorned beetle, with cutouts for children to put their faces into the scene.  Along with the fun activity, there are signs explaining the threat the insects pose to state trees and how to contact the New Jersey Department of Agriculture in case people spot the bugs.
The concept and design for the display came from Paul Kurtz, Department entomologist and Forest Pest Outreach and Survey Program Manager.  He worked with Cape May County Zoo as well as the World of Wings in Teaneck and Turtle Back Zoo in West Orange to locate displays at the facilities to reach a greater number of people.  Each exhibit cost $3,000, with funding coming from the U.S. Department of Agriculture (USDA) Forest Pest Outreach and Survey Program.

Cape May County Zoo gets 500,000 visitors each year.  Jean Whalen, assistant parks director, said they agreed to locate the display at the zoo because they share the love of the forests and wish to help protect them by raising awareness.  She said the display has been a big hit.

"The response has been amazing," said Whalen.  "Almost every family that walks through the zoo cannot pass without stopping to get a photo of their smiling child's face in the eye-catching display."

The Department of Agriculture works to suppress and eradicate harmful insects that kill trees in New Jersey.  Currently, the Department is tracking infestations of emerald ash borer in Mercer, Burlington and Somerset counties.  Asian longhorned beetle was successfully eradicated in the state by the Department, USDA and the New Jersey Department of Environmental Protection last year.

Most invasive insect discoveries in the United States have been made by private citizens.  In both the New Jersey emerald ash borer and Asian longhorned beetle infestations, members of the public alerted authorities. 

To learn more about emerald ash borer, visit www.emeraldashborer.nj.gov or the USDA's site at http://bit.ly/1sXM3CW.  For Asian longhorned beetle information, go to http://asianlonghornedbeetle.com.

Report signs of these beetles to the Department of Agriculture at 609-406-6939.