STUDENT SUMMER MEAL PROGRAM AVAILABLE
Programs Underway Around NJ To Provide Free Summer Meals for Low Income Students

For Immediate Release: July 14, 2015


Contact:

Lynne Richmond            
(609) 633-2954
lynne.richmond@ag.state.nj.us 

(UNION CITY) – New Jersey Secretary of Agriculture Douglas H. Fisher and U.S. Department of Agriculture Food and Nutrition Service Deputy Regional Administrator Diana Limbacher today helped serve lunch to about 250 students at Jose Marti Middle School in Union City as part of the Department of Agriculture's Summer Food Service Program. 

Started in 1976 as an outgrowth of the National School Lunch Program, the Summer Food Service Program is designed to reach those who are age 18 or younger in low-income areas.  It also is open to people over 18 who are mentally or physically handicapped and who participate in public or nonprofit private programs established for the disabled. 

"It is easy to find the nearest Summer Food Service Program by texting 'Food' to 877-877," said Secretary Fisher.  "Some programs provide both breakfast and lunch and ensure children who receive free lunch in school get nutritious meals during summer days.  We applaud Union City's commitment to providing access to this important program for its young residents."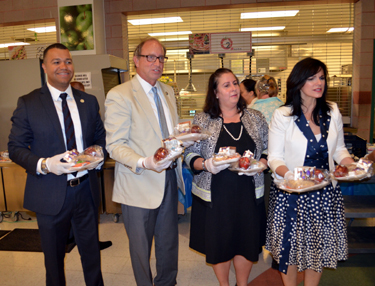 Jose Marti school principal Rudy Baez, Secretary Fisher, Union City School Superintendent Silvia Abbato and Diana Limbacher

The federally-funded program reimburses participating organizations for meals served to children who live in areas in which at least 50 percent of the children qualify for free or reduced-price meals under the National School Lunch Program.  Statewide this year there are more than 1,100 sites sites serving more than 53,000 children daily.  In the 2014-2015 school year, more than 430,000 New Jersey students received free or reduced price meals in their schools under the National School Lunch Program (NSLP).  In 2014, only 20 percent participating in the NSLP had access to healthy meals in the summer.

Last year, the 100 sponsors served more than 3 million meals at 1,000 feeding sites.  Most participating organizations may be reimbursed for up to two meals a day – lunch and either breakfast or a snack.

Fisher and Limbacher's visit to Jose Marti Middle School coincided with Union City's Summer Food Service Program kick-off event, an effort to raise awareness about the program and increase the number of children served each day.

"Union City children are well served by their city this summer," said Deputy Regional Administrator Limbacher.  "The city's efforts to bring more awareness to the Summer Food Service Program ensure that many more children will get a nutritious meal during the summer months."

Union City has been providing the Summer Food Service Program for 33 years.  They currently have 14 feeding sites and serve breakfast and lunch to about 1,800 children per day.

"The Summer Food Services Program provides the City and the Board of Education with the tools to ensure that our children are being fed and cared for during the summer months when school is not in session," said Union City Mayor Brian P. Stack.  "The City has already provided meals for approximately 1,800 children so far this year, which is more than in previous years, but we are working to feed as many children as possible.  Healthy and nutritious meals are critical to our children's growth and development."  

The city is running the program through August 28.  For more information and locations for the Summer Food Services Program, please visit Union City's website at www.ucnj.com. 

To learn more about the Summer Food Service Program or how to become a sponsor, visit http://bit.ly/V233JR. To find a feeding site near you, call the National Hunger Hotline at 1-866-3-HUNGRY (1-866-348-6479) or text Food to 877-877.