NJ TOP SEAFOOD CHEF READIES BEST OF JERSEY DISH FOR NATIONAL SEAFOOD COMPETITION
Secretary Fisher Serves as Taste Tester During Practice Run

For Immediate Release: July 27, 2015
Contact: Lynne Richmond            
(609) 633-2954   
lynne.richmond@ag.state.nj.us 

(TRENTON) – New Jersey Secretary of Agriculture Douglas H. Fisher today taste-tested  Barnegat Light Scallops, Creamless Creamed Corn and Jersey Chantarelles, which the state's top seafood chef Bryan Gregg will prepare as New Jersey's entry in the Great American Seafood Cook Off in New Orleans, LA on August 8.

Gregg

of Escape in Montclair today

practiced preparing their entrée that won them first place in the Department of Agriculture's Jersey Seafood Challenge in Barnegat Light on June 25.  The practice session was held at New Jersey Restaurant and Hospitality Association (NJRHA) Headquarters in Trenton for Secretary Fisher and a group of restaurant industry experts, who gave Gregg tips designed to help him at the Great American Seafood Cook Off.

"New Jersey has a vibrant commercial fishing industry and scallops are among its most valuable catch," said Secretary Fisher.  "We are confident that Chef Gregg's dish will highlight the amazing flavor and high quality of Jersey scallops, representing the Garden State proudly at the national competition."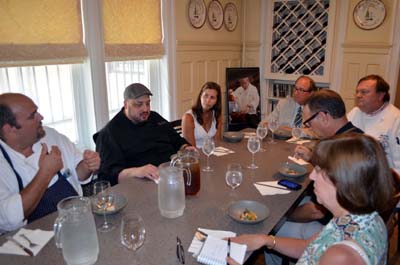 Chef Gregg discusses his dish with Secretary Fisher and other tasters

The scallops Chef Gregg will be using for his dish will be coming from Viking Village in Barnegat Light, the produce from Cassaday Farms in Monroeville and the herbs from his restaurant's own herb garden.  Gregg said he's excited to represent NJ in Louisiana.

"It's always nice to get a chance to show people what we can do, especially on a grand stage," said Chef Gregg.  "The best way to describe what we are going to do with our seafood is minimal.  We are going to keep our flavors clean and recognizable and let our produce and, ultimately our seafood, speak for itself."

Gregg competed against seven other premier seafood chefs from around the state in the Jersey Seafood Challenge at Viking Village, a main sponsor of the competition.  His New Jersey Scallop BLT was inspired by classic New Jersey diner food.  One judge at the competition called the dish "awe-inspiring" in an Asbury Park Press interview.

Chef Gregg is a graduate of the Pennsylvania Institute of Culinary Arts.  He worked at some of the most highly regarded restaurants in New York and New Jersey, such as Ho-Ho-Kus Inn and Michael Anthony's, before bringing the farm-to-table experience to Essex County, NJ, with Escape in Montclair.  He recently was the featured chef at the James Beard House in Manhattan.

The Jersey Seafood Challenge was sponsored by: Viking Village, New Jersey Restaurant Association, Garden State Seafood Association, New Jersey Chapters of the American Culinary Federation, and Lund's Fisheries.

At the Great American Seafood Cook-off, Chef Gregg will compete against chefs from Alabama, Alaska, Florida, Georgia, Louisiana, Maine, Mississippi, Oklahoma, Oregon, South Carolina and Texas. The champion will be named America's Best Seafood Chef. The cook-off is part of the Louisiana Foodservice Expo. 

New Jersey fishermen land more than 100 varieties of finfish and shellfish. New Jersey's commercial fisherman caught 120 million pounds of seafood in 2013 valued at $133 million. The most valuable fisheries in 2013 were sea scallops ($65.3 million), ocean quahog ($12 million), surf clams ($10.9 million), and blue crabs ($8.1 million), according to the National Oceanic and Atmospheric Administration (NOAA).

For more information about New Jersey seafood, visit the Jersey Seafood website at www.jerseyseafood.nj.gov.