AGRICULTURE SECRETARY WRAPS UP "JERSEY FRESH LOVE" TWO-DAY TOUR HIGHLIGHTING NJ PRODUCE
Jersey Fresh Produce At Peak of Season

For Immediate Release: August 6, 2015
Contact: Lynne Richmond 
(609) 633-2954
lynne.richmond@ag.state.nj.us 

(TRENTON) – New Jersey Secretary of Agriculture Douglas H. Fisher traveled through five Central and North Jersey counties on the second day of a two-day "Jersey Fresh Love Tour" on Friday, July 31 making stops at farms, farmers markets, supermarkets and wineries to highlight the peak of Jersey Fresh season in New Jersey.  More than 100 varieties of fruits and vegetables are grown by Garden State farmers.

Jersey Fresh Love is a social media campaign seeking Jersey Fresh produce fans post pictures on their social media channels about where they get their New Jersey produce, how the produce is being used and their favorite farms and restaurants to visit.  The Department has been showcasing some of those pictures once a week on Facebook, Twitter, Instagram, Pinterest and Tumblr.  The photos have depicted farm visits, recipes, home-grown produce, farmers markets and more.

"Jersey Fresh produce is abundant at this time of year and can be found at community farmers markets, supermarkets, and roadside stands, as well as on the menus of many restaurants," said Secretary Fisher.  "We wanted to seek out Jersey Fresh and allow people to follow us via social media in real-time.  We hope everyone will do what we're doing and support New Jersey farmers and the businesses that purchase their produce."

The Jersey Fresh program is 31 years old this year and identifies to consumers produce grown by New Jersey farmers. 

On the final day of Secretary Fisher's two-day tour he visited: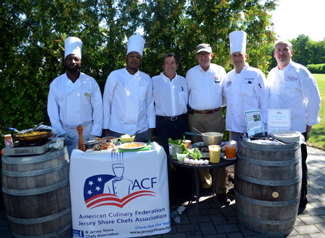 Peppadew Fresh Vineyards and Winery, Morganville -- Peppadew Fresh Farms is the landmark location in the USA  to educate and grow Peppadew Goldew Peppers.  New Jersey is the only state where Peppadew Goldew is grown and marketed.  Shop-Rite stores statewide support the sale of Goldew in their produce department.  Several acres of Peppadew are now being grown on premise and will be ready to harvest mid-August through mid-October.  On the farm, they grown basil, tomatoes, eggplants and wine grapes for their winery.  They also grow cut flowers.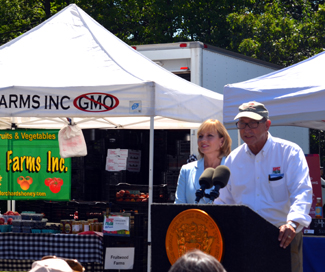 Rutgers Gardens Farmers Market, New Brunswick – The farmers market at Rutgers Gardens on the Rutgers University campus is open Fridays 11 a.m. to 5 p.m.  Farmers include Fruitwood Orchards, Stults Farm and Chickadee Creek Organic Farm.  There also are 39 assorted vendors. 

While at the market, Acting Governor Kim Guadagno signed three bills benefitting bees and beekeepers.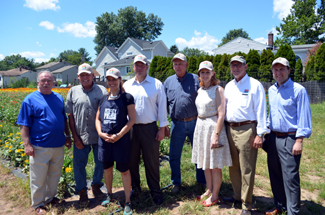 Dreyer Farms, Cranford – Dreyer Farms started in 1904.  It currently has a little more than 5 acres in Union County and is the last working farm in the county.  They grow strawberries, blackberries, heirloom tomatoes, heirloom carrots, beets, spring onions, scallions, spinach, string beans, peas, zinnias, marigolds, various lettuces and herbs.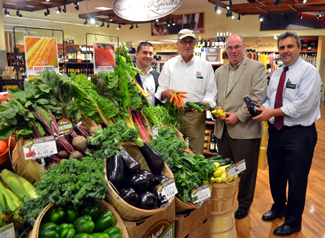 Kings Supermarket, Ridgewood-- Kings is a big supporter of Jersey Fresh.  New Jersey produce available this week is green peppers, sweet corn, cucumbers and red and green lettuce.

Secretary Fisher with the Jersey Fresh display at Kings Supermarket.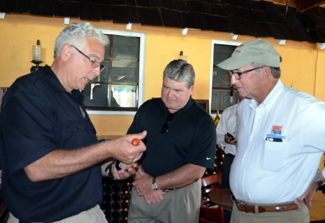 Cava Winery and Vineyard, Hamburg – Cava, which in Italian means cave or mine, was named for Hamburg's history in mining.  The winery opened in 2007 and grows eight acres of Noiret, Blanc, Riesling, Traminette and Vidal Blanc grapes.  They currently have three labels and produce 25 different wines, many of which use local apples, pears, raspberries, blueberries, melons and peaches. 

Secretary Fisher's two-day Jersey Fresh Love tour took him from the tip of Cape May up to the northern reaches of Sussex County.  For photos from the tour, go to the Department of Agriculture's social media channels: Twitter @JerseyFreshNJDA, Instagram @jerseyfreshNJDA, Facebook www.facebook.com/JerseyFreshOfficial and Tumblr http://jerseyfreshofficial.tumblr.com/.