NJ AGRICULTURE OFFICIALS TOUR STATE'S FIRST FARM BREWERY
Screamin' Hill Brewery Opens at Bullock Farms in Cream Ridge

For Immediate Release: August 25, 2015


Contact:

Lynne Richmond
(609) 633-2954   
lynne.richmond@ag.state.nj.us 

(CREAM RIDGE) – New Jersey Secretary of Agriculture Douglas H. Fisher today toured Screamin' Hill Brewery in Cream Ridge, the state's first on-farm brewery.  The brewery is part of Bullock Farms, a 100-acre permanently preserved farm in western Monmouth County. 

The brewery, owned by Brett Bullock, a sixth-generation farmer, and his friends Ryan Cole and Patrick Jones, is currently producing five varieties of beer using ingredients grown on the farm.

"We have a thriving farm-winery industry and we hope to see more craft breweries connected to farms and using local farm products," said Secretary Fisher.  "Being the first farm-brewery in New Jersey, Screamin' Hill is the example of how our state's agriculture and craft brewery industries can work together to create unique products consumers can enjoy."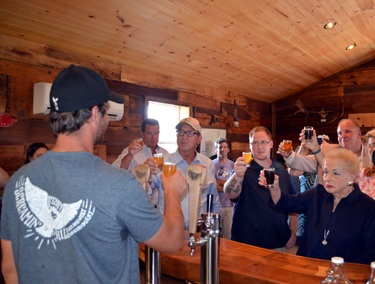 Secretary Fisher, Assemblyman Bob Andrzejczak, Freeholder Lillian Burry, USDA FSA State Director Paul Hlubik and NJ Farm Bureau President Ryck Suydam offer a toast to Brett Bullock and his partners for their new brewery

New Jersey had been home to many breweries before Prohibition and the Great Depression and now, New Jersey's beer industry is growing steadily, with many unique beer varieties.   A limited brewery, also known by some as a craft brewery, is allowed to brew up to 300,000 barrels of beer a year. In addition to its wholesaling privileges, a limited brewery is allowed to sell, with certain restrictions, its product directly to retail consumers on its premises.

Screamin' Hill is one of 33 limited breweries operating in New Jersey.  Brett Bullock said he, Jones and Cole had been home brewing for 10 years when they got the idea of opening the brewery on his family's farm.  They are currently growing their own hop, a key beer ingredient, wheat for their wheat beer and pumpkins and habanero peppers as flavorings for their beers.  Currently they are producing five varieties of beer.

"What makes our brewery special is the location, being on the family farm with the tasting room on the farm, while many breweries are in industrial areas," said Brett Bullock.  "Also unique is being able to use our own ingredients in our beer."

The name Screamin' Hill comes from the hill overlooking the farm called Screamin' Hill, which got its name from a boisterous preacher at a church that once sat on the hill. 

The New Jersey Department of Agriculture encourages the use of Jersey Fresh agricultural products in processed foods and beverages through the Made with Jersey Fresh program.  Cape May Brewing Company in Rio Grande makes a "Made with Jersey Fresh Honey" Porter.  For more information on the program, visit http://bit.ly/1Estkly.