CELEBRATING NEW JERSEY'S WINE INDUSTRY
New Jersey Wine Week Kicks Off with Visit to Local Garden State Winery

For Immediate Release: September 18, 2015
Contact: Lynne Richmond
(609) 633-2954\
lynne.richmond@ag.state.nj.us 

(LOGAN TOWNSHIP) – As farm wineries around New Jersey harvest their grapes and begin making a new stock of wines, the New Jersey Department of Agriculture and Garden State Wine Growers Association officially recognized New Jersey Wine Week September 18-27, encouraging consumers to visit a winery, restaurant featuring New Jersey wines or neighborhood liquor store to purchase local wines.

Governor Christie signed the Wine Week proclamation, honoring the wine industry for being a growing contributor to the state's economy.  A whole host of events are planned during the 10-day celebration, which will conclude with the Jersey Fresh Wine Festival at the Burlington County Fairgrounds in Springfield on September 26 and 27.  Along with wine tastings, visitors will be able to purchase Jersey Fresh produce from New Jersey farmers.

"New Jersey high-quality and unique wines are being recognized as among the best in the world, winning national and international competitions," said Douglas Fisher, New Jersey Secretary of Agriculture.  "This is a great time of year to head out to a winery to sample these wines, enjoy the open space and tranquility and have a fun time."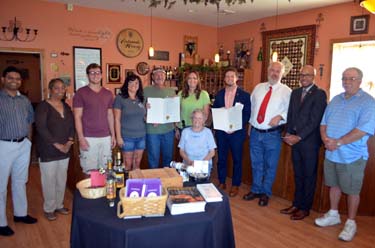 Hemant Gohil, Rutgers Gloucester County Agricultural Agent; Logan Township Deputy Mayor Bernadine Jackson; Andrew Gaventa; Marsha Gaventa; Ed Gaventa; Christine Fries; Mabel Gaventa; John Cifelli; Dan Ward, Chair of the NJ Center for Wine Research and Education at Rutgers; Assemblyman Adam Taliaferro; and NJ State Board of Agriculture member Angelo Trapani.

One of the country's top wine producers with 1.5 million gallons produced in 2014, New Jersey is home to more than 50 licensed wineries. 

"Wine week has grown from an annual press event to a full-fledged multi-industry awareness campaign of the local wine and grape industry," said John Cifelli, Garden State Wine Growers Association Executive Director.  "The GSWGA is proud and pleased to have the support of the Department of Agriculture as we continue to work together to increase consumer awareness and raise the perception of New Jersey wines."

To kick-off New Jersey Wine Week, New Jersey Department of Agriculture Marketing Specialist Christine Fries and Cifelli visited Cedarvale Winery in Logan Township and observed the wine-making process, even trying their hands at testing the fermenting grape juice. Cedarvale Winery is one of 41 member wineries of the Garden State Wine Growers Association.

"What makes our winery special is the fact that everyone that comes in can meet and talk to either my wife, Marsha, or I all the time -- there are only a few places where you can actually meet and ask questions right to the winemaker," said Ed Gaventa, owner of Cedarvale Winery and fourth-generation farmer.  "My favorite part of growing grapes and making wine is seeing the happy faces of customers in the tasting room and also the beauty of the grapes in the vineyard."

Gaventa was brought up on his family's farm and grew more than 200 acres of fruits and vegetables.  He and Marsha opened the winery in 2008.  They now have a total of seven acres of grapes and one acre of newly planted vines.  They grow Chardonnay, Merlot, Cabernet Franc, Pinot Grigio, Syrah, Petit Verdot, Chambourcin, Concord and Sauvignon Blanc.  This year they plan to make seven different wines.  Their wines have won awards in every New Jersey competition they have entered, including the 2013 Governor's Cup for their 2010 Cabernet Franc.

For the full list of Wine Week events, go to www.newjerseywines.com/wine-week.

For a list of New Jersey wineries, visit http://bit.ly/1a743yf.