CHRISTIE ADMINSTRATION HONORS SOUTH JERSEY SCHOOLS DURING JERSEY FRESH FARM TO SCHOOL WEEK
Farm to School Week Wraps Up With School Garden Visits

For Immediate Release: September 25, 2015
Contact: Lynne Richmond
(609) 633-2954
lynne.richmond@ag.state.nj.us 

(GLASSBORO) – New Jersey Division of Food and Nutrition director Rose Tricario visited Dorothy L. Bullock School in Glassboro and Timber Creek Regional High School in Gloucester Township today to see their school gardens as part of Jersey Fresh Farm to School Week.

Jersey Fresh Farm to School Week was designated as the last week of each September by a law signed in 2010 by Governor Christie and the fifth annual celebration took place September 21-25.  During this time, the New Jersey Department of Agriculture showcased schools that connect with New Jersey farmers to purchase local produce for school meals to increase student consumption of healthy produce.

"Each year, excitement about the farm to school program has grown around the state with more schools serving New Jersey produce and growing it themselves in school gardens," said NJ Secretary of Agriculture Douglas H. Fisher.  "Students, like the ones at Bullock and Timber Creek schools, are benefiting greatly from eating more healthy, local fruits and vegetables and learning about agriculture."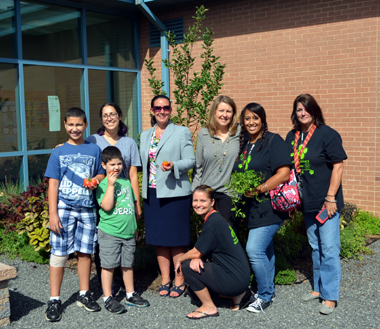 The Danielle Family with Rose Tricario, Chris Cirkus, NJDA Farm to School program, Melissa Tees, Sonya Harris, Donna Romalino

Bullock School's garden was built in May 2015 with the help of Ahmed Hassan, a California-based contractor who hosted the HGTV show "Yard Crashers" and DIY Network's "Turf War."  Supplies and labor were donated by Elite Landscaping of Berlin.  An army of volunteers pitched in over the course of a weekend to install the garden.

Since then, garden coordinator Sonya Harris, a first-grade special education teacher at the school, said the garden has thrived with the help of the staff, students, parents and community.

"The community members love it and parents love coming with their children, who enjoy giving their parents tours of the garden," said Harris.  "We are currently planning for fall planting of lettuce, broccoli, and collard greens and are creating a project-based STEAM Lab/Garden Observation Classroom to teach the students science, technology, engineering, arts, and mathematics through garden education."

Harris said currently, the school has Wellness Wednesdays where a Food Corps representative prepares a healthy dish with the students.  This month, children made salsa using tomatoes harvested from the garden.

At Timber Creek Regional High School, Tricario toured the school garden and watched student members of the Green Team, a club charged with the task of reducing the school's carbon footprint, plant soybeans and harvest eggplant, tomatoes, peppers and herbs for the culinary class, who prepared tomato bruschetta and eggplant parmesan for the guests to sample.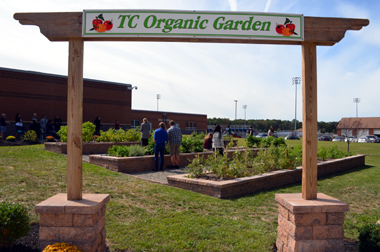 Green Team members planting and harvesting

"The food from the garden has been used for various purposes around the school," said Charles Renner, AP Environmental Teacher and Green Team advisor.  "The cafeteria staff has used some of the vegetables on the salad bar.  Our Multiple Disabilities program has used the veggies to teach the kids about proper cutting techniques, nutrition and culinary skill, as has our culinary classes.  I use the garden in my classes to teach nutrition, crop rotation, watering techniques, soil types, composting, testing for nutrient levels and other lessons."

As part of Jersey Fresh Farm to School Week, Secretary Fisher announced earlier this week the launching of a new Jersey Fresh Farm to School website at www.farmtoschool.nj.gov.  The website has resources for schools on how to start a farm to school program, where to source New Jersey produce and how to plant a school garden.  For farmers, the website provides information on how they can sell their produce to schools and gives them farm to school marketing materials. 

The website has a listing of farm to school events and news and has helpful links for students and parents.  Also, each month a "Top Tomato" will be highlighted, a person who has made a difference in Farm to School.  In addition, the website links to the newly-created Jersey Fresh Farm to School Facebook, Twitter, Instagram and Pinterest pages.

"Successful farm to school programs need the support of school administrators, teachers, parents and the community," said Fisher.  "We congratulate all the schools and farmers across the state that are currently involved and encourage those not yet involved to visit our new website or call the Department for assistance."