CHRISTIE ADMINISTRATION CELEBRATES NATIONAL SCHOOL LUNCH WEEK
Secretary Visits Princeton School's Lunch Program

For Immediate Release: October 13, 2015
Contact: Lynne Richmond 
(609) 633-2954
lynne.richmond@ag.state.nj.us 

(PRINCETON) – New Jersey Secretary of Agriculture Douglas H. Fisher today marked National School Lunch Week and Farm to School Month with a visit to Community Park Elementary School to applaud the Princeton School District's efforts to offer students meals that are nutritious and appealing as well as provide New Jersey produce and teach students about agriculture.

Secretary Fisher joined students in a Garden State on Your Plate tasting, in which farmers and chefs paired up to demonstrate a single ingredient.  Organic broccoli leaves from Chickadee Creek Farm in Hopewell were prepared by chefs from Princeton University Campus Dining.  The students tasted the raw broccoli leaves, then squeezed lemon on it and tasted it again, noting how the lemon changed the taste of the broccoli.  Finally, they tasted broccoli leaf slaw. 

Following the tasting, Secretary Fisher observed lunch in the cafeteria, which was oven-baked ziti or chicken Caesar salad, and a side dish of cucumber with hummus or ranch dressing.

"School districts around the state are providing the best nutrition for our students and are engaging them to provide them with food they want to eat," said Secretary Fisher.  "In addition, we congratulate the Princeton School District for its farm to school efforts, growing school gardens, serving Jersey Fresh produce and helping students understand where their food comes from."

Princeton School District is in its first year with Nutri-Serve Food Management, and fresh vegetables such as carrot sticks, broccoli and celery with a choice of dip are offered every day.  Students also receive a hot vegetable with the hot lunch.  The district also participates in the New Jersey Department of Agriculture's DoD Direct Delivery, which brings even more fresh state produce into Princeton schools.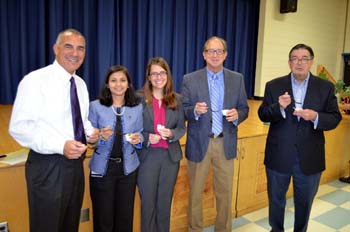 Assemblyman Jack Ciattarelli, Smitha Haneef, Ex. Dir. of Campus 9 @ Princeton, Princeton Mayor Liz Lempert, Secretary Fisher and Mercer County Executive Brian Hughes
"Establishing healthy eating habits is important at an early age," said Dineen Gruchacz, principal of Community Park School.  "Programs like Garden State on Your Plate teaches the students to make good choices."
Community Park School has a garden, started through the Princeton School Garden Cooperative led by Fran McManus.  A variety of greens and herbs, such as Swiss chard, lettuce, cherry tomatoes, bok choy, parsley, basil, cilantro, kale and many other are grown and utilized in the school meals program.  McManus said Garden State on Your Plate is an initiative to teach students about farming and cooking, helping them to understand how to use seasonings to personalize the flavor of produce.
"Having chefs make the food ensures that what we are serving is delicious, increasing the likelihood that the children will like the vegetable," said McManus.  "The farmers and chefs visit the children at their lunch tables throughout the tasting, which gives the children direct access to the men and women who grow and prepare their food."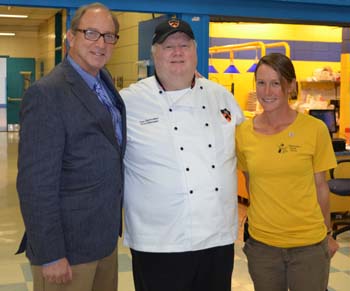 Secretary Fisher with Chef Dan Slobodien and farmer Jess Niederer
New Jersey schools have implemented the 2010 federal Healthy, Hunger-Free Kids Act, which required more fruits and vegetables, whole grains, fat-free or low-fat milk, fat-free flavored milk, and limited saturated fat and portion size.  It set requirements for school breakfast and snacks as well.  Each day, an average of 657,814 students eat school lunch in New Jersey.

National School Lunch Week was created by the School Nutrition Association to encourage participation in the National School Lunch Program and recognize the school districts providing healthy meals every day.  The New Jersey Department of Agriculture administers the program in the Garden State.

National Farm to School Month was created to make sure every student has equal access to locally grown and healthy food.  This program gives schools the opportunity to visit farms, create school gardens and teach students how to cook with fresh fruits and vegetables.  The New Jersey Department of Agriculture, Division of Food and Nutrition represents New Jersey as the state lead to the National Farm to School Network.  For more information on the Department's Farm to School Program visit www.farmtoschool.nj.gov.