Home
>
News
>
Press Releases
>
2015
>
CHRISTIE ADMINISTRATION ANNOUNCES 2016 OUTSTANDING YOUNG FARMER, SEEKS APPLICATIONS FOR 2017 HONOREE
CHRISTIE ADMINISTRATION ANNOUNCES 2016 OUTSTANDING YOUNG FARMER, SEEKS APPLICATIONS FOR 2017 HONOREE
Mercer County Farmer to Receive Award at 2016 State Agricultural Convention

For Immediate Release: October 22, 2015
Contact: Lynne Richmond
(609) 633-2954
lynne.richmond@ag.state.nj.us 

(HOPEWELL TOWNSHIP) – Jessica Niederer, Hopewell Township organic produce and flower farmer, has been chosen as New Jersey's 2016 Outstanding Young Farmer by the New Jersey State Board of Agriculture.  Niederer will be presented with her award at the February 2016 New Jersey State Agricultural Convention in Atlantic City.

"Jess Niederer is a hard-working, creative farmer who always is willing to help others interested in learning about farming," said New Jersey Secretary of Agriculture Douglas H. Fisher.  "She is carrying on her family's proud agricultural tradition and setting the example for both those new to farming and those with farming backgrounds to help keep New Jersey agriculture alive into the future."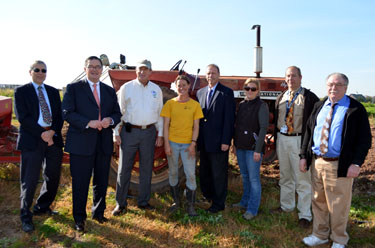 Dan Pace of the Mercer County CADB; Mercer County Executive Brian Hughes; Secretary Fisher; Jess Niederer; Hopewell Township Mayor Harvey Lester; Meredith Melendez, Rutgers Cooperative Extension of Mercer County Agricultural Agent; Erich Bremer, NJDA Organic Certification; Angelo Trapani, NJ State Board of Agriculture member

Niederer grew up on her parents' farm where her father produced soybeans, wheat, straw and her mother ran an eight-stall horse boarding operation.  She graduated from Cornell University with a degree in Natural Resources. During her time as a student she traveled throughout the United States and Latin America for her studies.  After graduation, she spent two years on a 60-acre organic vegetable farm, first as a greenhouse manager and later as assistant field manager.  Finally, Jess came home to become the 13th generation of Niederer farmers.

"My parents never pointed me in the direction of farming; it was more common to hear them suggest becoming a lawyer or doctor," said Niederer.  "After graduating from Cornell, I realized my heart was in farming.  I was 25 when I began my own agricultural operation, Chickadee Creek Farm."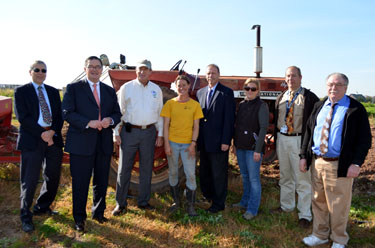 After coming back to Hopewell Township in 2010, Niederer leased five acres of land from the family farm for Chickadee Creek Farm on which she started growing her produce on two of the acres.  Since then, she has increased production to 17 acres, sells through Community Supported Agriculture, attends five farmers markets and has become a certified organic grower. 

As well as being a dedicated farmer, Niederer enjoys giving back to the community.  In 2014 she was voted the "Local Hero" by Edible Jersey readers in the Farm/ Farmer category.  To add to her community accomplishments, Niederer also is an active member of the Mercer County Board of Agriculture, teaches classes on organic farming through the Northeast Organic Farming Association of New Jersey and volunteers as an EMT during the slower months.

New Jersey annually recognizes the outstanding achievements of a young farmer who is an upstanding leader, respected agriculturalist and is active in community or faith organizations.  The Department of Agriculture is accepting applications now through January 15, 2016 for the year 2017 Outstanding Young Farmer (OYF) Award. 

Nominees must be farm operators, deriving a minimum of two-thirds of their income from farming and must be between the ages of 21-40, not becoming 41 prior to January 1, 2016.  Candidates who have a financial interest in the farm operation (a sole proprietor, partner, or a corporation) will receive higher ranking in the OYF judging process. However, nominees may also include salaried farm managers and employees who are actively involved in policy and management decisions.  Submission of a financial statement is not required for state competition.

A panel of five judges reviews each nominee's application based on the following criteria: progress in their agricultural career (50 percent of the total score); soil and water conservation practices (25 percent of the total score); and contribution to his/her community, state and nation (25 pe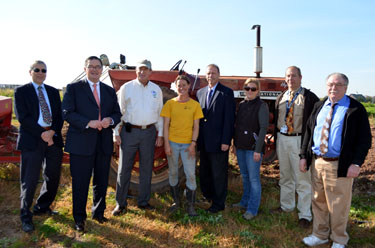 rcent of the total score).

Any individual or organization can nominate deserving young farmers' names. Persons who have been nominated in the past or previous state winners who did not make it to the National competition can be re-nominated. However, these candidates must still meet the eligibility criteria.

Since the first award was presented, eight New Jersey farmers' names have been named National Outstanding Young Farmer: Abbott Lee (1985), James B. Giamarese (1989), Robert Von Thun, Jr. (2001), Jeffrey VanderGroef (2005), H. William Sytsema (2009), Richard Norz (2010), John Melick (2011) and Paul "Duce" Tallamy II (2012).

The OYF program is the oldest farmer recognition program in the United States, with the first group of national winners selected in 1955.  The goals of the OYF program are to foster better urban-rural relations through the understanding of farmers' challenges, as well as the appreciation of their contributions and achievements; to bring about a greater interest in farmers/ranchers; and to help build an urban awareness of the farmers' importance and impact on America's economy.  The OYF program encourages a greater interest in agriculture through the appreciation of the farmers' contributions and achievements and recognizes local citizens' contributions and encourages better urban-rural relations. The National OYF program is sponsored by Deere & Company, supported by the U.S. Junior Chamber of Commerce and the National Association of County Agriculture Agents (NACAA), and is administered by the Outstanding Farmers of America (OFA) Fraternity.

For more information on the state's Outstanding Young Farmer program, visit: www.nj.gov/agriculture/about/sba/cover.html or call Joe Atchison, OYF Program Manager at (609) 984-2223 or email joe.atchison@ag.state.nj.us.