CHRISTIE ADMINISTRATION AWARDS GRANTS TO GLEANING ORGANIZATIONS
Funds to Help Feed Individuals and Families in Need

For Immediate Release: November 2, 2015
Contact: Lynne Richmond
(609) 633-2954
lynne.richmond@ag.state.nj.us 

(EAST BRUNSWICK) – New Jersey Secretary of Agriculture Douglas H. Fisher today announced that the New Jersey Agricultural Society, Foodshed Alliance and Gateway Community Action Partnership will share a $100,000 Gleaning Support Grant, made possible through the Department of Agriculture's State Food Purchase Program. 

Fisher made the announcement at Giamarese Farms in East Brunswick, where he joined Bristol-Myers Squibb volunteers in harvesting collard greens that will be distributed by the New Jersey Agricultural Society's Farmers Against Hunger (FAH) program to Mt. Cavalry Church in Camden, Browns Mills Seventh-Day Adventist Church and Second Baptist Church of Mt. Holly, central distribution points serving 30 area food pantries.  Farmers James and Sue Giamarese have hosted more than 15 gleanings this year and donated almost 13,000 pounds of produce.

"New Jersey has extremely generous farmers who regularly give back to their communities by allowing organizations to pick and collect surplus produce that might have gone to waste and in turn donate the produce to emergency feeding agencies," said Secretary Fisher.  "This funding will go a long way to helping these three gleaning organizations continue to collect and distribute this healthy food to those who need it the most."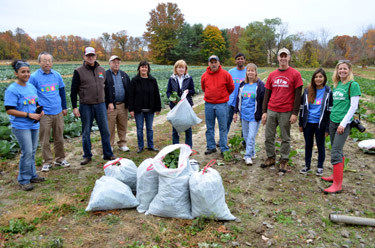 Secretary Fisher, NJ State Board of Agriculture member Angelo Trapani, NJDA Food Distribution Coordinator Jennifer Zeligson, Assemblywoman Nancy Pinkin and farmer Jim Giamarese with gleaned collard greens and Farmers Against Hunger volunteers

The Department of Agriculture provides Gleaning Support Grants to eligible non-profit entities that are gleaning from New Jersey farms and distributing gleaned food to New Jersey organizations to help feed the state's hungry. 

The Farmers Against Hunger program will receive a $78,816 grant to pay for truck operation and salaries. Farmers Against Hunger is dedicated to collecting fresh fruits and vegetables from farms, farm markets, wholesalers and food distributors and distributing it to 70 agencies throughout the state.  Started in 1996 by a few area farmers, the program now includes nearly 50 farmers and serves 7,000 people a week from June to December and 3,000 people each week from January to May.

"The State Food Purchase Program Gleaning Grant is our main funding source which sustains our operations in delivering fresh produce from farms to New Jersey neighbors in need," said Kristina Guttadora, New Jersey Agricultural Society Executive Director. "We thank the Governor, State Legislature, Secretary Fisher and the State Board of Agriculture for supporting our organization and advocating for reducing food waste and hunger in the Garden State through gleaning." 

Receiving a $13,939 grant was the Foodshed Alliance in Blairstown, which operates LocalShare, a program that connects food pantries and local farms so that crops left after the harvest that might otherwise go to waste feeds hungry families instead.  They utilize volunteers to help with gleanings and deliver to food pantries.  The organization works with dozens of emergency feeding organizations throughout northern New Jersey.  The Alliance will use the funding to pay for gleaning coordinators and transportation reimbursement.

Tri-County Community Action Agency, Inc./Gateway Community Action Partnership, which serves seven South Jersey counties, was awarded a $7,245 grant.  They have a gleaning program, which distributes more than 800,000 pounds a year of surplus produce and food products to churches and other food pantries.  In addition, the organization operates Mill Creek Urban Farm, a three acre community farm in Bridgeton to provide a sustainable source of for area residents.  Food grown at the facility is distributed throughout the community.  The grant will be used to pay for part-time employees, purchase produce bins and pay for vehicle operation and utility costs as well as supplies.

Gleaning Support Program grants must be used by the gleaning organizations for collection, distribution and administrative costs.  The groups must distribute the gleaned New Jersey grown produce or non-farm nutrient dense rescued food gleaned from non-farm sources only to New Jersey residents.

The funding for the grants comes from the State Food Purchase Program, for which Governor Christie allocated $6.8 million dollar this year to be distributed quarterly to the state's six food banks to purchase healthy food, with a high priority on buying locally grown produce from New Jersey farmers.