Home
>
News
>
Press Releases
>
2015
>
AGRICULTURE SECRETARY PARTICIPATES IN CHRISTIE ADMINISTRATION'S FIFTH ANNUAL SEASON OF SERVICE
AGRICULTURE SECRETARY PARTICIPATES IN CHRISTIE ADMINISTRATION'S FIFTH ANNUAL SEASON OF SERVICE
Newark Soup Kitchen Offers Thanksgiving Lunch to Those in Need
For Immediate Release: November 25, 2015
Contact: Lynne Richmond
(609) 633-2954
lynne.richmond@ag.state.nj.us
(NEWARK) -- New Jersey Secretary of Agriculture Douglas H. Fisher today joined volunteer wait staff at St. Ann's Soup Kitchen, helping to serve Thanksgiving lunch to 300 area residents in need. The lunch consisted of turkey, sweet potatoes, cranberry sauce, salad, bread, soup, and desserts.
"Soup kitchens and food pantries are vitally important to New Jersey families across the state," said Secretary Fisher. "Hunger is a year-round issue and feeding agencies such as St. Ann's need volunteers and donations from the public and private companies to continue to provide these services."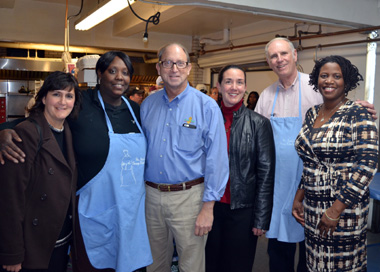 Jennifer Zeligson, NJDA Food Distribution Manager, a volunteer, Secretary Fisher, Rose Tricario, NJDA Food and Nutrition Division director, Larry Crawford, representative of the Community Food Bank of New Jersey
Brother Paul Miller of the Secular Franciscan Order and founder of Franciscan Charities opened the soup kitchen about 10 years ago. The kitchen serves 240 people per day, 5 days a week Monday thru Thursday and Saturday.
The first kitchen consisted of a few volunteers in the abandoned St. Ann's church. On its first day 12 people were served. There was no kitchen and very little access to running water or electricity, but the volunteers kept coming back. More than 300 volunteers joined and St. Ann's Church was restored to a fully functioning house of worship with a kitchen.
In addition to St. Ann's Soup Kitchen, Franciscan Charities also operates St. Rocco's Food Pantry which is open the third and fourth Saturdays of each month from 9 to 11:30 a.m. Both St. Ann's and St. Rocco's receive donations from the public, different religious organizations, grants through Shop-Rite supermarkets and government programs, such as the U.S. Department of Agriculture's Emergency Food Assistance Program (TEFAP) and New Jersey Department of Agriculture's State Food Purchase Program (SFPP).
The State Food Purchase Program provides $6.8 million a year to the state's six-contracted food banks to purchase healthy food with an emphasis on Jersey Fresh produce for distribution to their networks of food pantries, soup kitchens and homeless shelters. TEFAP distributes U.S. Department of Agriculture donated foods to the food banks.
The St. Ann's soup kitchen and St. Rocco's food pantry receive monthly allotments of food through TEFAP and SFPP. The food supplied through these programs includes poultry, pork, fish and other items, which are split between the soup kitchen and food pantry. Larry Crawford, Director of the soup kitchen and food pantry, knows firsthand the importance of these programs.
"The food we receive from the state and federal governments is a humongous help," said Crawford. "It is so much appreciated here."