CHRISTIE ADMINISTRATION, NEW YORK JETS HONOR PLAY 60 "EAT RIGHT, MOVE MORE" WINNER
For Immediate Release: December 1, 2015
Contact: Lynne Richmond
(609) 633-2954
lynne.richmond@ag.state.nj.us

(CARLSTADT) - Carlstadt Public School in Carlstadt, NJ, was honored today by the New Jersey Department of Agriculture and the New York Jets as this year's regular season winner of the Department of Agriculture's Jets PLAY 60 "Eat Right, Move More" program.
Jets kicker Nick Folk met with sixth through eighth graders and conducted a PLAY 60 program. In addition, he surprised six students with the opportunity to be honored on the field at MetLife Stadium during the New York Jets game versus the Tennessee Titans on Sunday, December 13th.
The Jets PLAY 60 "Eat Right, Move More" program, a partnership between the Jets, the Department of Agriculture, and the American Dairy Association & Dairy Council, Inc., encourages New Jersey school children to take advantage of healthy foods in their school cafeterias and become more active.
"The "Eat Right, Move More" program has made an impact in the lives of thousands of New Jersey school children since it started nine years ago, stressing the importance of good nutrition and exercise," said Rose Tricario, Director of the Division of Food and Nutrition for the New Jersey Department of Agriculture. "We commend the NY Jets for their commitment to educating young people about living healthy lives."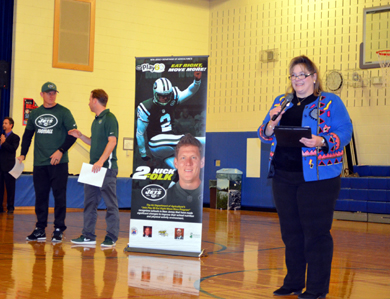 NJ Dept. of Agriculture's Jackie Bricker announces Carlstadt Public School is a winner in the Eat Right, Move More program and is getting a visit from Jets kicker Nick Folk
"It was a lot of fun kicking off the Jets PLAY 60 portion of the "Eat Right, Move More" program today with the students at Carlstadt Public School," said Nick Folk. "They have done such a great job with their nutritious food offerings as well as their physical education program. On top of that, the look of surprise on the six students' faces when they found out they won tickets was priceless."
Carlstadt was chosen for its creative efforts to encourage students to eat healthier. They offer a fully stocked salad bar, showcase a vegetable each day, poll students about their favorite vegetables then include them on the weekly school menus and educate students both in the cafeteria and classroom about nutrition. They give out free samples of new menu items to see how students like them and survey the children about their favorite meals. They also offer monthly incentives where students can win a healthy snack or other prizes for participating in the school lunch program.
Carlstadt Public School has a school garden where fruits, vegetables and spices are grown. They also provide local produce when available.
"We are honored to be the regular season winner this year," said Allison Evans, Carlstadt Public School Supervisor of Curriculum and Instruction. "We strive to help establish and foster a healthy lifestyle with our students. The faculty and staff work every day in assisting students to make healthy decisions. We thank the Jets for giving our students a fun opportunity to be active within the school day and this will motivate our students to successfully continue with the Jets PLAY 60 program."
Carlstadt Public School will now move on to the next phase of the "Eat Right, Move More" program where they must have at least 100 students participate in the Jets PLAY 60 program. Carlstadt will then be in the running with other schools in New Jersey who apply by January 20, 2016 at www.nyjets.com/play60ermm for kitchen and physical education grants and a Jets player visit, which will be announced in the spring. One "Grand Champion" winning school will be awarded a $15,000 grant and a visit from Folk. Three schools will be awarded "Division Champion" grants of $5,000 and a Jets player visit.
The New Jersey Department of Agriculture administers the National School Lunch and Breakfast programs, special milk and after-school snack, Summer Food Service Program and Child and Adult Care Food Program. Almost 700,000 children eat lunch at school every day in the Garden State.
About the New York Jets
As a professional football team that plays in New Jersey, the Jets take great pride in a long-standing, year-round commitment to our community. Programs funded by the New York Jets Foundation look to positively influence the future for countless young men and women in the tri-state area by promoting fitness and supporting youth football, particularly in disadvantaged communities.