Home
>
News
>
Press Releases
>
2016
>
CHRISTIE ADMINSTRATION CELEBRATES JERSEY FRESH FARM TO SCHOOL WEEK AT MORRIS VOCATIONAL SCHOOL
CHRISTIE ADMINSTRATION CELEBRATES JERSEY FRESH FARM TO SCHOOL WEEK AT MORRIS VOCATIONAL SCHOOL
For Immediate Release: September 27, 2016
Contact: Lynne Richmond (609) 610-3526
E-mail: lynne.richmond@ag.state.nj.us
Farm to School Week taking place Sept. 26-30
(DENVILLE) – New Jersey Secretary of Agriculture Douglas H. Fisher today officially kicked off the 6th annual Jersey Fresh Farm to School Week by visiting Morris County Vocational School in Denville where he sampled some locally-sourced items and spoke to students in the cafeteria about farming in New Jersey.
Jersey Fresh Farm to School Week was designated as the last week of each September by a law signed in 2010 by Governor Christie and the fifth annual celebration is taking place September 26-30. During this time, the New Jersey Department of Agriculture has been showcasing schools that connect with New Jersey farmers to purchase local produce for school meals to increase student consumption of healthy produce.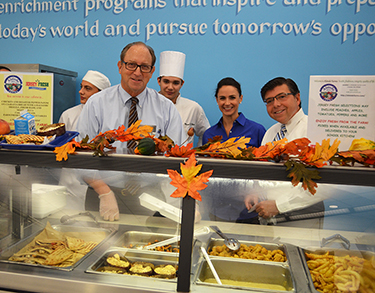 "Thanks to the Jersey Fresh Farm to School program, students in schools around the state are eating more fresh local produce, growing their own fruits and vegetables in school gardens, and learning about good nutrition," said New Jersey Secretary of Agriculture Douglas H. Fisher. "Students at Morris Vocational and across New Jersey are benefiting greatly by studying about the importance of our state's agriculture industry. Additionally, they are having fun eating what our farmers produce and what is growing in their own garden."
Morris County Vocational School has utilized Maschio's Food Service, a company involved with the Farm to School Program, for the last three years. During that time, fresh produce has been integrated into the school cafeteria.
"It is wonderful that fresh local produce is incorporated into the cafeteria menu providing our students with healthy meals," said Lynne Jackson, Principal. Additionally, this is a great way to enhance our partnership with Maschio's and the community. We hope in the future to potentially introduce an interdisciplinary unit of study, like hydroponic gardening, which would integrate students from several of our share-time programs, such as CADD, carpentry, plumbing, and electrical trades, with some of our full-time academies including Culinary, Health Care Sciences, and Math, Science, and Engineering. This is just another testimonial to the fact that food DOES bring people together."
During Secretary Fisher's visit today, he tried peppers, tomatoes and other roasted vegetables sourced from Alstede Farms in Chester. The food service program also prepared apple crisp for sampling.
The Morris County School of Technology, a 2013 National Blue Ribbon School and nationally ranked high school in the top one-third, according to Newsweek, offers programs for Morris County high school students, including Career and Technical Education Academies, and Share Time Programs. For additional information, please visit the school's website www.mcvts.org.
For more information on the New Jersey Farm to School Program, visit www.farmtoschool.nj.gov.