ATLANTIC CITY, NJ November 21, 2013 - NJ Civil Service Commission (CSC) Chair/CEO Robert M. Czech received the Public Sector Career Recognition Award from the New Jersey State League of Municipalities at its annual conference in Atlantic City on November 21.
Chairman Czech was nominated to the CSC position by Governor Chris Christie and confirmed by the State Senate on February 22, 2010, following extensive experience in public service at the municipal and county levels in New Jersey.
Mr. Czech began his career in the Jersey City Office of Management and Budget and worked at the NJ Department of Community Affairs' Office of Local Government Services in the Distressed Cities Program. He served as the Town Administrator for Kearny, Business Administrator for Passaic and Township Manager for Montclair.
As Township Administrator of Middletown Township, his responsibilities included overseeing a 68,000 person municipality including collective bargaining, budget preparation, capital improvement program, public safety, public works, health, parks and recreation, and community development. In 2007, he was tapped to be Monmouth County Administrator, a position he held until joining the Governor's cabinet.
In many ways, Chairman Czech's career at the municipal and county levels was both the prelude and proving ground for his tenure at the Civil Service Commission. The Governor's call for real reform in the civil service system required that the incoming Commission head be expert in the day-to-day workings of public sector employment, and able to work with stakeholders at all government levels to deliver results that would ultimately benefit the taxpayers of the State.
Since his confirmation, the Chairman has undertaken several vital initiatives:
Title Consolidation: a review of all titles in the civil service system, with an eye toward consolidation or elimination of those that are obsolete or redundant
In March 2010, Chairman Czech assembled a task force of state, county and municipal human resource professionals and managers to review the nearly 7,500 job titles on the books at all three levels. The Commission has eliminated or merged approximately over 2,400 titles redundant or obsolete State and local titles - a reduction of one-third.
Development of an online application system for public service employment
The Commission is moving testing and hiring into the digital age by creating an Online Application System (OAS) encouraging applicants and hiring authorities to use OAS instead of paper applications. In just under two short years, the OAS has processed nearly 66,000 applications, and now accounts for more than 89% of all open and promotional applications processed by the Commission;
Reenergizing the State's management and employee training functions and extending their availability to municipalities
The Commission is consolidating employment training, and offering programs to State, local and county agencies. It is incorporating innovative strategies such as self-directed on-line classes and partnerships with the New Jersey County College Consortium to make the training more readily available
The transfer of 154 titles from the competitive to the non-competitive division to expedite hiring in common positions
Institution of a Job Banding pilot to reduce red tape in promotions;
Support of shared services legislation; and
Regulatory reform, including liberalizing rules regarding local government personnel transfers, the elimination of the "statement of reasons" to justify an appointment under the rule of 3, and the removal of other impediments to efficient employee management;
In addition, under Chair Czech, the Civil Service Commission
Co-sponsored the last two annual conferences on Human Resource Leadership and Management in partnership with the International Public Management Association (IPMA) for Human Resources, New Jersey Chapter;
Hosted the 2012 National Association of State Personnel Executives (NASPE) Annual Meeting, Jersey City, NJ on behalf of the State of New Jersey; and
Participated in the presentation of programs on Civil Service at the NJ League of Municipalities Conference in 2010 & 2011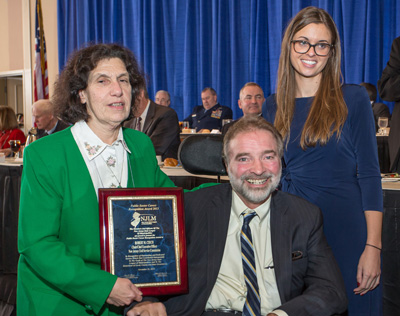 President of the New Jersey League of Municipalities, the Hon. Janice A. Mironov, Mayor of East Windsor, presents Civil Service Commission Chair/CEO Robert M. Czech the organization's Public Sector Career Recognition Award at the League Luncheon during the 98th annual League of Municipalities convention in Atlantic City on November 21. With them is Chairman Czech's daughter Catherine, who delivered remarks to the group on behalf of her father.