Rehabilitation Subcode Matrix
Repair. The restoration to a good or sound condition of materials, systems and/or components that are worn, deteriorated or broken using materials or components identical to or closely similar to the existing.

Renovation. The removal and replacement or covering of existing interior or exterior finish, trim, doors, windows, or other materials with new materials that serve the same purpose and do not change the configuration of space. Renovation shall include the replacement of equipment or fixtures.

Alteration. The rearrangement of any space by the construction of walls or partitions or by a change in ceiling height, the addition or elimination of any door or window, the extension or rearrangement of any system, the installation of any additional equipment or fixtures and any work which reduces the loadbearing capacity of or which imposes additional loads on a primary structural component.

Reconstruction. Any project where the extent and nature of the work is such that the work area cannot be occupied while the work is in progress and where a new certificate of occupancy is required before the work area can be reoccupied.

The following matrix summarizes categories of work and applicable requirements.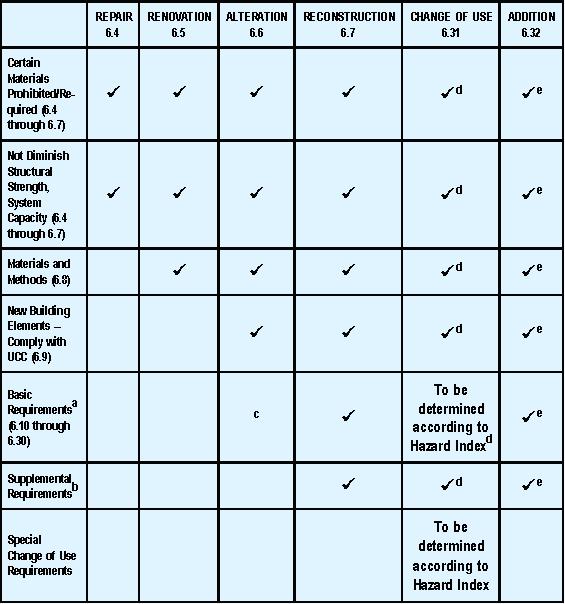 Notes
a. Apply only to the work area of the project.
b. Apply to the work area of the project, but may apply beyond.
c. Cannot reduce the level of compliance with the Basic Requirements.
d. Any other work voluntarily undertaken in connection with a change must comply with the
requirements of the appropriate category.
e. Work in the existing building must comply with the requirements of the appropriate category.
The addition itself must comply with the subcodes for new construction and cannot extend the
size of the building beyond the limits allowed by this Subcode.