Mar-23-07 Barbara Irvine of NJ Historic Trust Named 2007 National Women's History Project Honoree
TRENTON, N.J. – Barbara Haney Irvine, Executive Director of the New Jersey Historic Trust, was recently named a 2007 National Women's History Project honoree for her efforts to preserve women's historic sites throughout the country.  Irvine was among 14 individuals honored at a Washington, D.C. ceremony held on March 21 in celebration of Women's History Month.
"Barbara has done so much to promote awareness of women's history and the historic preservation of women's historic sites across the nation," said Susan Bass Levin, the Commissioner of the Department of Community Affairs.  "We are very fortunate to have her as part of our DCA family, in leading the Historic Trust and working to preserve New Jersey's historic treasures for years to come."
Irvine is a nationally recognized advocate for the identification and preservation of women's historic sites.
Prior to joining DCA, she founded the Alice Paul Centennial Foundation (now known as the Alice Paul Institute), and spearheaded a national campaign to preserve Paulsdale, Alice Paul's birthplace and home in New Jersey.  Irvine led the organization as the volunteer president and board chair for over 16 years, during which time the organization mounted a successful campaign to save a collection of Paul's books, papers and other personal items, including a Susan B. Anthony desk.  Under her leadership, Paulsdale was designated a National Historic Landmark in 1991, and today it is open to the public for visitation and is home to the Institute's Alice Paul Leadership Program.
Irvine is also the founder of the National Collaborative for Women's History Sites, a national organization dedicated to preserving women's history sites and interpreting women's history at historic sites throughout the United States.  As the volunteer project director, Irvine secured funding from the National Park Service to launch the organization, which supports and advocates the preservation and interpretation of sites that bear witness to women's participation in American life.
Irvine has been recognized by numerous organizations across the country for her historic preservation work and for her efforts to bring women into the mainstream of American history.  In 2000, she was appointed to the Women's Progress Commemorative Commission, charged with assessing women's history sites throughout the country.

In late 2004, Irvine assumed the position of Executive Director for the Historic Trust.  The New Jersey Historic Trust is the only nonprofit historic preservation organization in New Jersey created by state law.  The Trust officially became a DCA affiliate in November of 2002 in an effort to better realign the state's smart growth initiatives with historic revitalization.

Founded in 1980, the National Women's History Project is a national clearinghouse that provides information and training in multicultural women's history for educators, community organizations and the public.  Each year, March is designated as National Women's History Month to ensure that the history of American women will be recognized and celebrated in schools, workplaces, and communities throughout the country.  The 2007 NWHP honorees represent generations of women who have moved history forward and created new possibilities for the future.  For information about National Women's History Month or the 2007 Honorees, visit www.nwhp.org.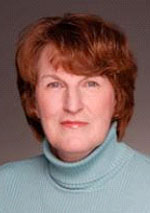 Barbara Irvine