Home
>
News Room
>
Press Releases
>
2015
>
June 25, 2015 - New Jersey Division of Fire Safety and New Jersey State Fire Prevention and Protection Association Announce Annual Fire Prevention Poster Contest Winners
June 25, 2015 - New Jersey Division of Fire Safety and New Jersey State Fire Prevention and Protection Association Announce Annual Fire Prevention Poster Contest Winners
CONTACT:
Tammori Petty or
Emike Omogbai
(609) 292-6055
---
FOR IMMEDIATE RELEASE: Thursday, June 25, 2015



---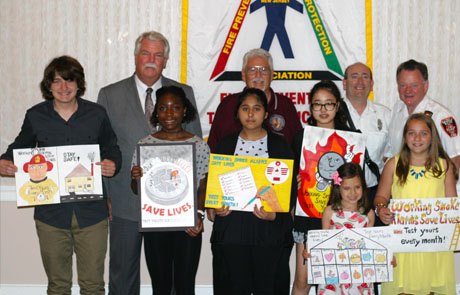 Trenton, NJ – New Jersey Department of Community Affairs (DCA) Commissioner Charles A. Richman and Acting Director and State Fire Marshal William Kramer, Jr. today announced the winners of the Scholastic Fire Prevention Poster Contest for the 2014-2015 school year. The poster contest is cooperatively organized by the Division of Fire Safety (NJDFS) and New Jersey State Fire Protection and Prevention Association (NJSFPPA).
"The poster contest is creative way to teach children important fire prevention and safety lessons and to encourage fire safety awareness in the home," said Commissioner Richman. "Additionally, the Fire Safety calendar will serve as a tool to keep fire safety at the forefront year round." 
Beginning with last year's contest and now every year, the student artwork becomes the central feature of the yearly NJSFPPA and NJDFS Fire Safety calendar that provides elements of prevention awareness. The calendar includes reminders such as the annual time change to check and replace smoke alarm batteries, the dates for significant fire safety events such as National Fire Prevention Week, and seasonal cautions concerning fire safety throughout the   year. The calendar is distributed statewide in order to advance community risk reduction awareness. The contest itself has been conducted annually for over 25 years and is among the oldest continual scholastic competitions in the state. 
"Our enduring partnership with the New Jersey State Fire Prevention and Protection Association continues to provide the dual benefit of celebrating our talented student artists who by their efforts give a compelling focus to fire safety," said William Kramer, Jr. Acting Director and State Fire Marshal.
This year's contest which was announced at the beginning of the school year asked students from around the state to apply their artistic talents to this year's National Fire Protection Association, National Fire Prevention Week theme which was "Working Smoke Alarms Save Lives, Test Yours Every Month".
In addition to its founding sponsors of the NJ Division of Fire Safety and the NJSFPPA, the contest enjoys the sponsorship of the American Fire Sprinkler Association, Fire Safety & Systems Company, Monmouth County Fire Prevention & Protection Association, Bergen County Fire Prevention & Protection Association, New Jersey Fire Sprinkler Advisory Board, Fire Sprinkler Fitters and Apprentices Union Local 696, City Fire Equipment Company, Inc., Atlantic City Electric Company and Joshua Marcus Group LLC.
Each of the winning contestants, drawn from over hundreds of entrants from all the state's 21 counties, will be awarded a MacBook Pro and companion printers for their artistic endeavors in the name of saving lives. The awards luncheon for the students took place on Thursday, June 11 at the Forge Restaurant in Woodbridge. 
Our 2015 winners are:
Student
Division
School
Town
County
Ava Lucido
Division 1
Elementary Schools
K through 2nd Grade
Memorial
Elementary School
Montvale
Bergen
Sarah Plummer
**Overall Winner**
Division 2
Elementary Schools
3rd through 5th Grade
Sylvia Rosenauer
Elementary School
Jackson
Ocean
Navdeep Sanghera
Division 3
Middle Schools
PS #11
Martin Luther King
School
Jersey City
Hudson
Yubin Lee
Division 4
Secondary Schools
Bergen County
Academies
Hackensack
Bergen
Kayla Bocage
Division 5
Vocational-Technical
Schools
Union County
Vocational-Technical
School
Scotch Plains
Union
Matthew Malure
Division 6
Special Education
K through 8th Grade
The Calais
Whippany
Morris
Felisha Tirado
Division 7
Special Education Division
9th through 12th Grade
Salem High School
Salem
Salem
** Denotes overall winner whose poster will be printed on the cover of the 2016 calendar.
The Division of Fire Safety is responsible for the development and enforcement of the State Uniform Fire Code, as well as for implementing public education and firefighter training programs.