Home
>
News Room
>
Press Releases
>
2018
>
May 25, 2018 - Fire Safety and Health Officials Encourage Residents to Put Safety First at the Kickoff of Barbecue Season
May 25, 2018 - Fire Safety and Health Officials Encourage Residents to Put Safety First at the Kickoff of Barbecue Season
FOR IMMEDIATE RELEASE: Friday, May 25, 2018



Following Grilling and Food Safety Precautions Can Keep You Safe from Injury and Illness
TRENTON, NJ – In advance of the Memorial Day holiday weekend, the New Jersey Department of Community Affairs' (DCA) Division of Fire Safety and the New Jersey Department of Health are providing residents with grilling and food safety tips to keep holiday celebrations safe from injury and illness.
"We want to remind families, before they start to grill hotdogs, hamburgers and other holiday fare, to take the necessary precautions when using grills, particularly gas-fired ones," said Lt. Governor Sheila Y. Oliver, DCA Commissioner. "Following these safety tips is a good way to remain safe during holiday cookouts and throughout the spring and summer months."
"Memorial Day weekend is a time for remembrance of our nation's fallen women and men in uniform. When doing so with friends and family, it can be easy to forget safety precautions and proper food handling," said New Jersey Health Commissioner Dr. Shereef Elnahal. "Cook meat thoroughly, refrigerate leftovers promptly and wash hands frequently, as well as any surfaces used to prepare food."
This week has also been designated as National Healthy and Safe Swimming Week. While enjoying the beach or pool this holiday weekend, it is important for swimmers to take steps to ensure a healthy and safe swimming experience for everyone and prevent the spread of germs.
TIPS FOR SAFE SUMMER COOKOUTS
GRILL SAFETY
When refilling an existing propane tank or exchanging one from your local retailer:
Check to make sure your cylinder has a sealed plastic cap on the valve. Make certain the valve is closed tightly before transporting.
NEVER place the cylinder in a vehicle's trunk. Instead, secure it in the vehicle's rear seating area in such a way that it will not roll around.
Limit the number of cylinders transported at one time in your vehicle to two.
Beyond annual grill maintenance, use everyday precautions that will help to prevent a fire:
Know your grill. Read the manufacturer's guidelines. Look at the owner's manual or on the internet for product usage guidelines.
Always check for leaks. Fill a spray bottle with soapy water and spray all the threaded connections. Bubbles will appear if you have a leak in any of them.
DO NOT attempt to light the grill until you have checked all connections and verified they are leak free.
Have a fire extinguisher nearby that is permanently dedicated to the grill.
If a grill flares up, first deny the fire oxygen by closing the cover, then shut off the gas. Use the extinguisher on any remaining flame.
Turn off the supply valve after you turn off the burner valves when completed. It may be inconvenient but a closed supply valve prevents the unexpected.
Always use the cylinder in an upright position. On its side, the propane collects as a liquid and it can leak as a liquid.
Keep extra tanks away from the grill and store outside, away from any structure.
NEVER use a grill inside or even under an open porch, alcove, or garage. Carbon monoxide is a byproduct of burning in confined spaces. It can kill you.
For charcoal grills, do not use large amounts of charcoal grill fluid to get the charcoal going and do not grill too close to a structure on the property.
FOOD SAFETY

Before you eat or make food, wash hands for 20 seconds with soap and warm water.
When preparing foods, use two cutting boards - one for raw meat, chicken and fish, and one for vegetables or other foods that will not be cooked.
Check to ensure food is thoroughly cooked by inserting a food thermometer at an angle into the thickest part of the meat, chicken or fish to check the internal temperature. Cook hamburgers to at least 155°F, chicken and stuffed meats to at least 165°F, and steaks, pork, fish and whole beef or pork roasts to at least 145°F.
Keep cold foods chilled until serving time and keep hot food hot by using tabletop equipment such as chafing dishes and sternos.
Refrigerate leftovers immediately. Discard food that has been left out for four or more hours.
Always wash fruits and vegetables under running water before cutting or eating them.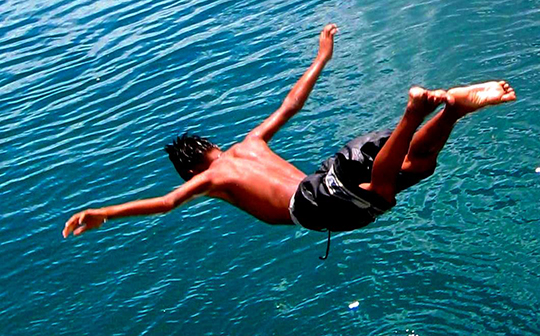 Each year, Healthy and Safe Swimming Week focuses on simple steps swimmers, aquatics and beach staff, residential pool owners, and public health officials can take in preventing drowning, pool chemical injuries, and outbreaks of illnesses. This year's theme is "Swim Healthy. Stay Healthy," which highlights swimmer hygiene and the need for swimmers to take an active role in helping to protect themselves and prevent the spread of germs.
For more on food safety, please visit: http://www.state.nj.us/health/foodanddrugsafety/.
The Division of Fire Safety serves as the central fire service agency in the State. The Division is responsible for the development and enforcement of the State Uniform Fire Code, as well as for implementing community risk reduction strategies and firefighter training programs.
Follow the New Jersey Department of Health on Twitter @njdeptofhealth, Facebook /njdeptofhealth, Instagram @njdeptofhealth and Snapchat @njdoh
CONTACT:
Tammori Petty
or Lisa Ryan
(609) 292-6055