Home
>
News Room
>
Press Releases
>
2018
>
June 05, 2018 - New Jersey Division of Fire Safety F.I.R.E. Bowl Brings Fun and Awareness to Middle School Students
June 05, 2018 - New Jersey Division of Fire Safety F.I.R.E. Bowl Brings Fun and Awareness to Middle School Students
FOR IMMEDIATE RELEASE: Tuesday, June 05, 2018

Quiz Show-Inspired Educational Program Increases Students' Knowledge of Fire Safety
Union, NJ – The New Jersey Department of Community Affairs' (DCA) Division of Fire Safety recently joined Kean University in hosting the 2018 Fire Information and Rescue Education (F.I.R.E.) Bowl to promote fire safety education among middle school students.
"This annual event is a great way to keep students up-to-date on fire safety education and get them thinking about important fire prevention measures all while having fun and competing with their peers," said Lt. Governor Sheila Y. Oliver, DCA Commissioner. "Often times, students' last encounter with fire safety instruction is in the early grades of elementary school. The F.I.R.E. Bowl encourages older students to continue learning about what they can do to reduce their vulnerability to fire."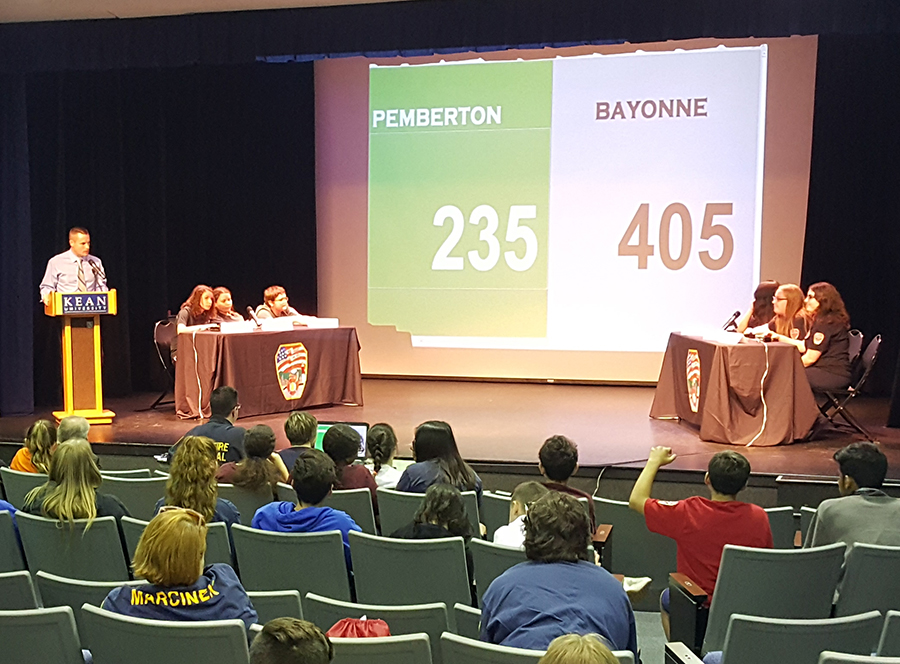 Students from Nicholas Oresko School in Bayonne, Hudson County, secured the title of 2018 state F.I.R.E. Bowl champions against a team from Helen A. Fort Middle School in Pemberton Township, Burlington County. Although Nicholas Oresko School took the title, both teams in the championship competition on May 24, 2018 at the Little Theater at Kean University went home with Kindle Fire tablets.
In earlier rounds of competition, teams from Dwight D. Eisenhower School in Freehold Township, Monmouth County, and Colonia Middle School in Woodbridge Township, Middlesex County, received second place awards and teams from Woodrow Wilson School in Bayonne and Mount Olive Middle School in Mount Olive Township, Morris County, received third place awards.
"You cannot help but be awed at the way these students immerse themselves in subject matter quite familiar to myself and our state firefighters who seek certification from the Division of Fire Safety," said Acting State Fire Marshal and Division of Fire Safety Director Richard Mikutsky. "The students absorb basically the same material as firefighters and then answer questions fire service members would be hard pressed to answer. It's just amazing."
The 13 annual F.I.R.E. Bowl sponsors included Eastern Fire & Safety, Hartz Mountain Industries, Joshua Marcus Group, Middlesex County Fire Academy, and the New Jersey State Firemen's Mutual Benevolent Association.
2018 New Jersey Division of Fire Safety F.I.R.E. Bowl State Champions
Nicholas Oresko Middle School, Bayonne
Barbara DeBeneditis, Coach
Team
Jenna Sciacchitano
Cathryn Kuczynski
Yena Chang
Madeline Ashe
The Division of Fire Safety serves as the central fire service agency in the State. The Division is responsible for the development and enforcement of the State Uniform Fire Code, as well as for implementing community risk reduction strategies and firefighter training programs.
CONTACT:
Lisa Ryan
Tammori Petty
Gina Trish
(609) 292-6055