July 06, 2018 - Lt. Governor Oliver Lays Out Plans for Revitalizing NJ Communities
FOR IMMEDIATE RELEASE: Friday. July 06, 2018

Lt. Governor Sheila Oliver shares her plans for municipalities in New Jersey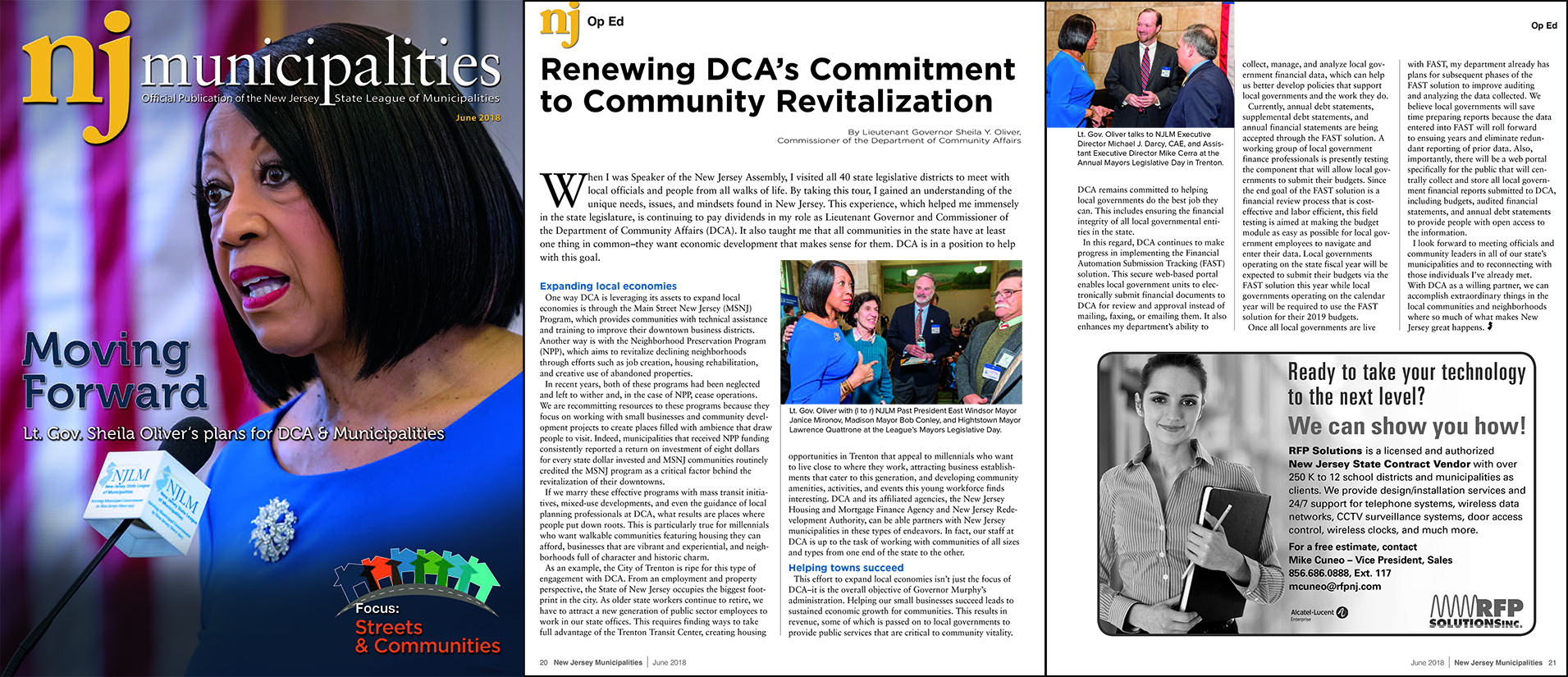 Trenton, NJ – The State League of Municipalities magazine featured New Jersey's 2nd Lieutenant Governor, Sheila Y. Oliver's plans for revitalizing communities across the state. The Lt. Governor stressed how her 14 years of experience in the legislature familiarized her with all 40 districts and helped her gain key insight.
"This experience is continuing to pay dividends in my role as Lieutenant Governor and Commissioner of the Department of Community Affairs (DCA) – it taught me that all communities in the state have at least one thing in common – they want development that makes sense for them," said Lt. Governor Oliver.
There are several initiatives that Lt. Governor Oliver is going to be focusing her attention on while at DCA. Among them is the Main Street New Jersey (MSNJ) program along with other DCA and state programs to help expand local economies. Main Street funding allows DCA to send nationally recognized consultants to help communities improve their business districts. DCA is also reintroducing the Neighborhood Preservation Program (NPP), which aims to revitalize declining neighborhoods through efforts such as job creation, housing rehabilitation, and abating the number of abandoned properties.
Lt. Governor Oliver stressed that by investing those funds alongside transit initiatives, mixed use developments, and other sound community planning efforts, the result will be places where "people will put down roots."
"There is a need for walkable communities with affordable housing and businesses that will attract new residents and help boost local tourism," said Lt. Governor Oliver, also citing Trenton, with its large state workforce, as a focus for marrying economic development programs with transit and housing.
The Lt. Governor spoke about how Governor Murphy's goals for the administration also hinge on the success of small businesses. DCA will continue to provide local government services that support small businesses, leading to sustainable economic growth in our communities.
Lt. Governor Oliver has optimism for municipalities working in tandem with the Department of Community Affairs saying, "With DCA as a willing partner, we can accomplish extraordinary things in the local communities and neighborhoods where so much of what makes New Jersey great happens."
Established in 1967, DCA offers a wide range of programs and services that respond to issues of public concern including affordable housing production, fire safety and building safety, community planning and development, local government management and finance, and disaster recovery.
For more information about DCA, visit http://www.nj.gov/dca/
CONTACT:
Lisa Ryan
Tammori Petty
Gina Trish
(609) 292-6055