September 14, 2018 - Lt. Governor Oliver Receives Award from Black Women's Organization in Washington, D.C.
FOR IMMEDIATE RELEASE: Friday, September 14, 2018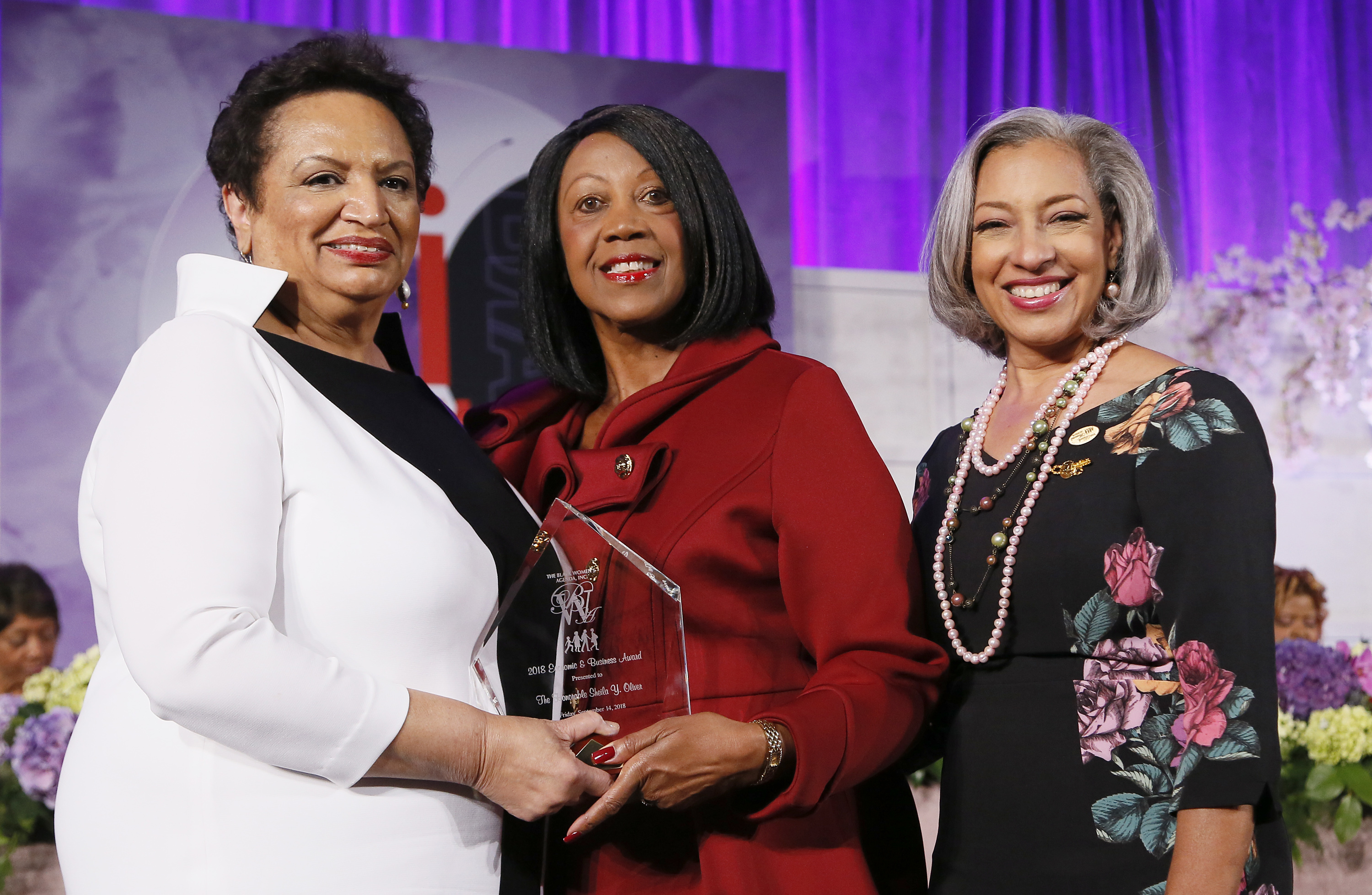 New Jersey's First African-American Lt. Governor Receives Economic and Business Award
Washington, D.C. – New Jersey's first African-American Lieutenant Governor, Sheila Y. Oliver, Commissioner of the New Jersey Department of Community Affairs (DCA), received a prestigious award today from The Black Women's Agenda, Inc. at their 41st Annual Symposium Town Hall and Luncheon.
The Economic and Business Award is presented to an individual who has worked to enhance and advance economic and employment opportunities for African-American women and their families, according to Black Women's Agenda, Inc. spokeswoman, Tenley Ann Hawkins. Ms. Hawkins said that Lt. Governor Oliver was chosen because of "her track record for promoting and overseeing educational and economic development and equal employment opportunities for women and members of underrepresented communities, as well as for New Jersey's larger population."
"I am very honored to receive this award from The Black Women's Agenda, an organization that is dedicated to advancing the agenda of minority women worldwide," said Lt. Governor Oliver. "Increasing economic and educational opportunities for and protecting the rights of women are causes that are near and dear to me."
The Annual Town Hall event brought together more than 20 black women's organizations to highlight the importance of action, activism and civic engagement, and challenged participants to be catalysts for change. Founded in 1977 in Washington, DC, The Black Women's Agenda, Inc. is a non-profit organization that generates awareness and support for issues that secure, protect, and advance the rights of black women and their families.
During the awards luncheon eight women were honored for "personifying the change they want to see in the world." The seven other award recipients that joined Lt. Governor Oliver at the symposium were Stacey Abrams, the Democratic Party's nominee in the 2018 Georgia gubernatorial election; Dr. Helene D. Gayle, President and CEO of The Chicago Community Trust, one of the nation's leading community foundations; Tina Knowles-Lawson, designer and managing partner of the House of Deréon and Miss Tina fashion brands, philanthropist, and mother of Grammy Award-winning recording artists Beyonce and Solange; Tanya L. Lombard, head of Multicultural Engagement and Strategic Alliances, AT&T; Dr. Sandye Poitier Johnson, a renowned educator and former principal of the Thurgood Marshall Academy for Learning and Social Change in Harlem; The Honorable Karen W. Weaver, Mayor, City of Flint, Michigan, and Bright Futures Award, and scholarship winner Eugena King.
Established in 1967, DCA offers a wide range of programs and services that respond to issues of public concern including affordable housing production, fire safety and building safety, community planning and development, local government management and finance, and disaster recovery.
For more information about DCA, visit: www.nj.gov/dca/
CONTACT:
Tammori Petty
Lisa Ryan
Gina Trish
(609) 292-6055