October 18, 2018 - DCA Celebrates Grand Opening of Affordable Housing in Passaic County
FOR IMMEDIATE RELEASE: Thursday, October 18, 2018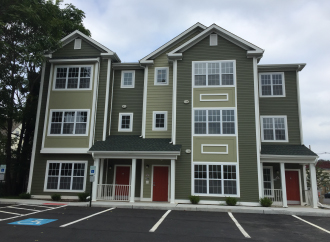 Residents of Apartment Building in Clifton Will Receive Social Services to Improve Their Lives
CLIFTON, NJ – New Jersey Department of Community Affairs (DCA) staff yesterday marked the grand opening of a six-unit apartment building in Clifton for individuals of limited financial means. Residents of the building will receive social services such as counseling, case management, and life skills training to help them improve their lives and foster independent living.
The apartment building is located on Lake Avenue in a residential neighborhood of single-family and small rental homes near schools, restaurants, shops, places of worship, medical offices, and bus stops. Lexington Avenue, a main thoroughfare in Clifton, is located a half block away from the building, which is new construction and features on-site parking and a laundry facility.
The apartments are affordable to residents earning between 46 percent and 51 percent of the area median income, which is about $51,000 for a family of four. Three of the units have two bedrooms and one bathroom and rent for $800 a month. The other three units have three bedrooms and one and half bathrooms and rent for $1,025 a month.
"These apartments advance DCA's mission of creating high-quality, permanent housing for people of limited financial means," said Lt. Governor Sheila Y. Oliver, DCA Commissioner. "Moreover, residents who may need some help to live independently will receive support and have access to local amenities so they can thrive in their community."
DCA awarded $1,135,100 in HOME funds for the project. HOME is the largest federal block grant to state and local governments designed to create affordable housing for low-income households. The funds can be used for a wide range of activities, including building, buying, and/or rehabilitating housing for rent or homeownership, or providing direct rental assistance to low-income households.
The funds for this project were awarded to Start Easy Eagle Development (SEED), Corp., a community housing development corporation. With construction complete, the apartment building will be managed by NewBridge Services, Inc., which is a non-profit community organization providing programs and education services in northern New Jersey in the areas of mental health, addiction, housing, youth programs and senior services.
"These families have been through so much, and this housing will provide stability and safety that they've been lacking," said NewBridge Services Acting Director of Real Estate Amy Rastiello. "Now they'll have a place to call home, space for themselves, and a brighter future for their kids."
DCA offers a wide range of programs and services, including affordable housing production, fire safety and building safety, community planning and development, local government management and finance, and disaster recovery.
For more information about DCA, visit http://www.nj.gov/dca/ or follow the Department on social media:
CONTACT:
Tammori Petty
Lisa Ryan
Gina Trish
(609) 292-6055