Home
>
News Room
>
Press Releases
>
2018
>
November 14, 2018 - Lieutenant Governor Oliver Presents Donations from New Jersey Department of Community Affairs Employees to Turning Point Day Center for the Homeless in Atlantic City
November 14, 2018 - Lieutenant Governor Oliver Presents Donations from New Jersey Department of Community Affairs Employees to Turning Point Day Center for the Homeless in Atlantic City
FOR IMMEDIATE RELEASE: Wednesday, November 14, 2018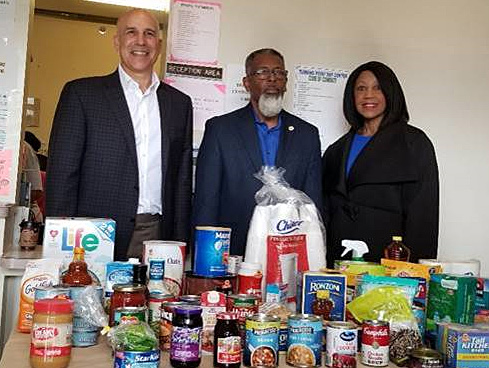 Announces Commitment of Grant Funding to Help the Day Center Continue Its Essential Work

Atlantic City, NJ – Lieutenant Governor Sheila Y. Oliver today visited the Turning Point Day Center for the Homeless in Atlantic City to present items that New Jersey Department of Community Affairs (DCA) staff donated in the spirit of the Thanksgiving holiday. She also announced the commitment of a Community Services Block Grant (CSBG) to assist the day center in the longer term. Lieutenant Governor Oliver was joined by members of the Atlantic City Council and Joe Jingoli, Jr., partner of Hard Rock Hotel & Casino Atlantic City, which has committed significant resources to the day center.
Donations included canned goods, non-perishable food, coffee, sugar packets, paper products, personal hygiene items, and cleaning products.
"Helping lift people out of homelessness is an important part of DCA's mission," said Lt. Governor Oliver, Commissioner of DCA. "Honoring that mission, employees throughout the entire Department are pleased to assist Turning Point Day Center, which does the vital work of serving individuals and families who are experiencing homelessness with the dignity and respect they deserve."
The day center, which opened in August 2017, gives the homeless a safe and constructive place to stay during the day and provides supportive services such as job training, career counseling, meals, mental health services, substance abuse counseling, life skills, recreation, senior services, veterans' services, a laundry room, and showers. It was spearheaded by Reverend Collins A. Days, Sr., the pastor of Second Baptist Church in Atlantic City and the principal officer of Vision 2000 Community Development Corporation, which seeks to improve the economic and social conditions of Atlantic City. Reverend Days was on hand today to accept the items donated by DCA.
Hard Rock Hotel & Casino Atlantic City is currently collaborating with Turning Point Day Center on a rapid response team to assist homeless people in the city. When Hard Rock employees see people in need, a staff representative can call the day center, which will dispatch a rapid response team with a 16-passenger van and a person certified to bring individuals to the day center for supportive services. Plans are underway to extend the rapid response program to other casinos and parts of the city.
DCA offers a wide range of programs and services, including homelessness prevention, energy assistance, housing vouchers, affordable housing production, fire and building safety, community planning and development, local government management and finance, and disaster recovery.
For more information about DCA, visit https://nj.gov/dca/ or follow the Department on social media:
CONTACT:
Tammori Petty
Lisa Ryan
Gina Trish
(609) 292-6055