Home
>
News Room
>
Press Releases
>
2018
>
January 30, 2019 - Lieutenant Governor Sheila Y. Oliver Named 2019 Recipient of Felician University's Martin Luther King, Jr. Legacy Award
January 30, 2019 - Lieutenant Governor Sheila Y. Oliver Named 2019 Recipient of Felician University's Martin Luther King, Jr. Legacy Award
FOR IMMEDIATE RELEASE: Wednesday, January 30, 2019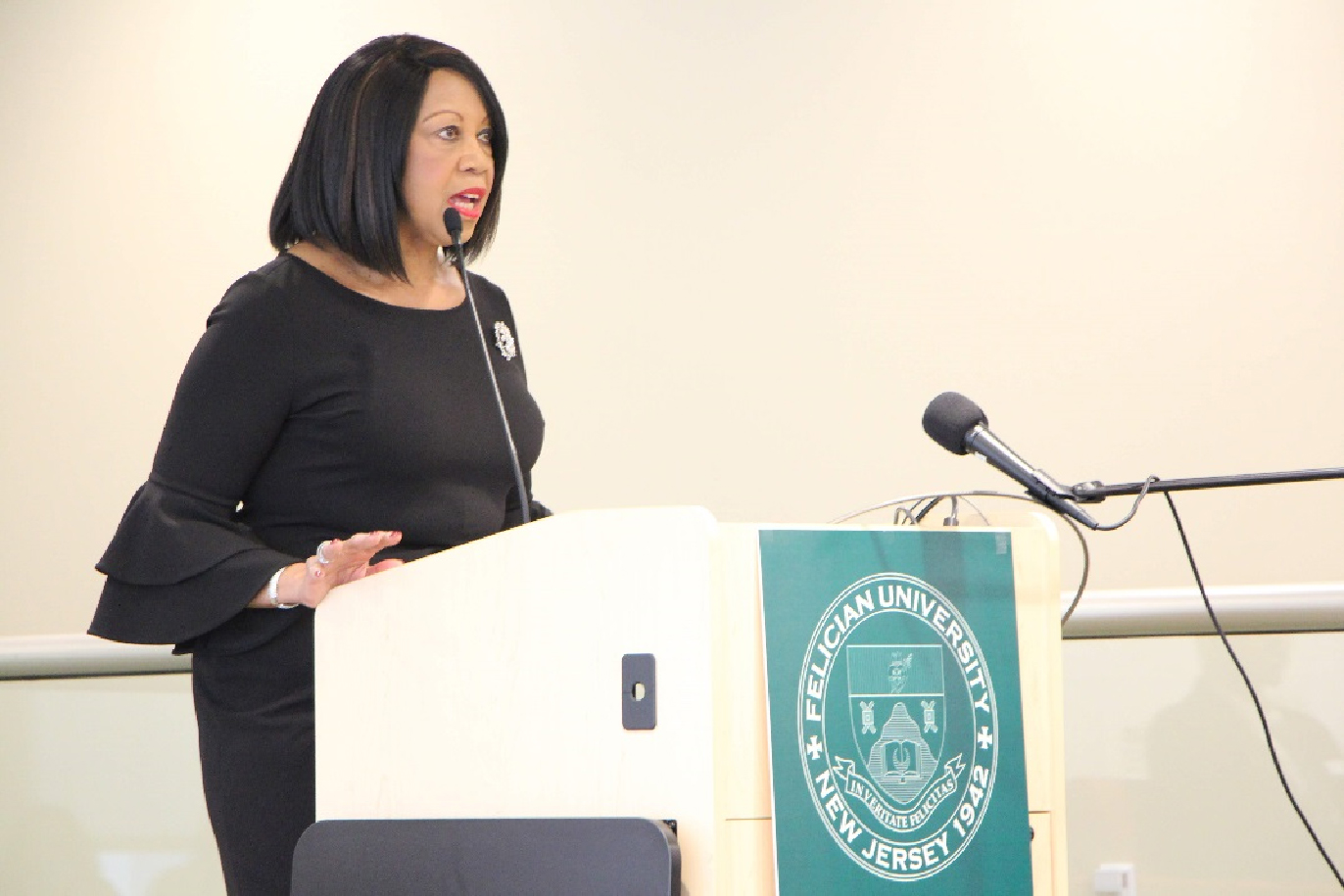 TRENTON, NJ – Today Felician University President Dr. Anne Prisco presented Lieutenant Governor Sheila Oliver with their annual 2019 Martin Luther King, Jr. Legacy Award. The Lieutenant Governor accepted the award on Felician's Rutherford Campus in the Education Commons building.
"I thank Felician University for bestowing this great honor upon me," said Lt. Governor Oliver, who also serves as Commissioner of the Department of Community Affairs. "This award is meaningful to me because I hold the activism and teachings of Dr. King close to my heart. He was a role model for me and he still serves as a source of inspiration for the next generation."
The Martin Luther King, Jr. Legacy Award was developed by Felician to honor Dr. King and recognize individuals who help to fulfill the Felician's mission and vision of equality and justice. Past Legacy Award recipients include Senator Cory Booker, Joetta Clark-Diggs and Carla Harris.
"We are so proud to name Lt. Governor Sheila Oliver as the 2019 recipient of our Martin Luther King, Jr. Legacy Award," said Felician University President Dr. Anne Prisco. "Sheila's commitment to fighting for educational and economic opportunities for all of New Jersey's residents makes her an ideal choice for Felician's Martin Luther King, Jr. Legacy Award."
Lt. Governor Oliver took oath of office as New Jersey's 2nd Lieutenant Governor in January 2018. She has chaired the New Jersey Assembly Human Services Committee and served as Development Director for the New Jersey Literacy Campaign. Ms. Oliver was one of the founders of the Newark Coalition for Low Income Housing and has also served on the boards of non-profit organizations such as the Global Women's Leadership Collaborative of NJ and the Programs for Parents. She is the first woman of color to serve in a statewide elected office in New Jersey history.
In selecting Lt. Governor Sheila Oliver for this year's award, Felician employed the following criteria:
An individual whose life's work reflects and promotes the University's core values – especially passion for issues related to social justice, civil rights and economic equality
A personal mission in life that also embodies the mission and values of the University's Felician/Franciscan heritage – compassion, justice and peace, and finding goodness in all creation
A person who compels all people to give the gift of hope
For more information about DCA, visit https://nj.gov/dca/ or follow the Department on social media:
CONTACT:
Tammori Petty
Gina Trish
Lisa Ryan
(609) 292-6055