Home
>
News Room
>
Press Releases
>
2019
>
April 11, 2019 - NJHMFA Celebrates Ribbon Cutting for Affordable Apartments for Families in Ocean Township Built With Sandy Recovery Funding
April 11, 2019 - NJHMFA Celebrates Ribbon Cutting for Affordable Apartments for Families in Ocean Township Built With Sandy Recovery Funding
FOR IMMEDIATE RELEASE: Thursday, April 11, 2019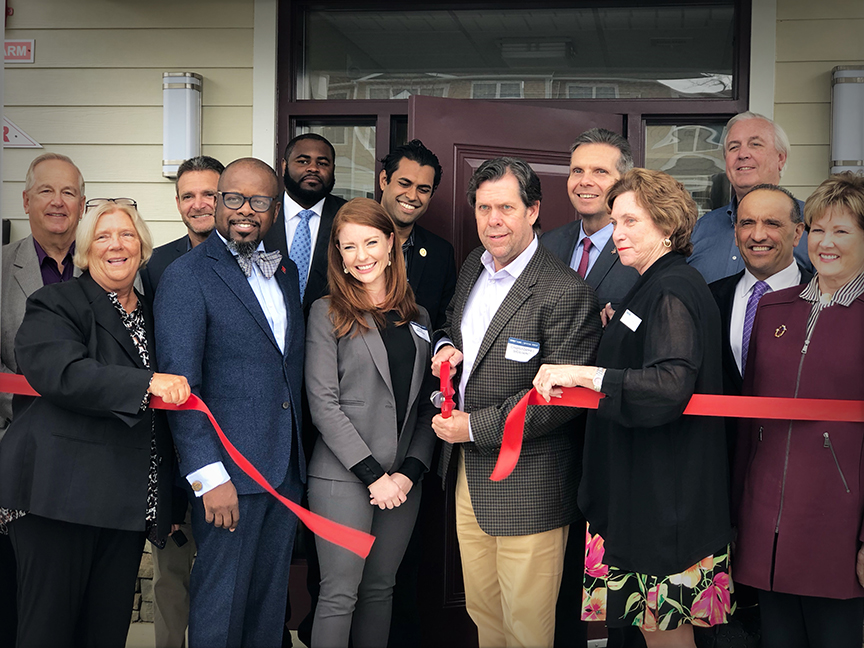 Mayor Christopher P. Siciliano, center, cuts the ribbon in front of Cindy Lane Apartments joined by NJHMFA Chief of Staff Katherine Brennan, left.
OCEAN TOWNSHIP, NJ – A ribbon-cutting ceremony celebrated the opening of 48 new affordable apartments for families today joined by New Jersey Housing and Mortgage Finance Agency (NJHMFA) executive staff, local officials, and representatives of co-developers, The Alpert Group and the Affordable Housing Alliance.
Cindy Lane Apartments includes two three-story buildings with one- to three-bedroom apartments, and residents began moving into their new homes in February.
"In the aftermath of Superstorm Sandy, it was important that the rebuilding effort in hard hit areas such as Monmouth County include much needed affordable housing for residents," said Lieutenant Governor Sheila Oliver, who also serves as Commissioner of the Department of Community Affairs and chair of the NJHMFA board. "For this reason, the Murphy Administration was proud to include disaster recovery dollars to help complete this great project, which will provide our working families a place to call home."
The $14.8 million development was built on vacant property and is close to NJ Transit bus service, Monmouth Mall and other retail, job opportunities, and Monmouth University. Five apartments will provide homes for homeless individuals and families, and the development also includes a community room and laundry facilities.
To help meet the need for affordable housing exacerbated by Superstorm Sandy, Cindy Lane Apartments received $8.1 million in federal Community Development Block Grant Disaster Recovery assistance financing through the Fund for Restoration of Multifamily Housing (FRM). The FRM program, created following Sandy, provides for-profit and nonprofit housing developers an opportunity to secure zero-interest and low-interest financing to develop affordable housing in the nine counties most impacted by the storm. Since 2012, 17 projects with approximately 1,400 affordable apartments have been created in Monmouth County.
NJHMFA also awarded the development 4 percent Low Income Housing Tax Credits, which generated $4.2 million in private equity, and $7.6 million in construction and permanent financing.
"This development is an investment in families who will become part of the community and help it grow," said NJHMFA Executive Director Charles A. Richman. "Affordable housing is also important to the community's economic vitality and helps meet the diverse needs of all families as we build a stronger and fairer New Jersey."
Sandy recovery funding
To date, 76 projects have included FRM funding to create nearly 6,050 rental housing opportunities, 90 percent of which are affordable to low- and moderate-income households.
During the first 90 days of lease up in any project that has received FRM funding, priority for residency will be given to individuals who were displaced by or experienced major storm damage from Sandy. Storm-impacted residents can learn more about affordable housing projects funded with Sandy recovery dollars by visiting the New Jersey Housing Resource Center at www.njhrc.gov and clicking on "Priority Housing for Sandy-Impacted Residents," which will take you to a website listing flyers on available housing by county.
Cindy Lane Apartments serve residents with a range of incomes up to 80 percent of the area median income. Apartment rents range from $287 - $948 for one bedroom; $348 - $1,141 for two bedrooms; and $400 -$1,316 for three bedrooms.
The Mental Health Association of Monmouth County is providing social services for residents, including mental health and physical health counseling, and other programs.
The Alpert Group, based in Fort Lee, is a family-owned, full-service real estate management and development company. The Affordable Housing Alliance is a community based, 501 (c) (3) nonprofit corporation providing housing and services in Monmouth, Ocean and Middlesex counties.
For rental information, call 732-256-8731.
For more information on NJHMFA and its programs, visit njhousing.gov.
For more information about DCA, visit https://nj.gov/dca/ or follow the Department on social media:
CONTACT:

HMFA:
Amy Palmer
609.278.7423

DCA:
Lisa Ryan
Tammori Petty
Gina Trish
(609) 292-6055