May 23, 2019 - Groundbreaking Kicks Off Start of Affordable Apartments for Families in Union County
FOR IMMEDIATE RELEASE: Thursday, May 23, 2019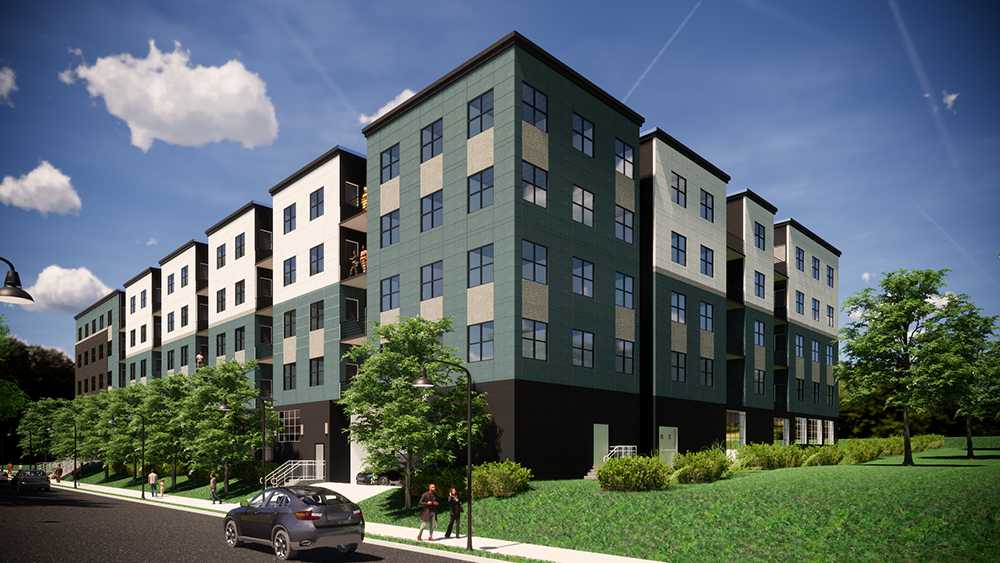 Rendering of The Station at Grant Avenue. Courtesy: J.G. Petrucci Co. Inc./TD+Partners
Complex Financed in Part by NJHMFA, Sandy Recovery Funding
PLAINFIELD, NJ – The Station at Grant Avenue, which will provide apartments affordable to families and is part of an effort to bring significant new development to Plainfield, broke ground Wednesday for a $29.3 million project financed in part by the New Jersey Housing and Mortgage Finance Agency (NJHMFA) and Superstorm Sandy recovery funding.
The five-story building, to be located on South Second Street in Plainfield, will provide 90 one- to three-bedroom apartments for residents earning up to 60 percent of the area median income (AMI).
"This newest housing opportunity for New Jersey's working families will have a tremendous impact on the Plainfield community and answers the call for housing that is affordable and suitably designed for the neighborhood and its residents," said Lt. Governor Sheila Oliver, who also serves as DCA Commissioner and chair of the NJHMFA board. "Governor Murphy and I commend the state partners, developers, and community stakeholders who came together to make this beautiful place become a reality."
As part of the city's first major redevelopment in decades, the project continues improvements on a formerly vacant site bringing jobs, affordable housing, and increased economic vitality to the neighborhood, which will help strengthen surrounding homes and the community. A 2017 development by the same developer team on the site included the construction of a roofing and siding wholesale company, which was financed in part by the New Jersey Redevelopment Authority.
The Station at Grant Avenue is close to several major highways - Routes 22, 78 and 287, public bus routes and an NJ Transit rail station, linking residents to employment opportunities, shopping, schools, child care, entertainment and recreation.
NJHMFA awarded the developer, South Second Street Redevelopment, LLC, located in Asbury, 4 percent Low Income Housing Tax Credits, which generated $8.4 million in private equity. The project also received $15.4 million in permanent and construction financing from the Agency's conduit bond program and $15.3 million in federal Community Development Block Grant Disaster Recovery assistance financing through the Fund for Restoration of Multifamily Housing (FRM).
The FRM program, created following Sandy, provides for-profit and nonprofit housing developers an opportunity to secure zero-interest and low-interest financing to develop affordable housing in the nine counties most impacted by the storm.
"This development represents a significant step forward for Plainfield in creating new, affordable homes for families, which will enhance the city's growth and vitality," said NJHMFA Executive Director Charles A. Richman. "The Station at Grant Avenue will transform a site in need of redevelopment in the city and improve the quality of life for all residents in the community."
Approximate rents for one-bedroom apartments at the Station at Grant Avenue will range from $413 to $906; $484 to $1,074 for two-bedroom apartments, and $546 to $1,228 for three-bedroom apartments. All apartments will have central air conditioning, a washer and dryer, energy efficient appliances, and ground level parking.
Construction is anticipated to be complete by May 2020. Rental information is expected to be available at a later date.
South Second Street Redevelopment is a partnership between Asbury-based J.G. Petrucci Company, an owner and developer of commercial, industrial, and residential properties, and TD+Partners, a West Orange-based real estate developer of affordable/middle income housing and commercial buildings.
Sandy recovery funding
To date, 76 projects have included FRM funding to create nearly 6,050 rental housing opportunities, 90 percent of which are affordable to low- and moderate-income households.
During the first 90 days of lease up in any project that has received FRM funding, priority for residency will be given to individuals who were displaced by or experienced major storm damage from Sandy. Storm-impacted residents can learn more about affordable housing projects funded with Sandy recovery dollars by visiting the New Jersey Housing Resource Center at www.njhrc.gov and clicking on "Priority Housing for Sandy-Impacted Residents," which will take you to a website listing flyers on available housing by county.
For more information on NJHMFA and its programs, visit njhousing.gov.
For more information about DCA, visit https://nj.gov/dca/ or follow the Department on social media:
CONTACT:

HMFA:
Amy Palmer
609.278.7423

DCA:
Tammori Petty
Gina Trish
Lisa Ryan
(609) 292-6055