May 23, 2019 - NJHMFA Celebrates Ribbon Cutting for Supportive Housing in Somerset County
FOR IMMEDIATE RELEASE: Thursday, May 23, 2019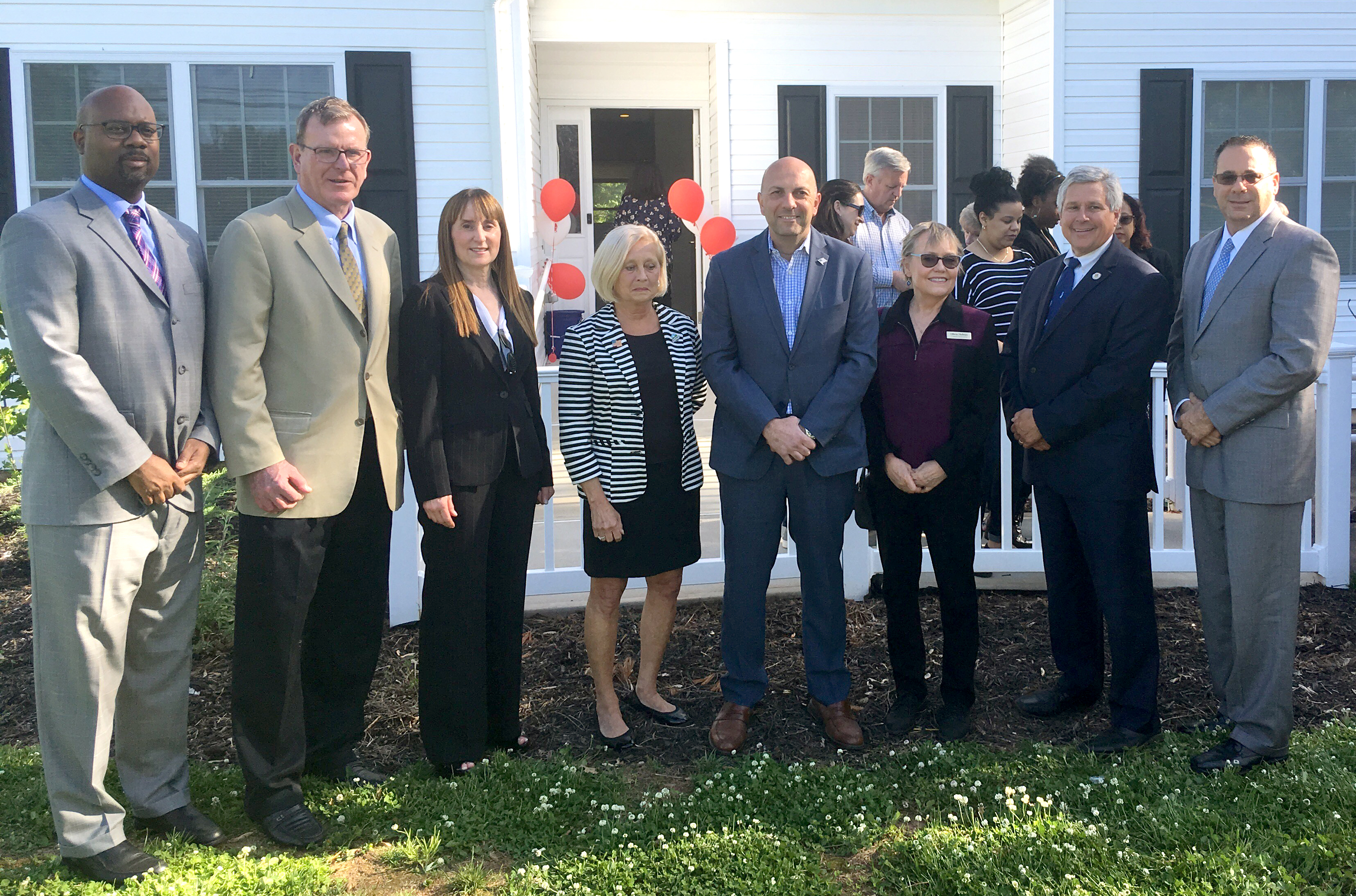 NJHMFA staff member Julian A. Fowler, far left, and Hillsborough Mayor Frank Delcore, center, join other officials at the ribbon-cutting ceremony.


HILLSBOROUGH, NJ – A ribbon-cutting ceremony marked the opening this week of the New Amwell Group Home, which will provide homes for four residents with intellectual and developmental disabilities to live in the community and helps fulfill the New Jersey Housing and Mortgage Finance Agency's (NJHMFA) mission to provide stable, affordable supportive housing.
The project, which was jointly developed by Mobility Special Care Housing, Inc. and Alternatives/ADTI Housing, included the demolition of a vacant house on New Amwell Road and new construction to provide a home with four bedrooms - two fully ADA compliant, and two accessible to ambulatory residents.
"Providing homes in the community for residents with specials needs is challenging nationwide, especially in New Jersey with our high housing costs and high demand for funding," said NJHMFA Executive Director Charles A. Richman. "New Amwell Group Home will enable four residents with developmental disabilities to live independently in the community with the services they need."
The home is in a residential neighborhood close to transportation, shopping, recreation and medical facilities.
NJHMFA awarded the project close to $420,000 from its Special Needs Housing Partnership Loan Program (SNHPLP), which since 2011 has provided $19.7 million for 68 projects to create affordable, permanent, supportive housing and community residences for over 270 individuals with developmental disabilities.
New Jersey's SNHPLP is a one-of-a-kind state partnership, which helps address the critical need for affordable supportive housing that integrates people with special needs into the community whenever possible as well as provide consumer choice in housing options. The SNHPLP funds combine with a dollar-to-dollar match of a municipality's Affordable Housing Trust Fund and/or any other funds available to the municipality and helps the municipality meet its affordable housing obligation. The financing provides for new construction and/or rehabilitation of existing single-family structures into accessible residences.
As part of the program, the state's Division of Developmental Disabilities offers long-term operating and service subsidies to ensure that participating residents are able to sustain their housing and receive the supports they need, as well as additional subsidies for the installation of fire suppression systems. The division provided New Amwell Group Home with $29,500 for a sprinkler system.
Alternatives Inc., based in Raritan, will provide support services for the residents including evaluation and assessment, case management, daily living skills training, transportation, employment training, supportive counseling, access to medical and dental services, clinical services, and 24-hour on-call assistance. Onsite staff will work with the residents on meal preparation, housework, shopping, taking medications, exercise, and managing money, and will also assist them in scheduling community outings.
Mobility Special Care Housing, Inc., based in Howell, is a not-for-profit 501 C (3) that develops new group homes.
Developers interested in participating in the SNHPLP program can learn more at njhousing.gov/developers/needs/partnership.
For more information on NJHMFA and its programs, visit njhousing.gov.
For more information about DCA, visit https://nj.gov/dca/ or follow the Department on social media:
CONTACT:

HMFA:
Amy Palmer
609.278.7423

DCA:
Tammori Petty
Gina Trish
Lisa Ryan
(609) 292-6055