May 29, 2019 - New Affordable Apartments, Retail Complex Opens In Newark
FOR IMMEDIATE RELEASE: Wednesday, May 29, 2019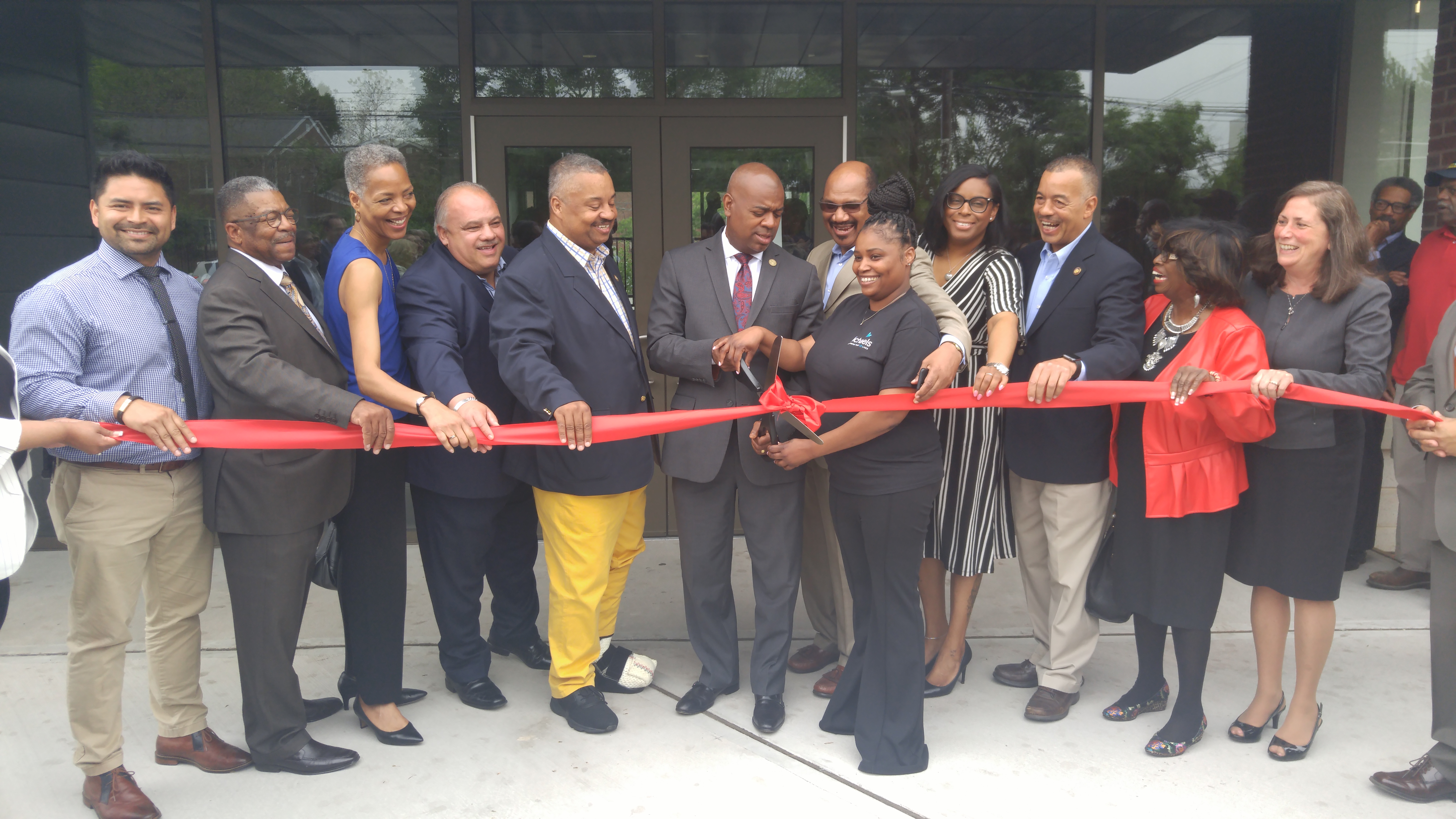 Newark Mayor Ras Baraka, center, cuts the ribbon at Boulevard West joined by NJHMFA Chief of Administration Donna Rendeiro, far right.


Central Ward Development Financed In Part By NJHMFA
NEWARK, NJ – A grand opening ceremony was held today for Boulevard West, a new mixed-use building providing 89 apartments affordable to working families along with retail space on a section of the vacant, former New Horizons public housing site. The event was attended by New Jersey Housing and Mortgage Finance Agency (NJHMFA) executive staff, local officials, and representatives of The Michaels Organization.
The apartments, co-developed by The Michaels Organization and the Newark Housing Authority and located at 220 Irvine Turner Blvd., were financed in part by NJHMFA. The one- to three-bedroom apartments will serve residents earning up to 60 percent of the area median income. The apartments are fully rented, with rents ranging from $568 to $1,469 per month.
"Boulevard West is a shining example of how we are successfully redeveloping vacant lots to open new doors for our young and emerging workforce as well as our older residents living on fixed incomes in New Jersey," said Lt. Governor Sheila Oliver, who also serves as DCA Commissioner and chair of the NJHMFA board. "I commend the public and private partners who have created yet another amazing, affordable, mixed-use housing opportunity. Together we are creating a stronger and fairer New Jersey for all residents, regardless of income level."
Boulevard West is the first of other developments expected to take place on the New Horizons site and Felix Fuld public housing site, which currently stands vacant. The redevelopment of both sites is expected to transform this Central Ward community, bring jobs and support the local workforce, and boost economic opportunities.
NJHMFA provided $20.8 million in permanent and construction financing from its conduit bond program, and awarded 4 percent Low Income Housing Tax Credits, which generated $15.7 million in private equity.
"Safe and affordable housing is critical to enabling children and families to flourish. This redevelopment in the heart of Newark will help revitalize the neighborhood and allow families to live and work in the community," said NJHMFA Executive Director Charles A. Richman. "As a mixed-use development, Boulevard West will also expand retail opportunities in the community, spur job creation, grow the local tax base, and drive economic growth in the area."
Boulevard West is close to mass transit, schools, retail shopping, restaurants, medical facilities, and employment opportunities.
Approximately 5,000 square feet on the first floor of the four-story building is providing retail space available for rent. More information is available at www.liveatboulevardwest.com.
The Michaels Organization, based in Marlton, offers full-service capabilities in development, property management, construction, and finance.
For more information on NJHMFA and its programs, visit njhousing.gov.
For more information about DCA, visit https://nj.gov/dca/ or follow the Department on social media:
CONTACT:

HMFA:
Amy Palmer
609.278.7423

DCA:
Tammori Petty
Gina Trish
Lisa Ryan
(609) 292-6055