June 06, 2019 - DCA Wants You to be "Ready to Ride" this Amusement Park Season!
FOR IMMEDIATE RELEASE: Thursday, June 06, 2019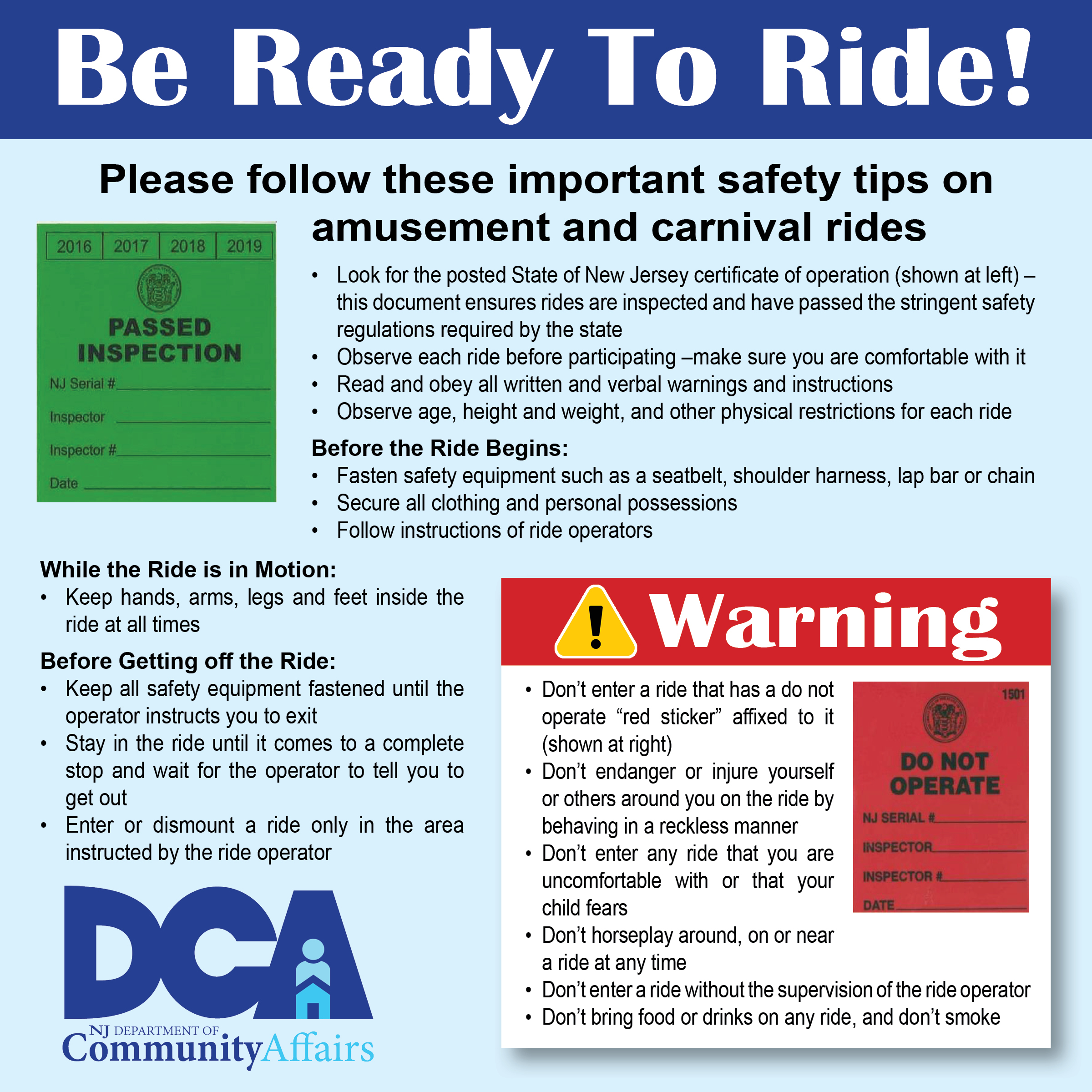 Department Encourages People to Put Safety First When Visiting Amusement Parks and Carnivals
Trenton, N.J. – New Jersey is home to dozens of fun and exciting family-friendly amusement parks and numerous carnivals every year. This season, Governor Murphy and Lt. Governor Oliver are encouraging residents to read and follow important safety tips from the Department of Community Affairs (DCA) to help keep you and your loved ones safe.
"Our amusement parks are without a doubt some of the best in the nation and are among the many attractions that make New Jersey so unique and special," said Lt. Governor Sheila Oliver, who also serves as DCA Commissioner. "New Jersey is a national leader in amusement ride safety thanks to DCA's dedicated team of engineers and ride inspectors, but riders must also do their part by always putting safety first."
Riders can find a practical "Ready to Ride" safety guide on the DCA website that can downloaded and printed or saved to a smart phone for quick reference during visits to amusement parks, boardwalks, local fairs, and traveling carnivals.
First and foremost, DCA ride inspectors encourage riders (and their parents or guardians) to make sure they are comfortable with a ride before choosing to get on it. They should always look for the official white permit "Registration" stickers and green "Passed Inspection" stickers from the State of New Jersey, which can be found in a conspicuous location on the ride and will show that it was permitted, inspected, and passed the State's stringent safety regulations.
All riders are urged to:
Read and obey all written and verbal instructions, and observe all age, height and weight restrictions.
Fasten safety equipment such as seatbelts, shoulder harnesses and lap bars before the ride begins.
Secure all clothing and personal possessions such as phones, wallets, and purses.
Keep arms and legs inside the ride at all times.
Stay on the ride and keep all safety equipment fastened until the ride comes to a complete stop and the ride operator instructs people to exit.
Refrain from throwing any object from a ride or reckless behavior.
Enter or exit a ride only with the supervision of a ride operator.
Avoid horseplay on or around a ride.
Keep food, drinks, and cigarettes off the ride.
Never get on rides that have a red "Do Not Operate" sticker affixed to them.
Parents and guardians should take several additional safety precautions with children, especially small children, when participating in amusement rides or attractions.
Parents and guardians should:
Know your child's capabilities and limitations to determine if the ride is appropriate for them.
Watch the ride in operation before entering to make sure your child can ride it safely.
Remind your child to stay seated, hold on to safety bars and obey the ride operator's instructions.
Designate an easily recognizable place to meet your child after the ride is over.
Supervise your child at all times.
Safety is the most important component of every family outing. New Jersey's amusement parks, fairs, carnivals and attractions are some of the best in the country and are designed to entertain every member of your family. The next time you visit your favorite amusement park, fair or carnival, just remember to be Ready to Ride.
The NJ Carnival and Amusement Ride Safety Act establishes an annual ride safety inspection program. A manufacturer is required to have their ride design and assembly approved prior to its sale for operation in New Jersey. The owner of an amusement ride is required to register their ride by applying for an annual permit. The annual permit assures that scheduled annual inspections, set up inspections, and random inspections during operation are performed throughout the year.
For more information on the Carnival and Amusement Ride Safety Act, visit http://www.nj.gov/dca/divisions/codes/codreg/pdf_regs/njac_5_14A.pdf.
DCA was established in 1967 and today offers a wide range of programs and services, including energy assistance, housing vouchers, affordable housing production, fire and building safety, community planning and development, local government management and finance, and disaster recovery.
For more information about DCA, visit https://nj.gov/dca/ or follow the Department on social media:
CONTACT:
Tammori Petty
Gina Trish
Lisa Ryan
(609) 292-6055