June 13, 2019 - NJHMFA: New Age-Restricted Affordable Apartments Open in Seaside Heights
FOR IMMEDIATE RELEASE: Thursday, June 13, 2019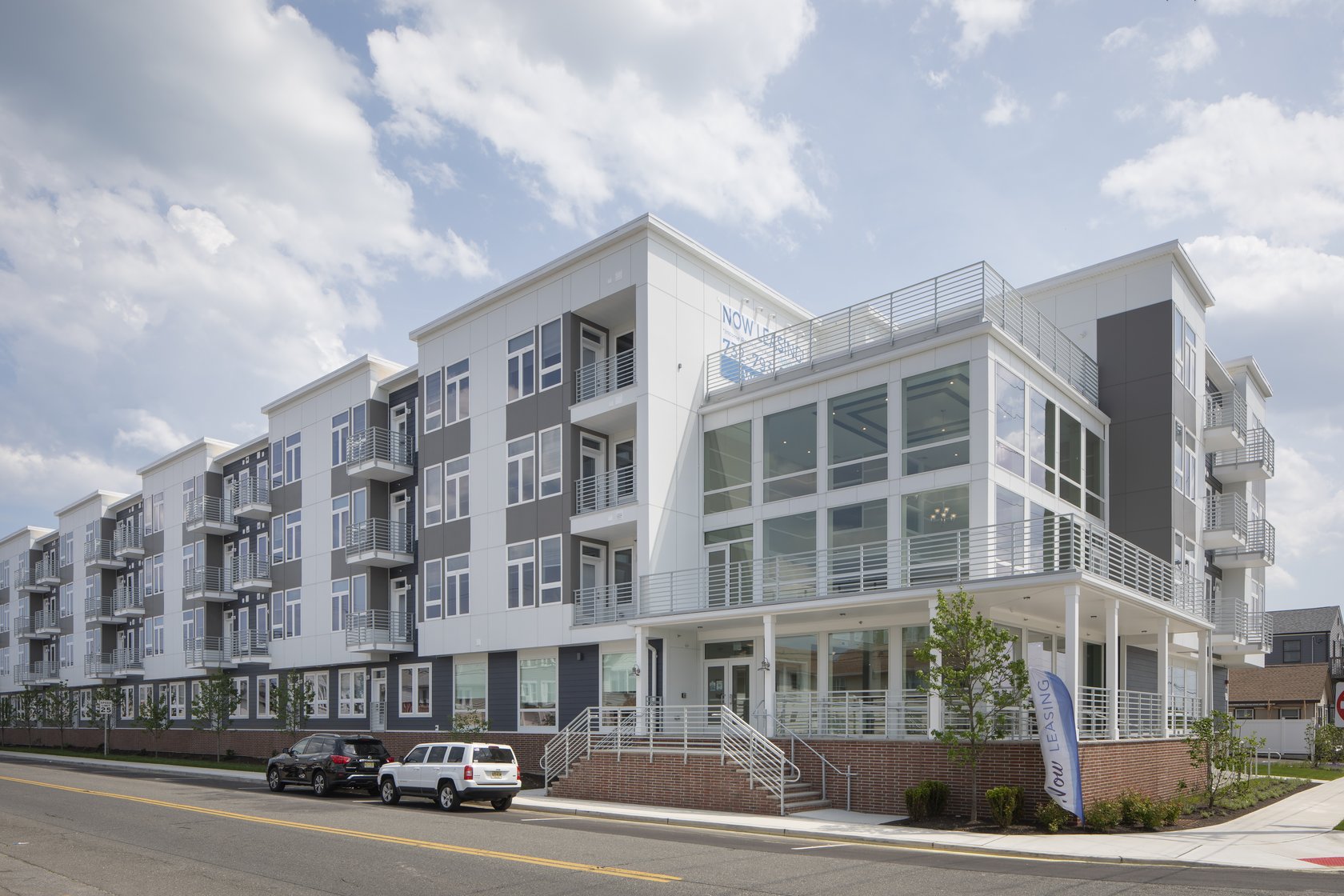 Development Financed in Part By NJHMFA, Sandy Recovery Funding
SEASIDE HEIGHTS – Cornerstone at Seaside Heights, a community of new apartments affordable to residents age 55 and older, celebrated its grand opening Wednesday joined by New Jersey Housing and Mortgage Finance Agency (NJHMFA) executive staff, local officials and The Walters Group. The complex was built in part with Superstorm Sandy recovery funding and other financing from NJHMFA.
Cornerstone at Seaside Heights, which cost $24.4 million to develop, features 91 one- and two-bedroom apartments for residents earning up to 60 percent of the area median income, including five for residents with special needs. The apartments are located at the intersection of Hamilton Avenue and Bay Boulevard, the gateway of Seaside Heights across from Barnegat Bay. The redevelopment project continues rebuilding efforts in parts of the community following 2012's devastating Superstorm Sandy.
"Governor Murphy and I recognize that it is increasingly difficult for older residents to be able to afford to stay in New Jersey on fixed or limited incomes which is why we are building more affordable housing options for seniors," said Lt. Governor Sheila Oliver, who also serves as DCA Commissioner and chair of the NJHMFA board. "Cornerstone at Seaside Heights opens new doors for older residents who are seeking sustainable living options at the shore, including those who were displaced by Superstorm Sandy."
NJHMFA provided $12.9 million in construction financing as well as $15.5 million in federal Community Development Block Grant - Disaster Recovery assistance through the Fund for Restoration of Multifamily Housing (FRM). The FRM program, created following Superstorm Sandy, provides for-profit and nonprofit housing developers an opportunity to secure zero-interest and low-interest loans to finance the development of affordable housing in the nine counties most impacted by the storm. Since 2012, 18 projects with nearly 1,200 affordable apartments have been created in Ocean County.
NJHMFA also awarded The Walters Group 4% Low Income Housing Tax Credits, which generated $6.9 million in private equity.
"Cornerstone at Seaside Heights provides quality, affordable homes for senior residents that are convenient to recreation, shopping and transportation," said NJHMFA Executive Director Charles A. Richman. "We are very proud of our efforts to help rebuild in the years since Superstorm Sandy hit our state, particularly to help address the demand for affordable housing only exacerbated by the storm. At the same time, the development helps fulfill our mission to provide affordable, supportive homes in the community for residents with special needs."
The four-story building was constructed with wind- and impact-resistant materials, and also includes a washer/dryer in each apartment, residents' clubhouse with fitness center, computer workstations and roof deck. Rents range from $505 to $1,250 for residents with incomes up to $61,380 depending on household size. Residents began moving in last month.
Cornerstone at Seaside Heights is adjacent to routes 35 and 37, close to the Garden State Parkway, public bus transportation, the local beach and boardwalk, Island Beach State Park, retail and dining establishments, and medical facilities.
Sandy recovery funding
To date, 76 projects have included FRM funding to create nearly 6,050 rental housing opportunities, 90 percent of which are affordable to low- and moderate-income households.
During the first 90 days of lease up in any project that has received FRM funding, priority for residency will be given to individuals who were displaced by or experienced major storm damage from Sandy. Storm-impacted residents can learn more about affordable housing projects funded with Sandy recovery dollars by visiting the New Jersey Housing Resource Center at www.njhrc.gov and clicking on "Priority Housing for Sandy-Impacted Residents," which will take you to a website listing flyers on available housing by county.
Ocean Mental Health Services will provide the social services and case management for the special needs residents, including life skills workshops, money management, and job readiness programs as well as assistance with daily living activities. Cornerstone at Seaside Heights is also participating in NJHMFA's Services for Independent Living program, which works to enhance the quality of life for residents living in Agency-financed senior housing developments.
Rental information is available at www.wgapts.com.
This is the sixth Cornerstone development by the Walters Group that NJHMFA has helped finance. Other affordable developments include Cornerstone at Stafford, Cornerstone at Toms River, Cornerstone at Lacey and Lacey II, and Cornerstone at Barnegat.
The Walters Group, located in Barnegat, develops and manages affordable and market-rate apartment communities.
For more information on NJHMFA and its programs, visit njhousing.gov.
For more information about DCA, visit https://nj.gov/dca/ or follow the Department on social media:
CONTACT:

HMFA:
Amy Palmer
609.278.7423

DCA:
Tammori Petty
Gina Trish
Lisa Ryan
(609) 292-6055