June 19, 2019 - Ribbon Cutting Marks Opening of Affordable Apartments for Families in North Brunswick
FOR IMMEDIATE RELEASE: Wednesday, June 19, 2019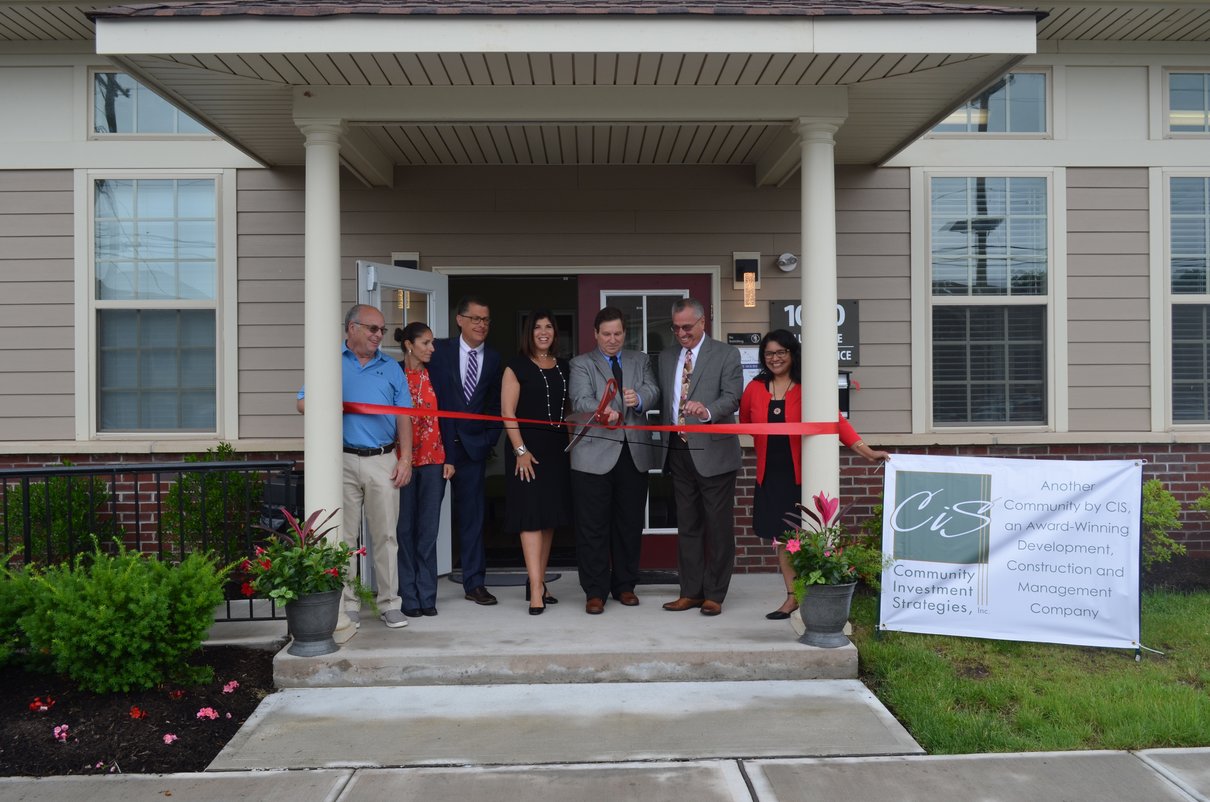 North Brunswick Mayor Francis M. Womack III, center, cuts the ribbon joined by Christiana Foglio, CEO of CIS, next to the mayor, and other officials during the event.


Project Included Rehabilitation of Aging Apartment Complex
NORTH BRUNSWICK – A ribbon-cutting ceremony on Tuesday celebrated the opening of North Brunswick Crescent Apartments which provide 184 apartments affordable to working families and were financed in part by the New Jersey Housing and Mortgage Finance Agency (NJHMFA).
The $31.8 million project involved the rehabilitation of the former Oak Leaf Village Apartments, a market-rate community of 16 two-story buildings originally built in the early 1970s off Route 27 and How Lane. The redevelopment included adding eight two-story additions to existing buildings and the construction of a 2,000 sq. ft. clubhouse building.
The complex, developed by Community Investment Strategies (CIS), includes one- and two-bedroom apartments for families earning up to 60 percent of the area median income. Six apartments will provide homes for homeless individuals and families and veterans.
"North Brunswick Crescent Apartments will provide updated, quality homes that are affordable for working families and are close to jobs and transportation," said NJHMFA Executive Director Charles A. Richman. "These renovations will significantly improve the quality of life for residents, and also provide supportive housing for residents with special needs."
The redevelopment involved the substantial rehabilitation of all 16 buildings including new roofs, new exteriors and interiors, new windows, doors, insulation, upgraded electrical and plumbing systems, new fixtures and appliances, the addition of central heating, air-conditioning, individual hot water heaters and the restoration of hardwood floors.
NJHMFA provided the project with $15.3 million in financing from its conduit bond program and also awarded 4 percent Low Income housing Tax Credits, which generated an additional $9 million in private equity. The project also received $1.2 million from the Federal Home Loan Bank, and the Township of North Brunswick provided $5,250,000 in Affordable Housing Trust Funds.
Existing tenants were offered permanent relocation and moving cost assistance to move to a new apartment outside the complex, or were moved internally to a vacant apartment. Several who relocated outside the complex moved back once the apartments were completed.
Rents for one-bedroom apartments range from $508-$1,241 depending on household size and income levels up to $56,820. Two-bedroom rents range from $607-$1,485 depending on household size and income levels up to $70,480.
Catholic Charities will be providing social services for the residents with special needs.
Community Investment Strategies, based in Lawrenceville, is a woman-owned, award-winning business that has built and redeveloped more than 3,000 units throughout the state, bringing high quality housing options to low- and moderate-income families.
For information on rentals visit www.northbrunswickcrescentapts.com.
For more information on NJHMFA and its programs, visit njhousing.gov.
For more information about DCA, visit https://nj.gov/dca/ or follow the Department on social media:
CONTACT:

HMFA:
Amy Palmer
609.278.7423

DCA:
Tammori Petty
Gina Trish
Lisa Ryan
(609) 292-6055