November 04, 2019 - DCA Celebrates the Grand Opening of Affordable Housing in Morristown
FOR IMMEDIATE RELEASE: Monday,November 04, 2019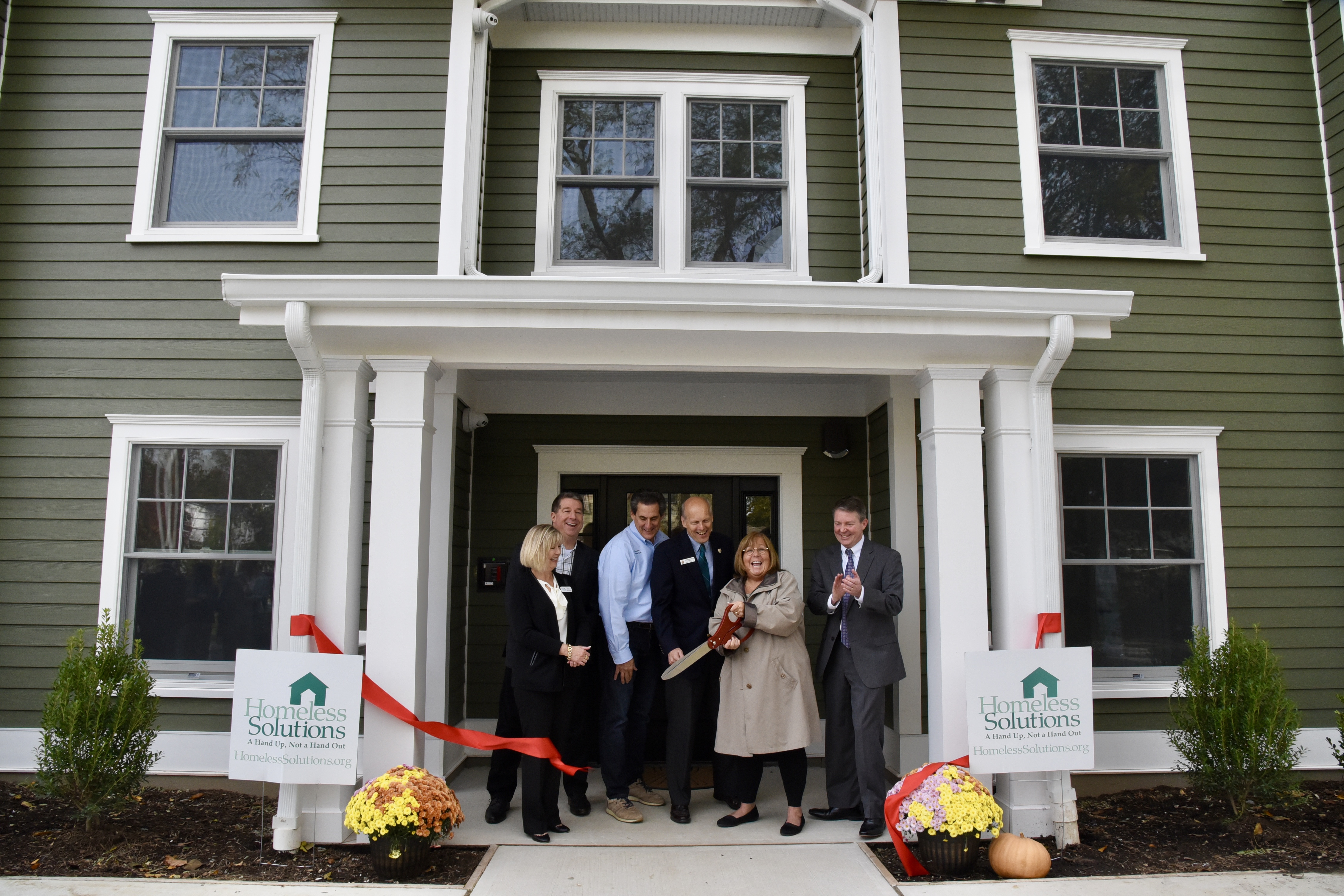 MORRISTOWN, NJ – The New Jersey Department of Community Affairs (DCA) staff recently celebrated the ribbon cutting of an eight-unit apartment building in Morristown with four units set aside for families experiencing homelessness, victims of domestic violence, teens aging out of foster care, and those with special needs.
"The need for more high-quality, permanent housing for people of limited financial means is a constant challenge in New Jersey and these affordable apartments are helping to fulfill that need," said Lt. Governor Sheila Y. Oliver, DCA Commissioner. "Moreover, residents with special needs will have the opportunity to live independently with access to local amenities and public transportation to help them thrive in their community."
The project was developed by Homeless Solutions, a nonprofit organization in New Jersey that is a DCA National Housing Trust Fund (NHTF) recipient.
The four apartments funded with NHTF dollars are affordable to residents earning at or below 30 percent of the area median income, which is about $30,200 for a family of four. DCA also awarded four project-based Housing Choice Vouchers to this project where tenants will pay 30% of their income toward rent. Two of the units have three bedrooms and rent for $1,506 a month. The other two units have four bedrooms and rent for $1,691 a month.
The apartments are located on the border of Morristown and Morris Township and are situated in a residential neighborhood near schools, restaurants, shops, places of worship, medical offices, bus stops, and a train station.
DCA awarded $696,406 in NHTF funds for the project, which was also funded by Morris County HOME, the Simon Foundation, the Morristown Trust Fund, and Morris Township.
In 2018, the State of New Jersey received $5,599,220 in NHTF dollars from the federal government. DCA distributes and administers NHTF funding for the State. The program, which is funded by the U.S. Department of Housing and Urban Development (HUD), provides zero-interest loans to eligible housing developers to create affordable rental units through either new construction or rehabilitation. Occupancy of the units developed under this program is restricted to households at or below 30 percent of Area Median Income as defined by HUD for a period of at least 30 years.
The NHTF program provides up to $400,000 in subsidy per unit (based on need and bedroom size). The maximum per project award is $700,000.
DCA's Division of Housing and Community Resources' mission is to strengthen and revitalize communities through the delivery of affordable housing, supportive services and the provision of financial and technical assistance to communities, local government and community-based organizations in New Jersey.
DCA was established in 1967 and today offers a wide range of programs and services, including energy assistance, housing vouchers, affordable housing production, fire and building safety, community planning and development, local government management and finance, and disaster recovery.
Photos from this grand opening can be viewed online: https://www.flickr.com/photos/njdca/albums/72157711494466652
For more information about DCA, visit https://nj.gov/dca/ or follow the Department on social media:
CONTACT:
DCA:
Tammori Petty
Gina Trish
Lisa Ryan
(609) 292-6055