November 13, 2019 - Lt. Governor Oliver and NJRA Celebrate Ribbon Cutting for 50 Rector Park
FOR IMMEDIATE RELEASE: Wednesday, November 13, 2019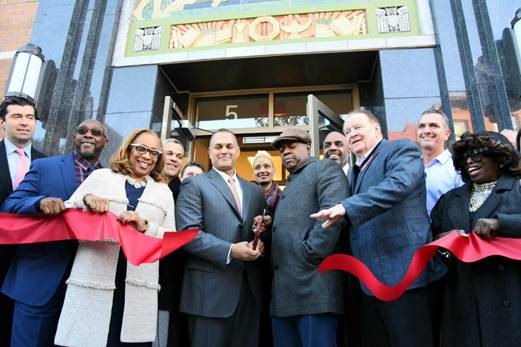 NEWARK, N.J. – Lt. Governor Sheila Oliver joined New Jersey Redevelopment Authority (NJRA) President & CEO Leslie A. Anderson, Boraie Development LLC, and state and local officials today to celebrate the completion of 50 Rector Park, the first market-rate rental housing development within the City of Newark in more than 50 years.
"There is so much progress happening in my native home of Newark and these beautiful market-rate apartments are yet another symbol of that positive momentum," said Lt. Governor Oliver, who serves as Commissioner of the New Jersey Department of Community Affairs (DCA). "I am optimistic that this project will be a catalyst for more job growth, development, and economic prosperity for the residents of Newark and I commend the stakeholders from the public and private sector that worked together to make it happen."
"The development of market rate housing is vital to the success of our urban centers and the NJRA is proud to support the City of Newark," said Anderson.
The 23-story project, which opened in July 2019, is located at 50 Rector Street and offers 168 units, including studios and one- and two-bedroom rental units, with balconies and terraces available, and 5,500 square feet of retail space. The 50 Rector Park property sits adjacent to the New Jersey Performing Arts Center and in front of the New Jersey Transit Light Rail Station, which is one stop from Newark Penn Station.
50 Rector Park brings together the NJRA, City of Newark, New Jersey Economic Development Authority (NJEDA), and Goldman Sachs in funding the approximately $80 million development. NBA great and Newark native Shaquille O'Neal also partnered with the developer on the project.
"Rector Park represents a major milestone in the City of Newark and will enormously benefit the downtown area. This project moves us closer to our vision for a thriving 24/7 walkable downtown neighborhood," said City of Newark Mayor Ras Baraka. "This is another example of our collaborative efforts to move our city forward. I commend Boraie Development and Newark's own Shaquille O' Neal for having the foresight to develop this land."
"Creating attractive, safe housing options for families in our urban areas is essential to achieving Governor Murphy's vision for a stronger, fairer New Jersey economy," said NJEDA Chief Executive Officer Tim Sullivan. "The incredible momentum we're seeing in Newark exemplifies what can be achieved when public and private partners work together with community stakeholders."
"We are excited to celebrate 50 Rector Park, a building that stands tall as a signal that Newark is a place where families and businesses can thrive," says Sherry Wang, Managing Director in the Goldman Sachs Urban Investment Group. "We are proud to work with our public and private sector partners to fuel the city's inclusive economic growth."
"50 Rector Park is a true partnership with the City of Newark and the State of New Jersey. Our financial partners, Goldman Sachs, Prudential, NJRA and NJEDA, all believed in the possibility of downtown living. We are now delivering on this promise for the City of Newark and future success for all Newark residents," said Waseem Boraie, principal of Boraie Development LLC. "To this point, we are very proud to have assisted approximately 40 Newark residents in accessing apprenticeships in the building construction trades on this development. We look forward to doing more in this wonderful city with all of our public and private partners."
The project received construction/permanent financing from the Goldman Sachs Investment Group, NJEDA Urban Transit Hub Tax Credits, and funding through the City Car Rental Tax Fund.
NJRA, which is an agency affiliated with the New Jersey Department of Community Affairs, is a comprehensive resource center that focuses on improving quality of life by creating value in New Jersey's urban communities. The Authority invests financial and technical resources into redevelopment projects and plans that will create a positive impact in eligible communities and ensures projects are urban-focused, neighborhood-based, and investment driven. For more information on the New Jersey Redevelopment Authority, visit www.njra.us.
For more information about DCA, visit https://nj.gov/dca/ or follow the Department on social media:
CONTACT:
DCA:
Tammori Petty
Gina Trish
Lisa Ryan
(609) 292-6055