Home
>
News Room
>
Press Releases
>
2019
>
December 04, 2019 - Division of Fire Safety Partners with the National Fire Protection Association to Co-Host Mid-Atlantic Regional Fire Safety Summit
December 04, 2019 - Division of Fire Safety Partners with the National Fire Protection Association to Co-Host Mid-Atlantic Regional Fire Safety Summit
FOR IMMEDIATE RELEASE: Wednesday, December 04, 2019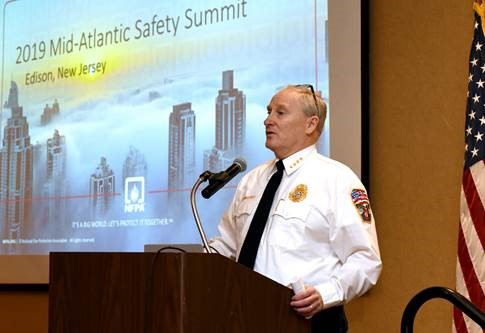 New Jersey Division of Fire Safety Director and State Fire Marshal Richard Mikutsky provides opening remarks at the Mid-Atlantic Regional Fire Safety Summit in Edison.
EDISON, NJ – The New Jersey Division of Fire Safety (NJDFS) today joined the National Fire Protection Association for the Mid-Atlantic Regional Fire Safety Summit, a full-day seminar emphasizing the latest developments in the expanding field of community risk reduction (CRR), a community-wide strategy that helps the fire service reduce the toll fire takes on human life and property.
During the summit, more than 200 members of the fire service, law enforcement, social service workers, first responders, educators, local officials and fire safety advocates received a full day of intensive professional development focused on programs for seniors, social media, youth programming, arson investigation, and more.
"The New Jersey Division of Fire Safety has strategically brought together a platform for sharing ideas, information, and talent during the annual Mid-Atlantic Regional Fire Safety Summit," said Lt. Governor Sheila Oliver, who serves as Commissioner of the Department of Community Affairs. "This collaborative environment for fire safety professionals is helping move the industry in the right direction as it embraces the technology and data sharing that is proven to save lives."
NJDFS is responsible for developing and enforcing the State Uniform Fire Code, training and educating New Jersey's fire service, providing public education programs, and informing the general public on fire prevention through CRR. The CRR approach deploys diverse strategies to enforce rigorous local fire code enforcement through community outreach, public education, data mining, and ongoing firefighter training.
"Modern firefighting now takes a holistic approach to stemming the losses we suffer in civilian and firefighter casualties and property loss each year," said Richard Mikutsky, NJDFS Director and State Fire Marshal. "Community risk reduction strategies allow the fire service to take a systematic approach to doing everything possible to prevent fires."
"Station houses now have iPads and geomapping tools, which firefighters can use to identify fire vulnerable areas. Additionally, aggressive data sharing with law enforcement and housing inspection departments will help reduce the number of fires in vacant dwellings," Mikutsky added.
"Now in its third year, the Mid-Atlantic Fire Safety Summit has attracted significant interest from fire authorities in more than 10 states on the East Coast," according to NJDFS Summit Coordinator Charles Lavin.
For more information about DCA, visit https://nj.gov/dca/ or follow the Department on social media:
CONTACT:
Tammori Petty
Gina Trish
Lisa Ryan
(609) 292-6055