Statewide Greenhouse Gas Emissions Inventory
Background
New Jersey's annual statewide greenhouse gas (GHG) emissions inventory is a critical tool for tracking progress in reducing GHGs emissions. The GHG inventory establishes historical emission trends and demonstrates the state's progress in achieving its emissions reduction goals, as required by New Jersey's Global Warming Response Act (GWRA) (P.L. 2007 c.112; P.L. 2018 c.197). The inventory includes estimates for carbon dioxide (CO2), methane (CH4), nitrous oxide (N2O), and fluorinated gases with high global warming potentials, along with estimates for carbon sequestration. There are additional climate pollutants that are tracked separately outside of the GHG inventory, specifically, black carbon. An archive of previous inventory data and documentation is available on the archive page.
Reporting Framework
Since 2008, the New Jersey Department of Environmental Protection (DEP) has released a comprehensive statewide GHG inventory report approximately every two years. Following the 2019 amendments to the GWRA, the DEP is also committed to releasing data annually to help inform the state's climate mitigation planning and implementation efforts. The DEP will continue to release a full Emissions Inventory Report every other year and will also provide a "Mid-Cycle Update" during the intervening years. The Emissions Inventory Reports contain detailed analysis, including updated emissions calculations, review of GHG trends, adjustments to baselines (when necessary), and discussion of any changes in emission calculation methodologies. In contrast, the Mid-Cycle Update is a brief summary of the latest emissions data, with concise complementary analysis.
Data Overview
Statewide emission estimates rely on state, local, federal, and international data sources, and on facility-specific emission reports from New Jersey's emission statement program. The current inventory uses 100-year global warming potential (GWP) values from the IPCC Fourth Assessment Report, consistent with international and national GHG inventory practices. In preparation for each new edition of the inventory, recalculations are made to incorporate new methodologies, to reflect changes in data supplied by other agencies and to correct errors. Timeframes for obtaining data extend as long as two years after the end of a given calendar year. In order to provide timely support for mitigation of climate change, when final data is not available New Jersey develops projections based on reference reports and modeling tools provided by the federal government. Later, when final data becomes available, those projections are updated to incorporate the newly released information. Estimates for earlier years may also be revised should the originating source release adjusted figures.
Current Inventory
The 2021 Mid-Cycle Update to the greenhouse gas emissions inventory covers statewide emissions for the years 2017, 2018, and 2019. Emissions are reported in million metric tons of carbon dioxide equivalent (MMTCO2e).
2017 Emissions (Final Data): 96.7 MMTCO2e
2018 Emissions (Final Data): 101.9 MMTCO2e
2019 Emissions (Projected Data): 97.7 MMTCO2e
The Mid-Cycle Update Report (Edition February 2021) can be found here. This report includes preliminary emissions estimates for 2019, with projected values for some sectors. There is substantial uncertainty with the 2019 projections, and they should be applied with caution. Overall, 2019 total emissions are projected to decrease by 4.2 MMT from 2018 levels.
The sectoral distribution of the projected GHG emissions for 2019 is shown below: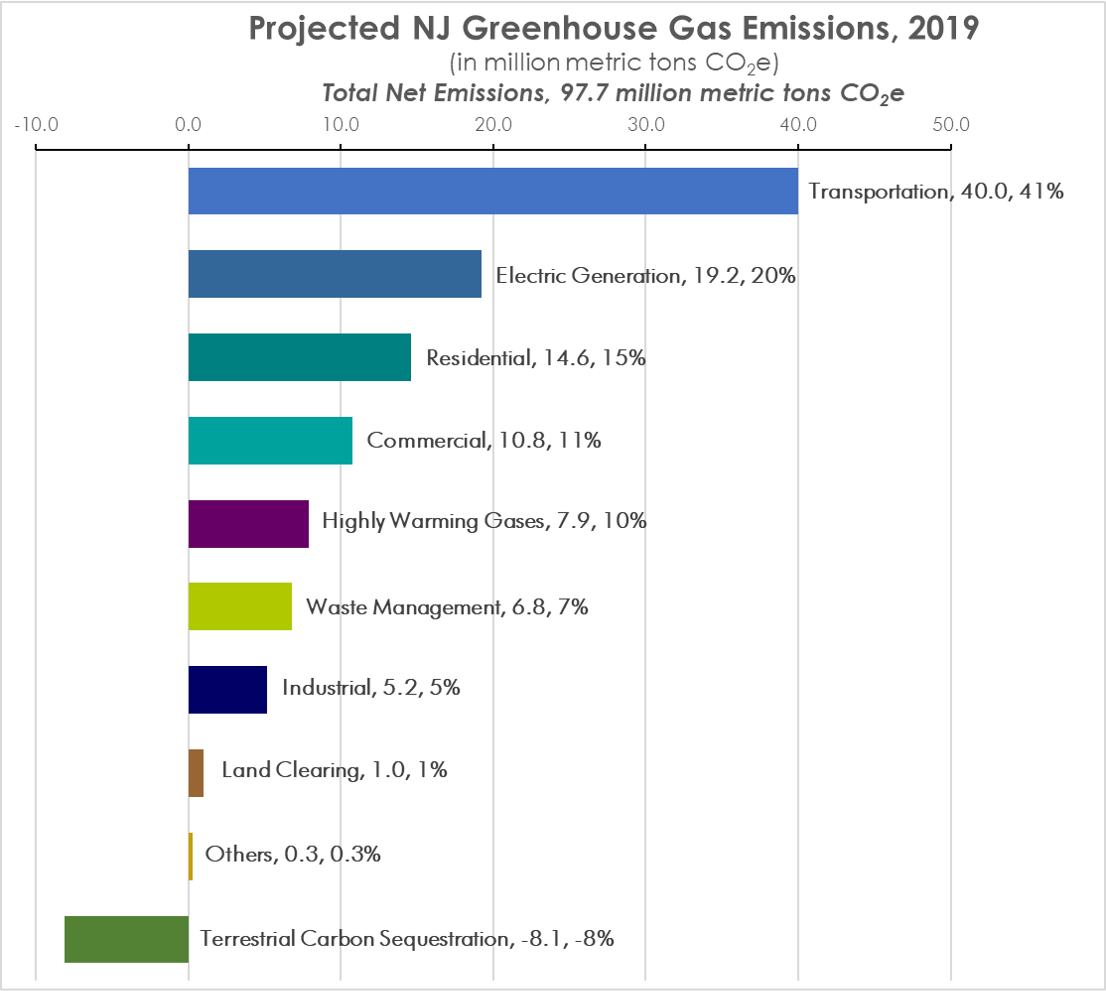 The four leading sources of GHG emissions in 2019 are transportation, electric generation, residential, and commercial fossil fuel use. Transportation remained the largest source at 40.0 MMTCO2e. Fossil-fuel powered passenger cars and light-duty trucks were responsible for the majority of transportation emissions in the state. Electric generation follows as the next largest source at 19.2 MMTCO2e, which is largely attributed to the combustion of natural gas by New Jersey's electric generating units. Emissions from residential fossil fuel use were 14.6 MMTCO2e, and commercial fossil fuel use reached 10.8 MMTCO2e, this is due to the use of natural gas for space and water heating in the building sector.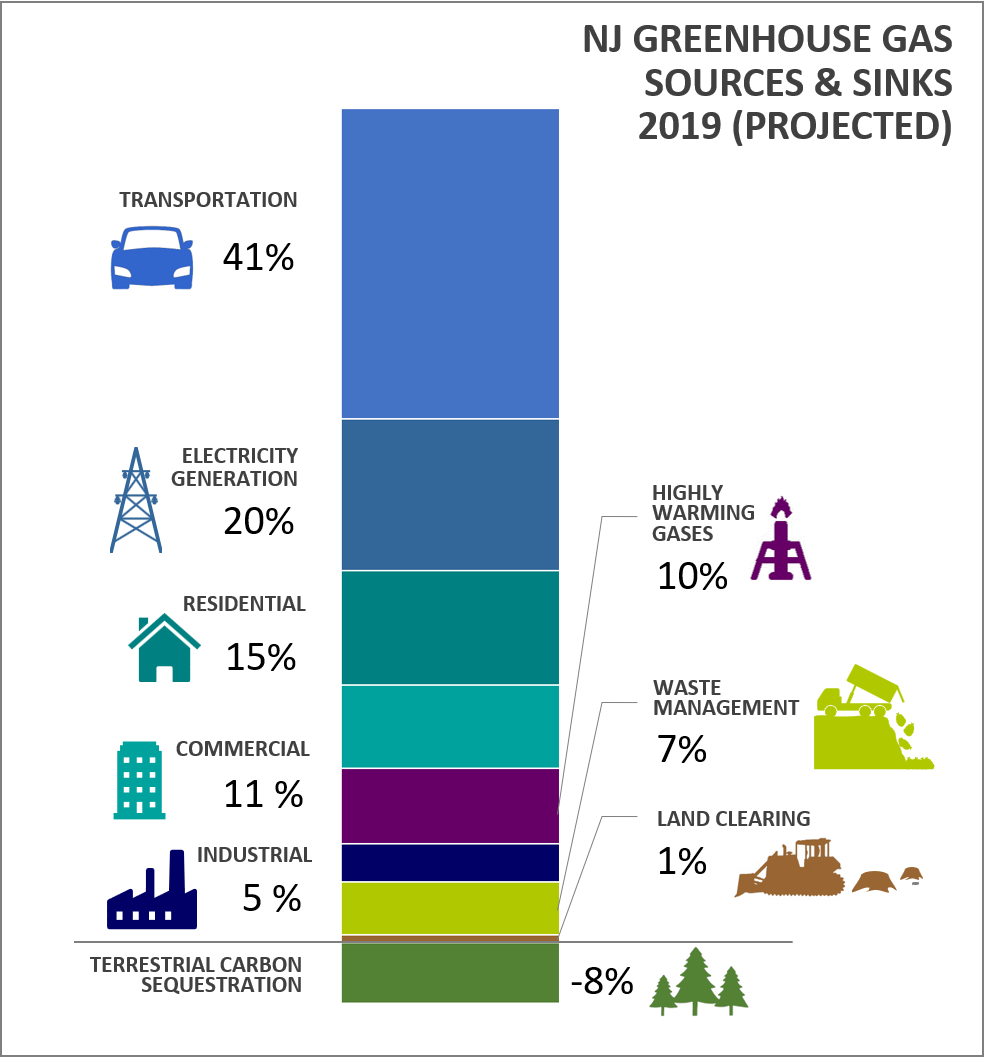 Achieving New Jersey's Greenhouse Gas Reduction Goals
The Global Warming Response Act (GWRA) (P.L. 2007 c.112; P.L. 2018 c.197) establishes two greenhouse gas reduction goals for New Jersey:
Reduce statewide greenhouse gas emissions to 1990 levels (approximately 125 MMTCO2e) by the year 2020, and,
Reduce statewide greenhouse gas emissions 80% below the 2006 level (approximately 24.1 MMTCO2e) by the year 2050.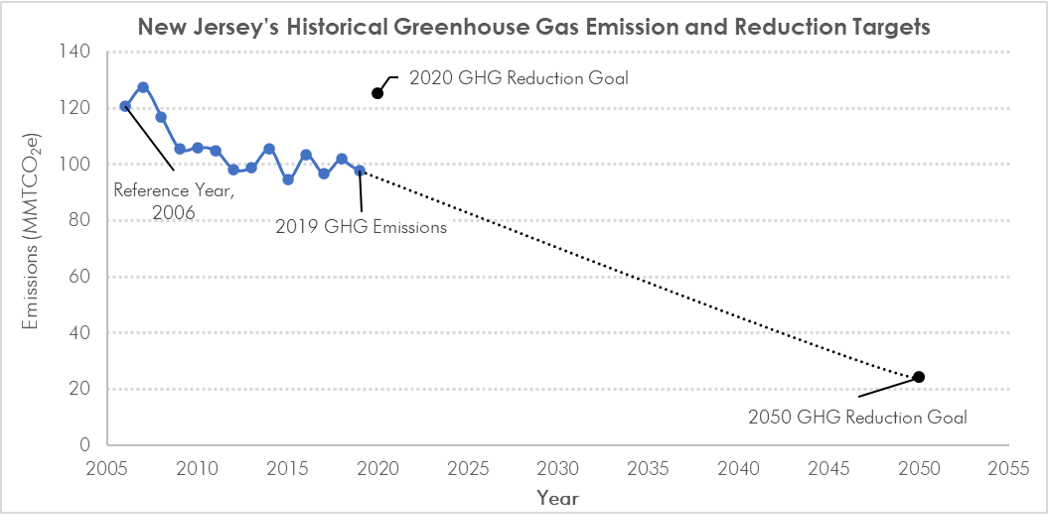 Over the last fifteen years, New Jersey reduced its greenhouse gas emissions by approximately 20%, exceeding the 2020 greenhouse gas reduction goal by over 23 MMT. This was primarily the result of market forces that motivated energy generating units to transition from coal to cleaner burning natural gas. By comparison to this single-sector transition, meeting the ambitious GWRA goal of reducing emissions 80% by 2050 will require an economy-wide transformation over the next 30 years that demands all economic sectors, levels of government, communities and individuals to accept and adopt changes that will reduce the adverse effects of climate change. In the fall of 2020, New Jersey issued the Global Warming Response Act 80x50 Report, which outlined pathways and offers recommendations to achieving the state's greenhouse gas reduction goal. This report, in tandem with the Energy Master Plan, will guide the state's work in decarbonizing its economy.
For more information
Current Inventory
Inventory Archive
Greenhouse Gas Emissions Trends Report
What are GHGs
Climate Change Webpage
Factsheets on Climate Change
Climate Change Factsheet
New Jersey's Changing Climate Factsheet
Take Climate Action Factsheet